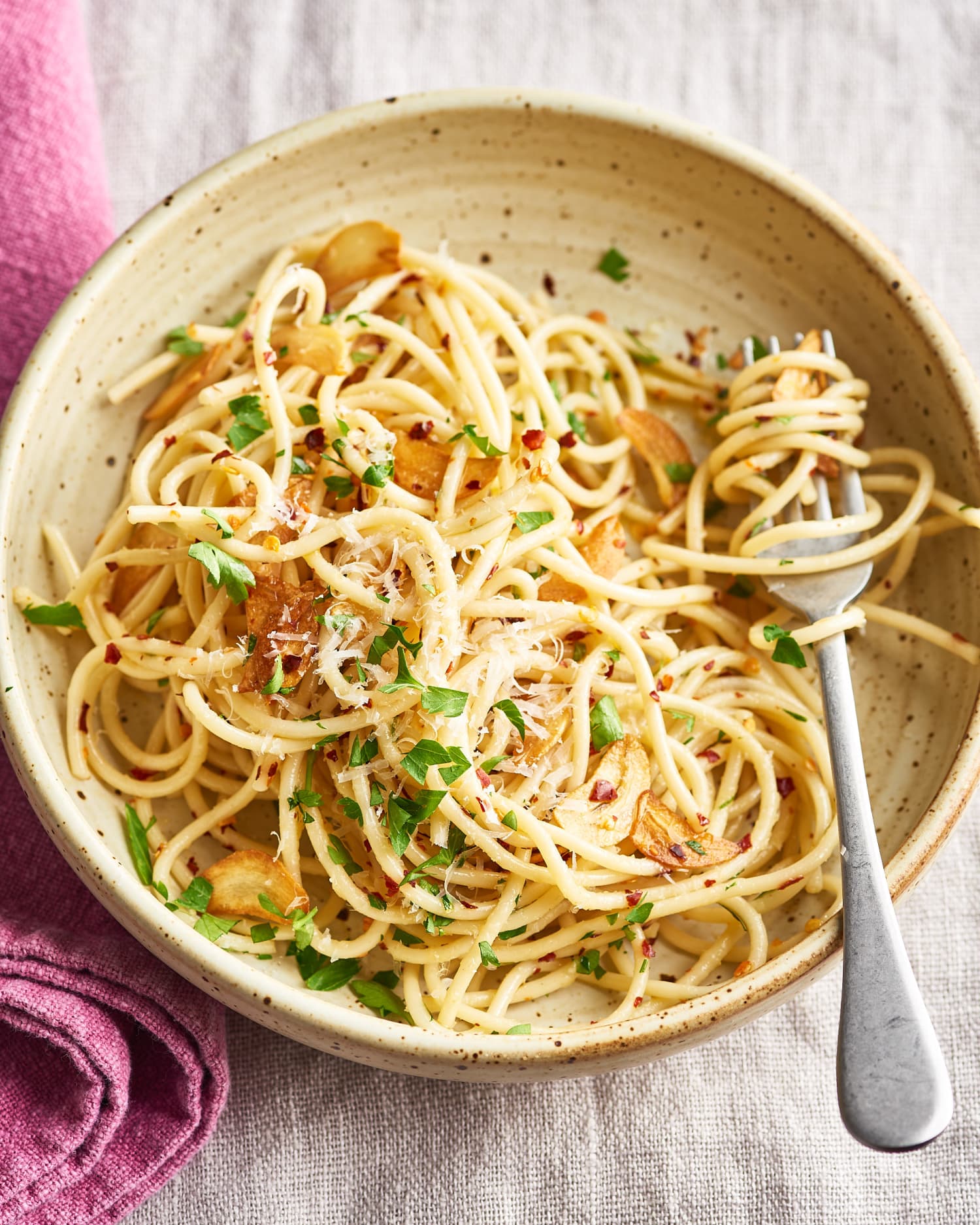 Despite all my best intentions when it comes to meal planning, there are many, many times when I just don't get around to it. Suddenly it's Monday and I have no idea what's for dinner — plus, right now I am trying to limit my trips to the grocery store.
That's when pantry meals come to the rescue. Dig around your dry pantry as well as your fridge or freezer and I guarantee you, even if you think you have nothing to eat, you most likely have the makings of a simple-but-satisfying dinner. These 10 recipes prove it.
1. Spaghetti Aglio e Olio
This pantry pasta is the equivalent of the buttered noodles you grew up with. It's ridiculously comforting and comes together with just spaghetti, garlic, olive oil, and red pepper flakes.
2. How To Make Classic Tomato Soup
If you have a couple of cans of tomatoes in your pantry, you have the makings of amazing homemade soup. Bonus points if you have some bread and cheese on hand to make grilled cheese sandwiches to serve alongside.
3. How To Make a Frittata with Whatever You Have on Hand
A frittata is the ultimate pantry meal. Gather whatever odds and ends are in your fridge, combine them with some eggs, and dinner is served.
Quesadillas are another catch-all for odd ingredients you have on hand that you're not quite sure how to turn into dinner. These are made in the oven on a sheet pan so you don't have to stand over the stove flipping the whole batch.
5. Easy 5-Minute Garlic Butter Shrimp
A bag of frozen shrimp is a smart thing to keep on hand for dinner emergencies. Here they're joined with lots of garlic and butter for a saucy situation that's great over pasta, rice, or on its own with bread.
6. One-Pot Creamy Chicken and Rice Casserole
If you don't have chicken or cheddar for this stovetop casserole, no problem. You can swap in things like deli ham or bacon bits for the meat and any other kind of cheese you have.
7. One-Pot Tomato Chickpeas and Orzo
A few pantry staples like a can of chickpeas, tomato purée, chicken broth, and orzo pasta make up this incredibly comforting — and filling — one-pot dinner.
8. How To Make the Absolute Easiest Salmon Patties
Canned salmon is often a forgotten pantry item, but it's really worth keeping around for these satisfying gluten-free patties. If you don't have fresh dill in the fridge, swap in any other fresh herb you have or just leave it out.
9. A Last-Minute Ravioli Casserole
This quick pasta casserole comes almost entirely from the freezer. If you don't have a bottle of dry white wine in the house, water (or chicken broth) is an easy substitute.
Think of this recipe as a template instead of hard-and-fast rules. Really any beans — canned or dried — can be used, along with a mix of whatever vegetables are wilted in your crisper drawer.