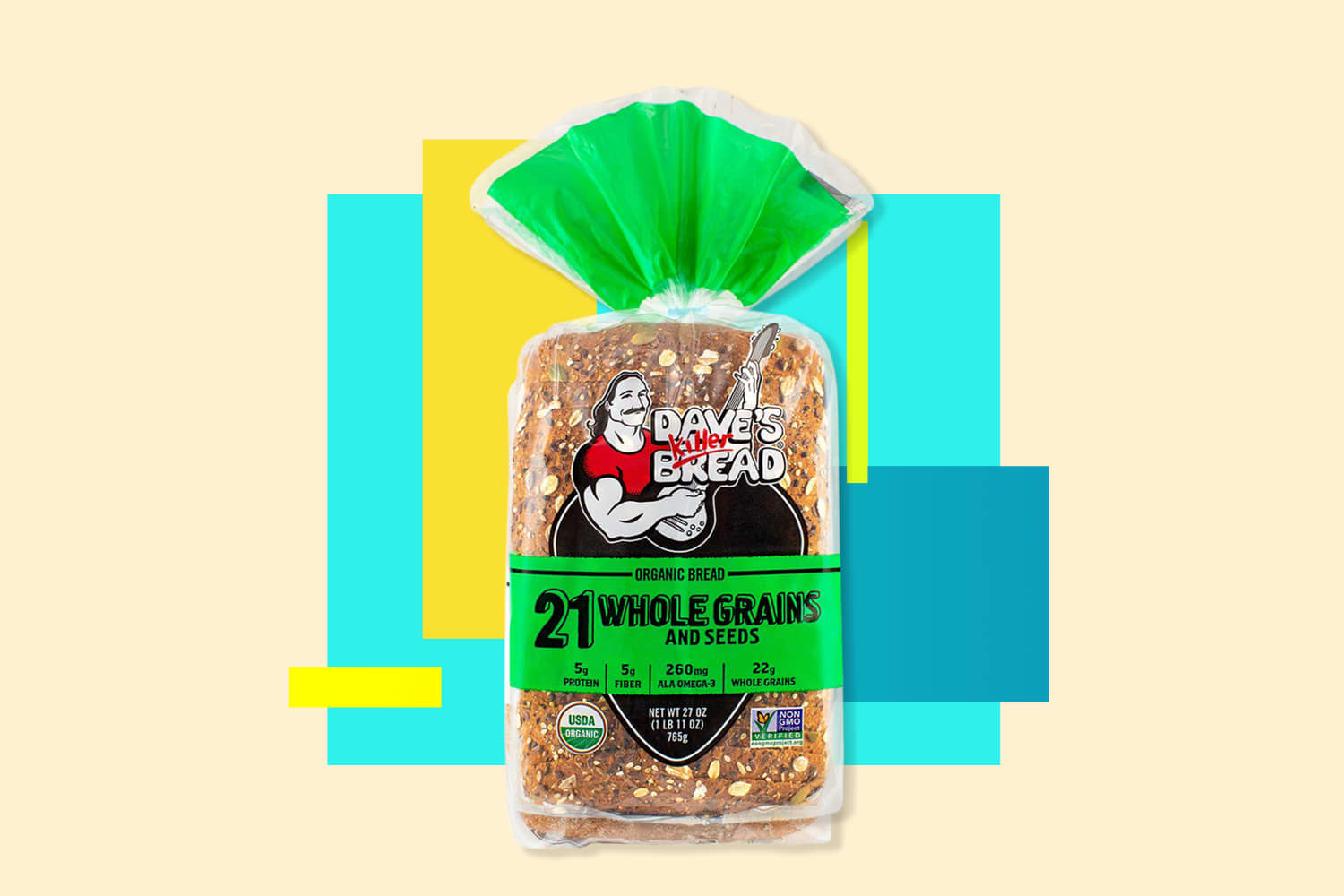 We independently select these products—if you buy from one of our links, we may earn a commission.
Breakfast is the most important meal of the day, and when times are as uncertain as the ones we're living in, that rings all the more true. So when we were assembling the Bread & Breakfast category in this year's Kitchn Essentials, Grocery Edition, the Kitchn team didn't mess around. (For the complete list in all its glory, click here.)
Here are all of the carb-y, egg-y, oat-y, granola-y, breakfast-y delights that we love to start our days with. (And think you will, too.)
Whole-Grain Bread: Dave's Killer Bread 21 Whole Grains and Seeds Organic Bread
There's a clear consensus among the Kitchn staff that Dave's Killer Bread 21 Whole Grains is one of the greatest sandwich breads of all time. In its deeply toasted form, these nutty, seedy slices are sturdy enough to stand up to any condiment, cold cut, or sandwich topper you can think of. Pile it on, people.
White Bread: Dave's Killer Bread White Bread Done Right Organic Bread
Speaking of piling it on, we also really love Dave's White Bread Done Right. "I think their white bread is the very best bread that Dave's makes," says Food Editor Meghan Splawn. "My kids are obsessed with it, and it's proven essential when making a classic PB&J or Fluffernutter." We are also big supporters of the company's Second Chance Employment policy, a hiring process that grants job opportunities to people with past criminal records.
Burger Buns: Martin's Potato Rolls
You'll never be let down by a Martin's Potato Roll. These slightly sweet and springy-to-the-touch burger buns are a backyard cookout classic for a reason. If you ever needed further justification to choose these among a sea of other options, rest assured that Shake Shack entrusts its precious patties to Martin's Potato Rolls, so you can too.
Hot Dog Buns: King's Hawaiian Sweet Hot Dog Buns
Just one taste of King's Hawaiian Original Hawaiian Sweet Rolls and you'll be mad you weren't using them for backyard cookouts this whole time. While we love the little slider rolls, we're also big fans of the brand's hot dog buns: They have that same signature subtle sweetness, so they lend a little something special to a regular ol' hot dog.
English Muffins: Thomas' Original English Muffins
Anyone who's ever dabbled with English muffins knows that Thomas' means business when it comes to their signature "nooks and crannies." They're an absolutely perfect vehicle for escorting butter, jam, smashed avocado, peanut butter — you name it — into your mouth. They're also ideal for egg sandwiches and sopping up runny eggs.
Granola: Nature's Path Organic Pumpkin Seed + Flax Granola
According to Ariel Knuston, our Features Director, "This granola has the perfect amount of clusters to seeds, and goes well with everything. I must have had 100 boxes of this in the last few months." Made with organic flax, pumpkin seeds, rolled oats, and cinnamon, this all-purpose granola will help you seamlessly transition into the fall months ahead (even though time is meaningless right now).
Rolled Oats: Bob's Red Mill Organic Old Fashioned Rolled Oats
Yes, store-bought granola has its perks, but if you're anything like us, learning to make your own from scratch has truly guided you through quarantine. For our Lifestyle Editor, Lauren Masur, that hobby has been fueled by Bob's Red Mill Old Fashioned Rolled Oats. These are also the go-to oats for Deputy Food Director, Grace Elkus, who admits she "ate Bob's Red Mill oatmeal every day for way too many days." If you learn this employee-owned company's backstory (we heard it from Bob himself!), you'll fall in love with the brand too.
Breakfast Bars: Nature's Bakery Raspberry Fig Bars
In need of some back-to-school snacks (whatever that means)? Look no further. "Nature's Bakery fruit bars are kind of like an old-school Nutrigrain or Fig Newton," says Meghan. "My kids love them." That sentiment was seconded by Food Editor Kelli Foster, and thirded by Studio Food Editor Amelia Rampe. The rest of the staff had their mouths full and couldn't speak.
When Faith Durand, our Editor-in-Chief, was pregnant with her children, she craved one thing and one thing alone: Cheerios, in plenty of cold whole milk. "I like to think my body knows best, and the nostalgic but hearty taste of Cheerios in all their oaten splendor is still my gold standard cereal," she says. "They satisfy me and fill me up, and that perfect clutch-able shape is still the best pick-up practice for tiny baby hands. They're the standard all other cereals are judged by for taste and satisfaction."
Buy: Cheerios, $3.29 for 8.9 ounces at Instacart
Frozen Breakfast: The Pioneer Woman Roasted Veggie Egg Bites
About a year ago, Lauren was invited to a brunch to celebrate The Pioneer Woman's frozen food line — a party with Ree Drummond herself! Upon arrival, guests were greeted with passed hors d'oeuvres including bite-sized frittatas loaded with roasted bell peppers, onions, cheese, and spinach. It wasn't until midway through the event that Lauren realized these weren't from the fancy hotel's catering menu — they were heated straight out of the box. And so good!
tinyurlis.gdv.gdv.htclck.ruulvis.netshrtco.de