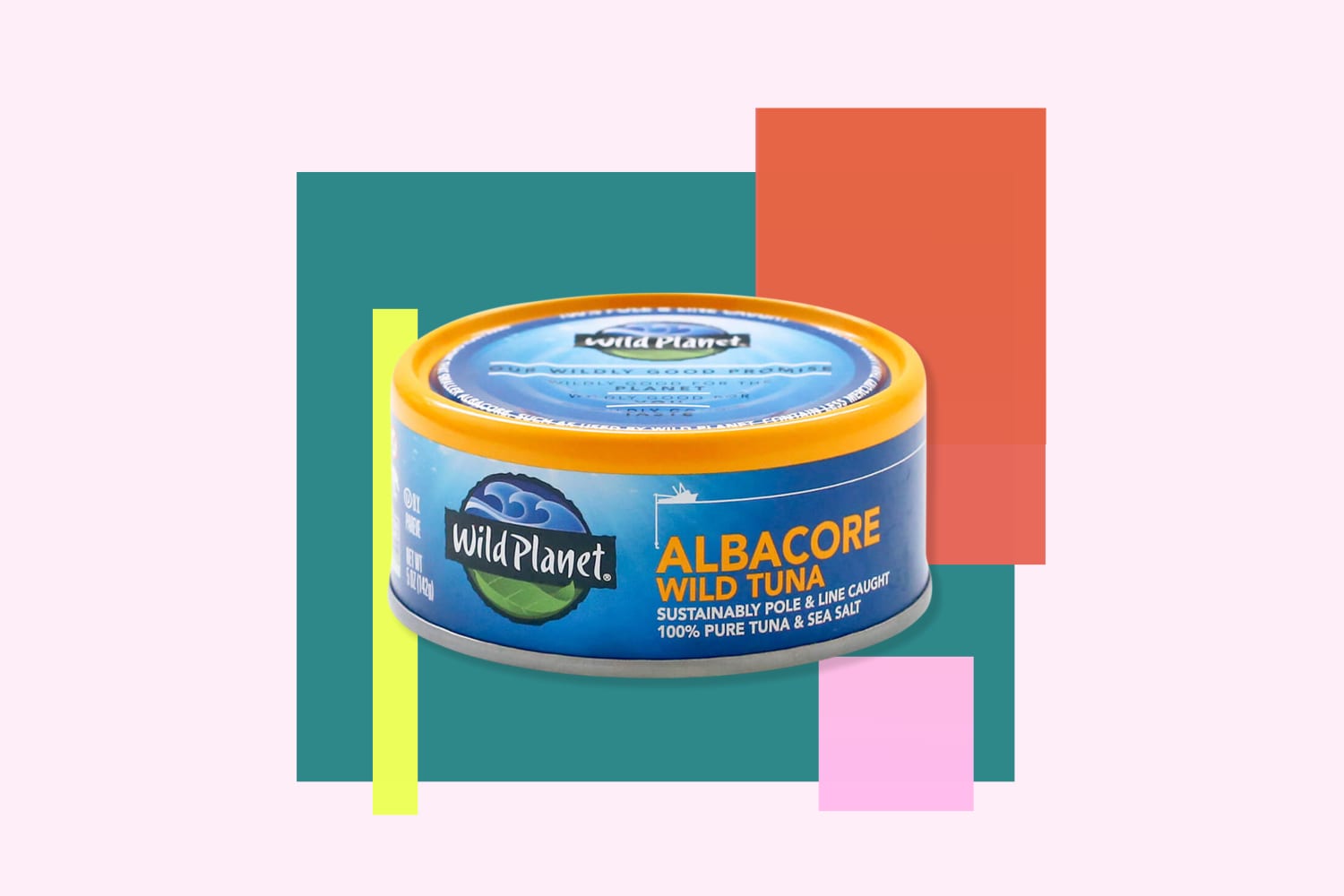 We independently select these products—if you buy from one of our links, we may earn a commission.
Over the past seven-ish months, we've all learned to love our pantries more than ever before. Whether it's because we're grocery shopping way less often, or simply looking for quick and easy-to-make meals, having a well-stocked pantry is beyond key. One might even say it's essential. Speaking of essential … The Kitchn team poured our hearts and souls into compiling a list of our non-negotiable pantry items for the 2020 Kitchn Essentials, Grocery Edition. Here are the 12 favorites that made the cut.
Canned Tuna: Wild Planet Albacore Wild Tuna
Although Wild Planet is steeper in price than other canned tuna options on shelves, we feel strongly that it's worth the extra money: Wild Planet is consistently ranked the #1 canned tuna brand by Greenpeace for sustainability, traceability, and ethical practice. Each can contains 100 percent pure tuna and sea salt. In short, there's nothing fishy about it.
Tinned Fish: Bela Sardines
Don't turn your nose up at tinned fish — especially sardines. Amelia Rampe, our Studio Food Editor and a tinned fish a-FISH-ionado, swears by Bela Sardines. "Not only are they a really good price point for Portuguese sardines, but they're also the very best you can buy and are available everywhere." Get a few tins and make this sandwich on repeat.
Quick-Cook Beans: A Dozen Cousins 3-Flavor Variety Pack
We've long sung the praises of a certain brand of canned beans, but we're over them now … for many reasons. These are even more convenient (you just have to warm them up and they're already seasoned) and way tastier. Get the variety pack so you can try them all and then eat them as a side, stuff them into tortillas, pile them on top of rice, or sauté them with some greens.
Dried Beans: Rancho Gordo Cranberry Beans
It's harder than ever to secure a steady stash of dried beans these days. And Rancho Gordo beans aren't just any dried beans — they're heirloom varieties that require less soaking time, and cook up much creamier and more flavorful than a standard batch of dried beans might. If you can get a monthly Rancho Gordo Bean Subscription, do it. If not, at least aim to get these in your cart.
Canned Tomatoes: Cento San Marzano Peeled Tomatoes
This familiar yellow can of peeled San Marzano tomatoes is a must-have pantry staple for soups, stews, sauces, and much more. For further proof of just how extraordinary these canned tomatoes are, might we point you in the direction of our blind taste test in which Cento took home top honors among nine other contenders? Rich and earthy, but also naturally sweet, these peeled tomatoes also make for the perfect no-fuss pizza sauce, says Grace Elkus, Deputy Food Editor.
Tomato Paste: Cento Double Concentrated Tomato Paste
Whoever was in the meeting that decided that Cento tomato paste belonged in a squeeze tube instead of an ill-sized can deserves an award. For those of us who gravitate towards recipes that call for just a tablespoon of tomato paste at a time (*raises hand*), this handy-dandy squeeze tube, which lasts up to 45 days after opening, is about to become your best friend. Also, it won in our tomato paste taste test. Just wanted you to know.
Canned Vegetables: Green Giant French Style Green Beans
Can vegetables be a treat? Tender old-school French-cut green beans, straight from the can in their savory broth, are our weeknight vegetable crush when we need a super-fast dose of green and there's no more fresh produce in the fridge.
Broth Concentrate: Better Than Bouillon Roasted Chicken Base
During a time when having a fully stocked pantry is more important than ever, we believe that this little jar of highly concentrated flavor is an absolute must. Each one is the equivalent of 38 (8-ounce) cans of broth. (That's 9.5 cartons.) Better Than Bouillon will save you time, money, and free up your shelves for other essentials.
Soup: Campbell's Well Yes! Harvest Carrot & Ginger Sipping Soup
The first time Faith Durand, our Editor-in-Chief, tried this sippable soup she was (truly) about to scoot through the airport: "I had a flight to catch and a bottle of this in my bag. I downed it ahead of security and felt a sudden, unexpected sense of nourishment wash through me, even though the soup wasn't heated. It was pungent and just spicy enough — a drink that felt punchy and filling. If you've sworn off canned soup for any reason, may I recommend these sippable soups?"
Olive Oil: California Olive Ranch Extra Virgin Olive Oil
Multiple Kitchn staffers say that California Olive Ranch Extra Virgin Olive Oil is their "everyday olive oil." And guess what? It's what Ina Garten keeps in her pantry too. And if it's good enough for the queen of "good olive oil," it's good enough for all of us!
Finishing Olive Oil: Brightland Olive Oil
A little kitchen luxury is having a few olive oils to choose from — one for making everyday dishes, and another for cautiously drizzling over hummus, dipping crusty bread in, and making a restaurant-worthy vinaigrette with. We love Brightland Olive Oil, founded by Aishwarya Iyer and sourced from a single-estate California farm, for all of our sparingly fancy olive oil needs.
Vinegar: Bragg Organic Apple Cider Vinegar
Apple cider vinegar is super trendy these days, with lots of people touting its health benefits. We love it for salad dressings, simmering beans, slow-cooking meat, and more. Plus, you can use ACV to DIY a highly effective fruit fly trap.