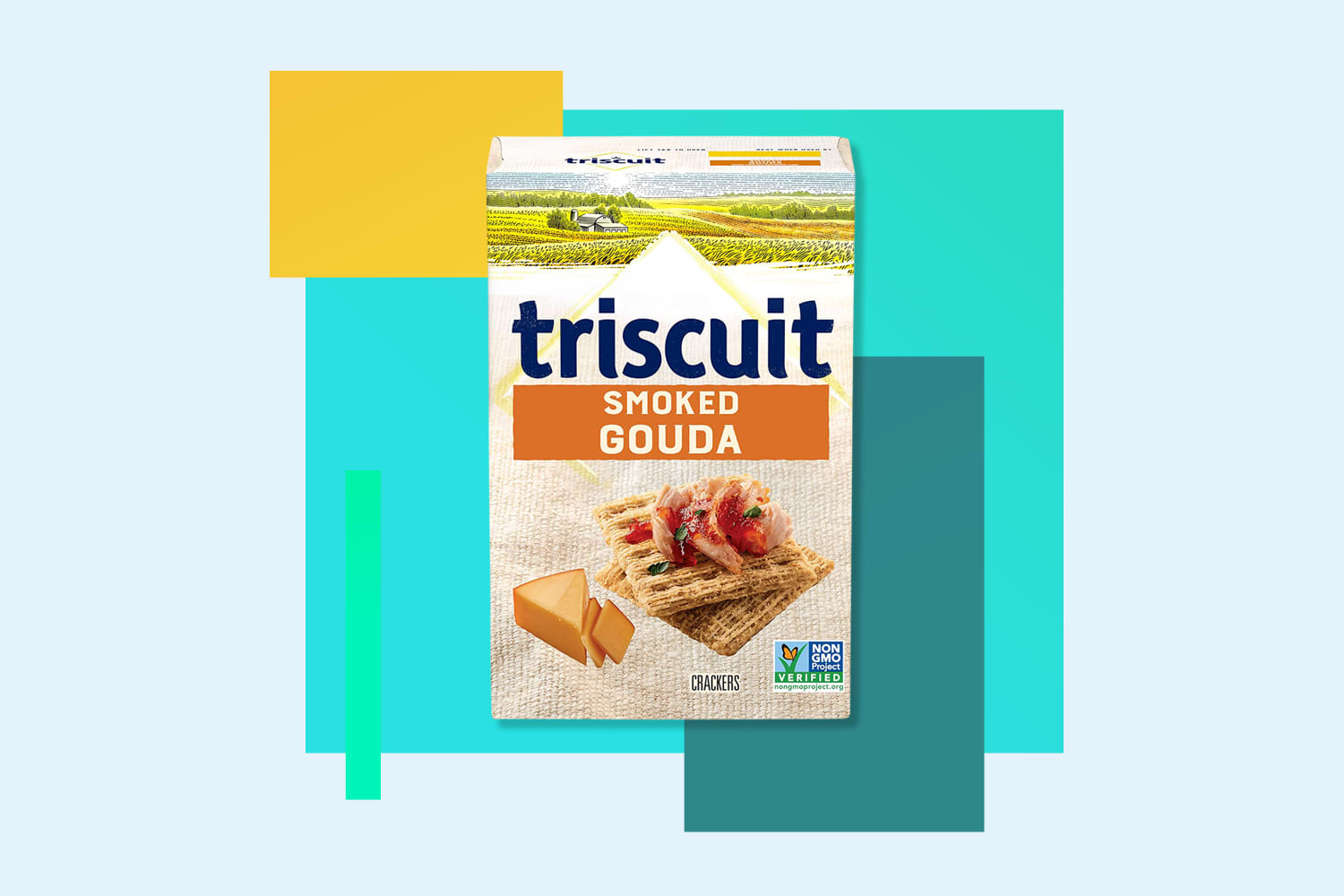 We independently select these products—if you buy from one of our links, we may earn a commission.
When it comes to essential groceries, snacks can fall pretty far down on the shopping list — but not these days. Snacks like crackers, cheese balls, popcorn, cookies, and pretzels are the groceries getting us through the year, and they're far from frivolous.
The Kitchn team had an impassioned brainstorm about what snacks are absolute must-haves when it came it our list of Kitchn Essentials, Grocery Edition. Here are the dozen that made the cut.
Crackers: Smoked Gouda Triscuits
Triscuits are having a moment. Maybe it was the epic Twitter thread about what the name "Triscuit" actually means. Maybe it was the ever-multiplying flavors and the way they keep amping up these simple, crunchy crackers with so many interesting ingredients (Black pepper! Sweet potatoes! Jalapeños!). But for Kitchn's Editor-in-Chief Faith Durand, nothing beats the Smoked Gouda flavor, which has a strong whiff of cheesy funk, and a savory satisfaction. (P.S.: This flavor comes in a mini version too, which makes a great snack mix with popcorn and smoked almonds.)
Animal Crackers: Trader Joe's Organic Animal Crackers
According to Deputy Food Director Grace Elkus, TJ's organic animal crackers are an under-the-radar find that can't be missed. "I bought my dad a container of these (plus some Airpods) for Father's Day, and he was 10 times more excited about the animal crackers," she says. "They're so good because they hit just the right notes of lemon and vanilla."
Cheese Crackers: Extra Toasty Cheez-It Crackers
If you've ever gotten way too excited to find a slightly burnt Cheez-It in a box, this box will blow your mind. Because they're all slightly burnt! Technically they're extra toasty. Call them what you will — they are ridiculously good.
Potato Chips: Cape Cod 40% Less Fat Kettle Cooked Potato Chips
If you love crunch, Kitchn's resident New Englander and Managing Editor, Lauren Kodiak, has a smart chip tip for you: Get the reduced fat ones. "Cape Cod's reduced fat chips are far crispier and crunchier than the full-fat version. And trust me, I'm the first person to buy full-fat everything else!"
Cheese Balls: Pipcorn Cacio e Pepe Cheese Balls
Organic! Heirloom! Cheese balls! (An unlikely trio of words and phrases!) One of the most appealing features about these organic heirloom cheese balls is the fact that they are not a radioactive shade of orange. We love all the flavors but buy the Cacio e Pepe ones the most often because of their Parmesan cheesiness and visible flecks of black pepper throughout. Don't worry — you'll still need to lick your fingers.
Pretzels: Rold Gold Honey Wheat Braided Twists
The only way to eat a Rold Gold Honey Wheat Braided Twist pretzel (aka the perfect sweet-and-salty snack) is by slowly unraveling it in your mouth, munch by munch, all the way to the bottom of the helix. If you're bored in quarantine and have never tried this particular method, now's the time!
Popcorn: LesserEvil Oh My Ghee Organic Popcorn
Over the past few months, we've officially decided that popcorn counts as dinner. And if you're really doing it right, you're having an entire bag of this light, airy, salty, buttery, popcorn from LesserEvil. You can't go wrong with any of the flavors.
Tortilla Chips: Siete Grain Free Sea Salt Tortilla Chips
These tortilla chips (made with cassava flour and avocado oil) are a Kitchn team favorite because they're sturdy enough to stand up to any dip. The company is run by a Mexican-American family of seven (siete!) from South Texas who've undoubtedly mastered the formula for perfect grain-free tortilla chips.
Cookies: Oreo Double Stuf
Sometimes it's the old favorites that provide the greatest comforts. Despite decades of innovation in the Oreo space (did you know they make ones that are filled with Pop Rocks?), the very best version is the simple double stuffed. Not too much, not too little — just the right amount of "stuf." As you probably know, they always taste better when dunked in a cold glass of milk.
Nuts: Good & Gather Everything Cashews
Honestly, we're fans of basically everything in Target's new-ish Good & Gather line. If we had to pick just one thing, though, it'd be these nuts. The addition of the everything seasoning is just so smart. And we also love Target's suggestion to use these in a party mix.
Fruit Snacks: Welch's Fruit Snacks
You don't have to be a kid to appreciate the pure magic of Welch's Fruit Snacks (made with real fruit juice). Let these nostalgic gummies take you back to simpler times — when a pouch of these was the best lunch box surprise ever.
Kids' Snack: GoGo SqueeZ YogurtZ
Parents (including our very own Faith Durand) love these kid-friendly yogurt pouches because they can be stored at room temperature until opened. They're a good source of calcium and protein, and have no preservatives or high fructose corn syrup.
tinyurlis.gdv.gdv.htclck.ruulvis.netshrtco.detny.im