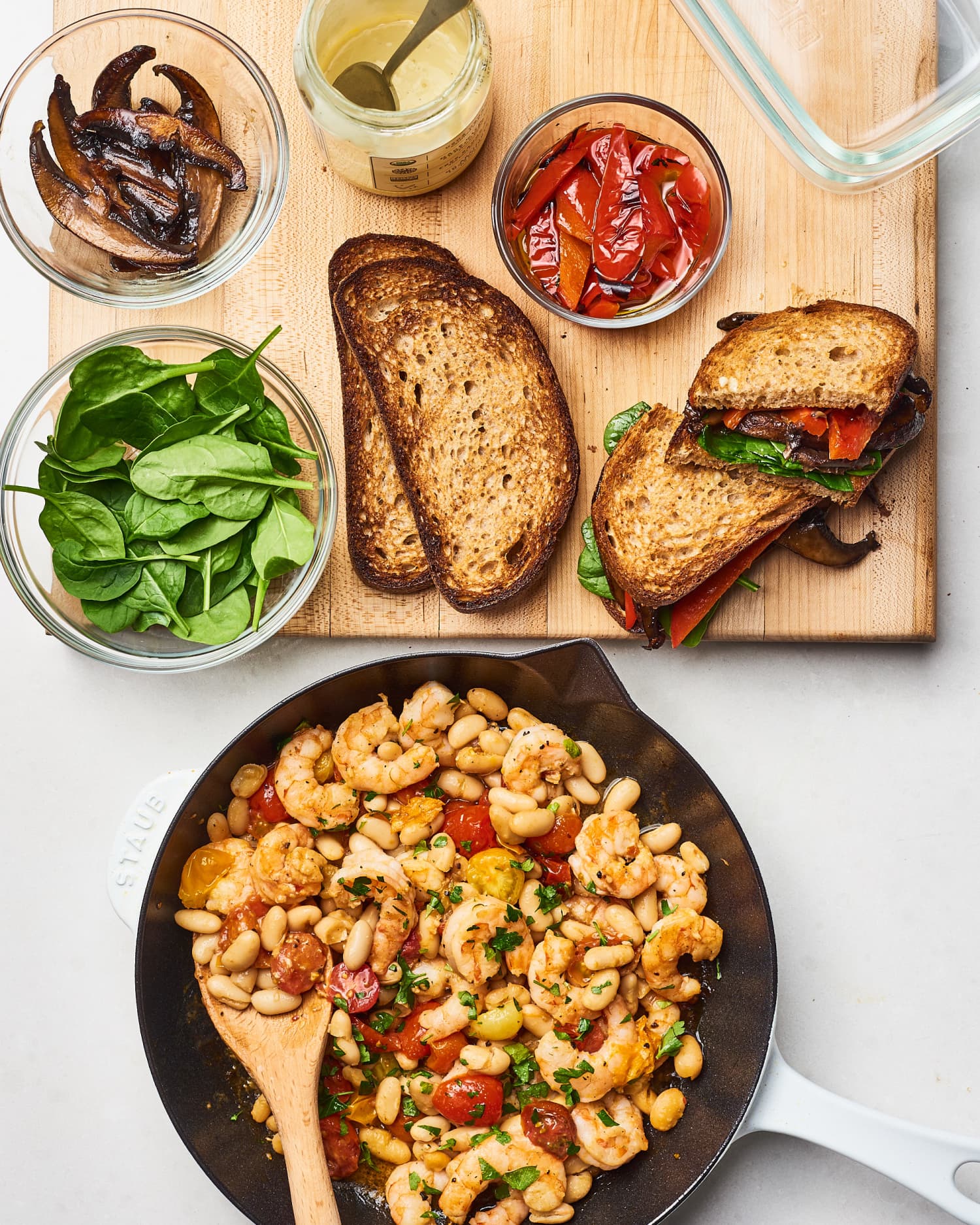 We independently select these products—if you buy from one of our links, we may earn a commission.
After graduating high school I was lucky enough to attend culinary school, where I learned how to properly cut veggies, break down chickens, and make all of the classic mother sauces. Recently I've gotten into meal prepping, and I've been using the lessons I learned in culinary school to help make the process easier and more efficient. I took several classes that focused on batch cooking, catering, and prepping things in advance, and I've been able to use some of the tricks I learned and adopt them into my own life. From how to assemble a salad to extend its shelf life to simply prepping the right items, these are some of the make-ahead tips I learned in culinary school.
1. Deli containers are perfect for storing salads, grains, and dressings in.
Most people use Mason jars to store their meal-prepped food, but I find that using plastic deli containers is much more efficient. In culinary school we used these for practically everything, and they are perfect for home cooking as well. The best part is that the containers can be stored in the freezer without cracking, so you can prep a bunch of protein, pack it up in a deli container, and store it in the freezer without worrying. And as a bonus, the containers are super cheap, so it's no biggie if you accidentally leave one at the office or crack one. I like having an array of sizes on hand to store various meal prepped items in — from sauces to roasted veggies.
Read more: 5 Reasons These Restaurant Storage Containers Are Better than Mason Jars
2. Always "FIFO" your fridge and label everything.
In culinary school we were constantly being reminded to FIFO our prep. Simply put, FIFO translates to "first in, first out" and means that your oldest foods should be stored in front so they get used first. I use this same system in my own kitchen, and it ensures that nothing I meal prep goes to waste or is forgotten about. I also label and date everything.
Read more: How to Be a Cook Whose Kitchen Would Pass a Safety Inspection
3. Assemble your salads with their dressing on the bottom.
I remember prepping a large salad for an event during culinary school, and one thing I learned is to put the dressing in the bottom of the bowl. This way, when it comes time to serve it, all you have to do is toss it together. This prevents the salad from getting soggy and keeps everything fresh. I now use this same trick at home when prepping salads in Mason jars. I place the dressing in the bottom, add all of the components on top, and toss it together right before serving.
Read more: How To Pack the Perfect Salad in a Jar
4. Look for crossover ingredients in your recipes.
My professors in culinary school were strict about working smarter, not harder. This means you should never double back and do the same thing twice. I try to keep this same level of efficiency in my own kitchen and think about accomplishing tasks in stages. For example, if there are chopped carrots in two different dishes I plan to meal prep, I will wash, peel, and chop them all at once. So when planning out your meal prep schedule for the week, look for crossover items and try to prep them all at once.
5. Meal prep hearty vegetables and avoid ones that go bad quickly.
Some vegetables are better suited to being meal prepped than others. These include hearty ones like broccoli, potatoes, and carrots. Avoid delicate veggies like tomatoes and cucumbers, as these tend to go bad rather quickly after cooking. Culinary school taught me to think about which items are worth prepping in advance and which simply aren't, and I try to keep this in mind as I plan out my meals.
Read more: This Is the Most Long-Lasting Fresh Produce to Buy Right Now
6. Use appliances to save yourself time.
Culinary school taught me that using the right tools for the job can make life infinitely easier. And although it might seem like a pain to schlep out your food processor, using it can make meal prepping so much easier. I use mine to make sauces and dips, and even quickly shred veggies using the shredding attachment. Instead of spending 20 minutes slicing a whole bunch of carrots, you can slice them all within minutes using the slicing attachment. It's all about saving time, and a food processor can make a world of difference when it comes to meal prepping.
Read more: My Top 10 Ways to Use the Food Processor
7. Meal prep an array of components instead of complete meals.
Instead of meal prepping complete meals, focus on prepping several different components you can piece together such as grains, veggies, proteins, sauces, and dips. This way you can puzzle them together in new and exciting ways throughout the week so you don't get tired of eating the same thing over and over again. In our banquet cooking class we would share prepping duties for different items among teams, making it easier to cook large portions.
Read more: Our 50 Best Meal Prep Recipes of All Time
8. Buy ingredients in bulk.
Professional kitchens always buy their items in bulk — which is not only practical, but also cost-effective. If you plan on cooking the same items multiple times, think about purchasing them in bulk. This is especially helpful when cooking grains such as rice, quinoa, or farro, as buying them from the bulk section is almost always cheaper.
Read more: Which Foods to Buy in Bulk
What are you favorite meal prepping tips? Let us know in the comments!