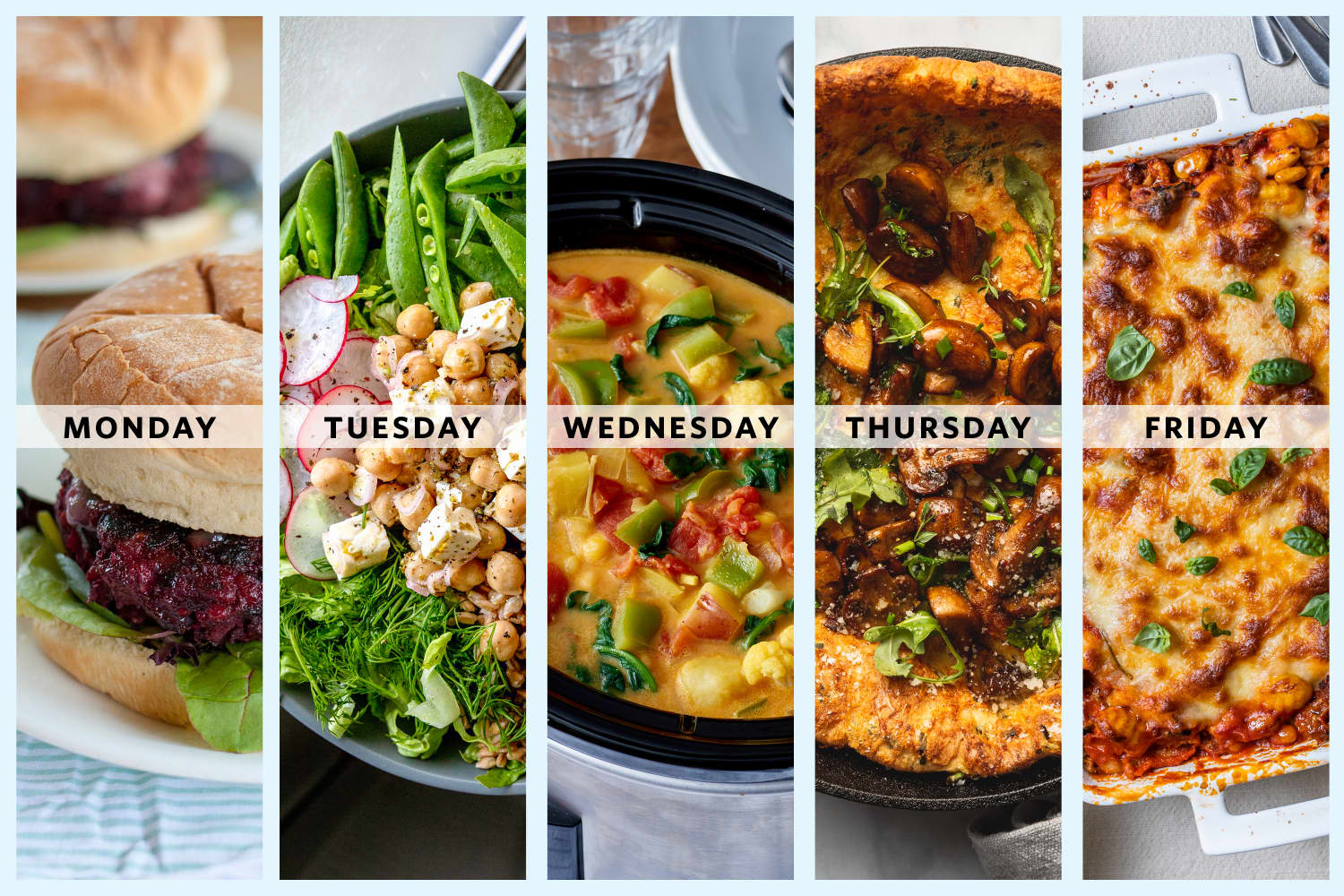 Most Saturdays I create a loose meal plan for the upcoming week that's designed to use up what's wilting in my fridge. But this week I'm looking to my freezer instead. After cooking nonstop over the past several weeks, I'm in desperate need of a break — and thankfully, I've been stocking my freezer with leftovers. (Let's just say I had a feeling this moment would come.)
This week's meal plan is made up of vibrant vegetarian meals — some of which are coming straight from my freezer, and others that will help me make use of my fridge scraps. Below, I've included a short plan for Sunday prep in case you want to get ahead like I have.
And here's one extra thing to prep to make the week even more hands-off.
Monday: Best-Ever Veggie Burgers
Inspired by the beloved veggie burger at Northstar Cafe in Columbus, Ohio, these beet-and-bean patties are deeply savory, have a crisp, flavorful crust, and are hearty enough to satisfy meat-eaters, too. They're equally good piled onto buns with all the classic burger fixings as they are crumbled onto leafy greens for a dinner-sized salad. Either way, tater tots are always a welcome accompaniment.
Get the recipe: Best-Ever Veggie Burger
Leftovers plan: Freeze leftover raw patties individually in plastic or between sheets of parchment paper for quick burger nights in weeks to come.
Tuesday: Marinated Chickpea and Feta Salad with Spring Veggies
This salad has become my new favorite way to use up whatever crispy, crunchy veggies I have in my fridge. The Greek-style vinaigrette — packed with lemon zest and juice, minced garlic, and plenty of dried oregano — brings the entire thing to life (the briny marinated feta doesn't hurt, either). Make it with whatever greens, grains, and herbs you have on hand.
Get the recipe: Marinated Chickpea and Feta Salad with Spring Veggies
Leftovers plan: This salad continues to absorb all the delightful tangy flavors as it sits in the fridge, so you'll absolutely want to eat leftovers for lunch the next day.
Wednesday: Slow Cooker Curried Vegetable and Chickpea Stew
This recipe is endlessly riffable — swap sweet potatoes for the red potatoes, broccoli for the cauliflower, and even basil for the spinach. You can also make it in either the slow cooker or on the stovetop, depending on what equipment you've got or what method you prefer. If you're making it day of, give yourself four hours for the slow cooker or one hour for the stovetop. As it simmers away, make some rice or orzo to eat with it.
Get the recipe: Slow Cooker Curried Vegetable and Chickpea Stew
Leftovers plan: If you prepped this ahead and thawed it today, store leftovers in the fridge and eat for lunch the rest of the week. If you made a fresh batch today, store leftovers in the freezer.
Thursday: Parmesan-Herb Dutch Baby with Garlic-Butter Mushrooms
I've got lots of mushrooms hanging out in my fridge right now, which has come to mean one thing in my household: It's time to make the Dutch baby. The golden, savory pancake is adaptable to whatever mushrooms and greens you've got, and watching it puff in the oven will never not be satisfying. This week, I'll add extra black pepper for a cacio e pepe vibe.
Get the recipe: Parmesan-Herb Dutch Baby with Garlic-Butter Mushrooms
Leftovers plan: Not necessary — trust me.
Friday: Gnocchi Lasagna with Spinach, White Beans, and Plant-Based Sausage
A cozy bowl of pasta or a giant homemade pizza will always be my Friday favorite. This riff on lasagna is extra-quick — you don't even have to cook the gnocchi before stirring them in. I also love that it's packed with greens and plenty of protein. As a vegetarian, I make mine with plant-based hot Italian sausage.
Get the recipe: Gnocchi Lasagna with Spinach, White Beans, and Sausage
Leftovers plan: Re-warm leftovers in the microwave or the oven all weekend long.
Meal planning isn't always easy — especially if you're just getting started. But we're firm believers that it's the secret to stress-free weeknight dinners. We want to help you find inspiration and ease some of the pain points that come with getting dinner on the table night after night, whether you're cooking one or a family of four or five. Every week we share a new meal plan solution specifically customized for you from reader requests or from a guest contributor, for Next Week's Meal Plan!
New to meal planning? Start here.
Click below to get more tips, insights, and ideas from our Meal Plan Club crew and readers like you.