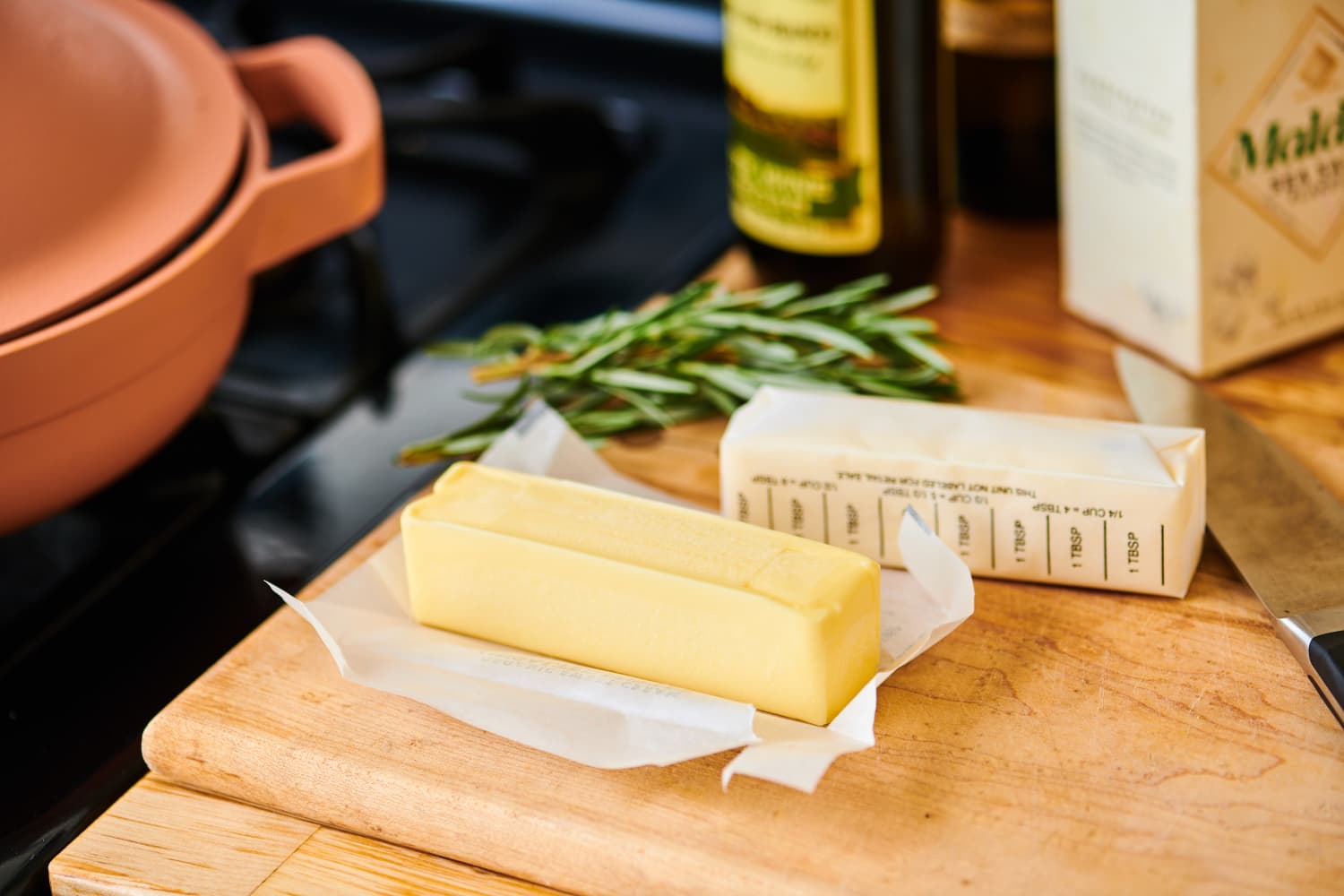 When your favorite bottle of olive oil is down to the last drop, or your stir-fry dinner plan is thwarted when you discover you're out of canola oil, butter is a natural substitute. Butter is one of the easiest swaps for cooking oils that we know, and it brings tons of flavor to everything it touches. But swapping butter for canola or olive oil isn't as simple as a one-for-one swap (like it is in baking). That's because butter has a lower heat tolerance and brings more moisture and milk solids to your cooking endeavors.
Here's everything you need to know about substituting butter anytime you run out of your favorite cooking oils.
How to Substitute Butter for Oil in Cooking
When it comes to cooking, swapping butter for oil isn't quite as simple as it might seem, although it isn't terribly complex either. Butter is mostly fat, but it also contains water and milk solids that can change certain cooking techniques. For example, straight butter would burn in a high-heat stir-fry, but you could use clarified butter instead. Here's a quick snapshot of how to use butter in common cooking techniques.
Stovetop sautéing: Swap butter 1:1 with the oil called for, but let the butter melt, bubble, and settle down before adding the vegetables. This allows butter's moisture to cook out and the fat to heat appropriately before the shrimp or vegetables are added.
Roasting: Start with cold butter and cut it into large cubes and dot your pan of vegetables with the cubes before roasting. For high-heat roasting, make your own ghee or clarified butter.
Stir-frying: Butter has a lower smoke point than our favorite oils for stir frying. Use ghee or clarified butter here for best results.
Pan-frying: Yes, you can use butter for simple pan-fried recipes! Like sautéing, you'll want to slowly melt the butter and let the moisture cook off before adding your food.
Don't forget you can combine butter and oil for cooking; this is especially helpful when your favorite cooking oils are running low or you want the flavor of butter with the high-heat capabilities of oil.
Even the most well-stocked kitchens run out of pantry staples from time to time. Whether you're trying to limit your grocery shopping or you need to make a last-minute ingredient swap, we've got you covered. This series will walk you through the best substitutions and replacements for common cooking and baking ingredients.