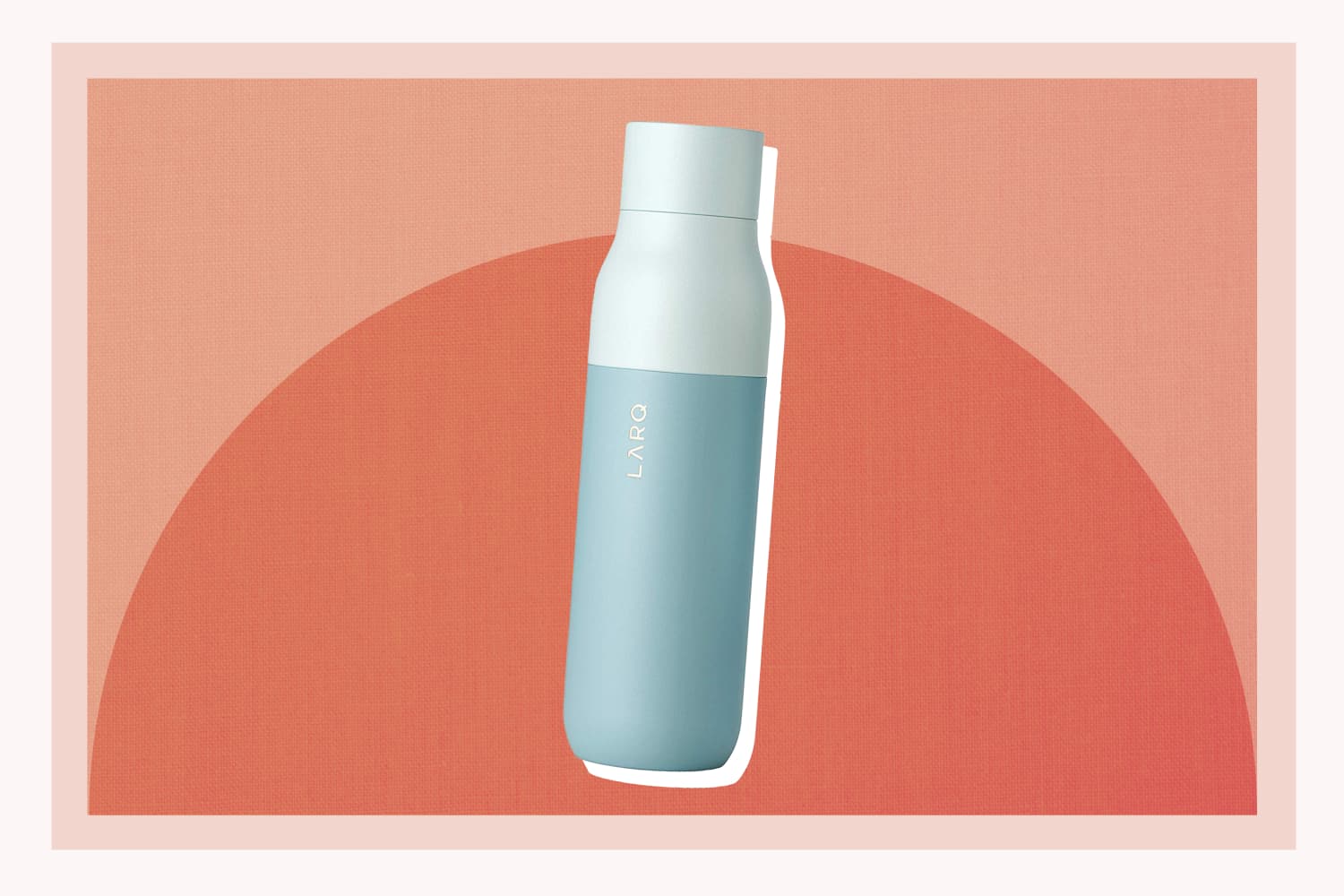 We independently select these products—if you buy from one of our links, we may earn a commission.
I haven't worked out in days months, my sink is piled high with dirty dishes, and clean laundry from last week is still hanging out in the dryer. Despite completely letting myself go, I still have one thing under control: getting my three liters of water a day! It helps that my water bottle cleans itself without an iota of effort from me. Confused? Let me introduce you to LARQ, the "world's first self-cleaning bottle" that purifies drinking water on the inside, keeping it fresh and clean for days. And while this may sound like a clever marketing ploy, I've been using my bottle for over three months now, and the hype is real.
I originally bought the 17-oz. bottle (it also comes in 25 oz.) to keep at my office desk in an attempt to stay more hydrated (and also because it's so ridiculously chic). The whole self-cleaning angle was just an added bonus. But once the stay-at-home-orders were issued, that's when I truly began enjoying the bottle's benefits.
For starters, it can purify water in an instant. I simply fill the bottle with tap water, press the button on top of the cap to kickstart a one-minute cleaning cycle, break into a bartender shimmy and give the bottle a quick shake to ensure everything is evenly purified, then glug that water down. The whole process takes a minute and a few seconds, tops, and I even get a workout in.
What truly sets LARQ apart from other reusable water bottles is the little non-toxic UV light in the cap that shines inside the bottle to kill odor-causing bacteria while keeping the water crisp and clear. Plus, every two hours, it self-cleans for 10 seconds to make the inside as bacteria free as possible. The bottle, which keeps my icy drinks cold for 24 hours and my French press coffee warm for up to 12 hours, also has two other purifying modes: Click the button twice, and the light runs for three minutes instead of one, providing extra cleaning power; or press and hold the button to activate Travel Mode, which keeps the light off to conserve the rechargeable battery. Each charge lasts up to one month, but I haven't charged my bottle in over five weeks, and it's still going strong.
And before you think I'm an animal who never washes her water bottle, I do give it a thorough wash every weekend, especially around the exterior mouth, which doesn't get the benefit of the UV light. As for the water's taste? Honestly, I can't tell any difference from my Brita water, but my husband, who's apparently now a water connoisseur, says it tastes just like pricey bottled water. "The kind you get at the airport business lounge."
While LARQ has made my self-quarantined days a little easier, I'm not a microbiologist and would definitely recommend doing your research before getting your own bottle. And if, like me, you've thrown away one too many bottles that have turned into smelly fish tanks when left unattended for days (sometimes even hours), then LARQ is definitely worth welcoming into your home. Plus, for a limited time, you can take $20 off your purchase with the option to donate the amount directly to the Direct Relief Fund, which supports healthcare workers.
Buy: LARQ, $75 (normally $95)