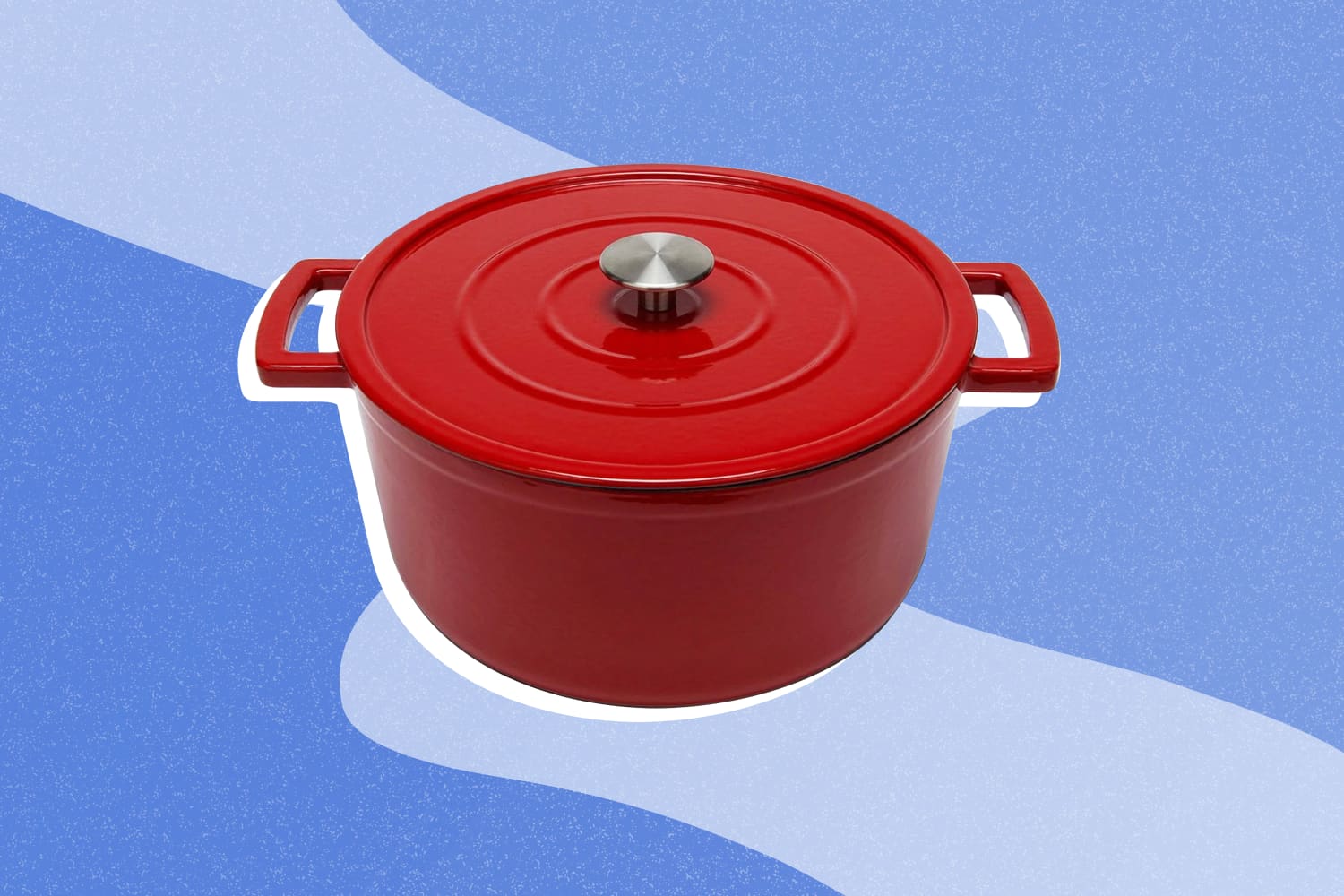 We independently select these products—if you buy from one of our links, we may earn a commission.
About two years ago, a new retail website called Italic began selling high-quality goods — handbags, coats, sunglasses — made by the same manufacturers that supply luxury labels but without the fancy label and giant markup. Even though access to the goods requires a membership with an annual fee ($100), customers have been signing up in droves to be able to buy the stuff that's just as good as the luxe brands, but at a fraction of the cost.
Italic has since expanded its inventory to include housewares, and when I spotted an enameled cast iron Dutch oven on the site (for less than $100!) I got really excited. Could this six-quart pot be the same as a Le Creuset or Staub?
Buy: Zest 6-Quart Dutch Oven, $95 at Italic
Note: The Dutch oven is currently sold out (because it's so popular!). But you can sign up to be alerted via email when it's back in stock.
According to the item description for Italic's Zest enameled cast iron pot, it's made by the "same manufacturer as premium cast iron brands." But unlike other items on the site, such as knives (which are made by the same manufacturer as Zwilling), the pot's description doesn't name names. It just says the maker has been operating since 1998. Italic's pot also doesn't have the classic look of a Le Creuset, or the black enamel interior of a Staub, both of which have been made in France for far more than two decades. All evidence suggests the Zest isn't a generic version of those grandaddy brands, but there's no way to know how premium the pot is, or isn't, by a photo alone. I decided I had to test it out.
As soon as I opened the plain brown box, I could tell the Zest pot was definitely not a Le Creuset or Staub in disguise. It's much thicker and heavier than my Le Creuset of the same size, and although the lid is very flat like Staub, it's not indented. The Zest is also thicker, the rim edge is flatter, the outside enamel is brighter, and it lacks Staub's black enamel interior and spikes under the lid.
Right away the Zest pot reminded me of the Artisanal Kitchen Supply pot sold at Bed, Bath and Beyond for $69. (I have spent a lot of time testing Dutch ovens!) It was nearly the same size, thickness, and weight; the rim was similarly flat instead of slightly rounded; and the shape of the pot and handles were nearly the same but with minor changes: The Zest pot has a flatter lid and more angular handles. Still, if I had to bet, I'd wager it was made by the same manufacturer.
At first I was a bit miffed. If it was the same maker, then the Zest pot isn't a bargain after all. But then I started looking at it objectively. Here was a stunningly gorgeous, shiny, Ferrari-red Dutch oven with a sleek, modern look, generously sized, clearly well-made with no flaws, and super heavy with a tight-fitting lid — for less than $100. If that's not a bargain I don't know what is.
With the lid, the Zest clocks in at more than 14 pounds, at least on my scale. It even surpassed the max weight so I had to weigh the pot and lid separately. The website says it's 13.5 pounds, but it's definitely heavier than the Artisanal Kitchen pot, which weighs 13 pounds 9 3/4 ounces on my scale and 14.13 pounds according to the Bed Bath and Beyond website. The point is, this is a very heavy pot — more than 2 pounds heavier than Le Creuset.
Some people might have trouble handling such a heavy pot, especially once it's full, and heavy pots take longer to respond to heat changes. But heaviness does have advantages. I made thick tomato sauce, Malaysian braised short ribs, cherry-berry jam, white bean soup, and a ratatouille-ish thing, and the super-thick bottom kept all of these dense dishes from burning — something that happens a bit too often in my Le Creuset.
The pot worked great both on the stove and in the oven, where it can withstand temps up to 500 degrees F. It also did a great job browning and searing. My short ribs got evenly golden no matter where in the pot they were placed and the white enamel interior made it easy to see the browning in action.
The lid sports an oven-safe metal handle and is incredibly heavy at just over 4 pounds. If there's one thing I don't like about this pot, it's the screw under the lid that holds the metal handle in place. It sticks out 1/4 inch and has deep grooves just waiting to get gunky. But I have to say, it hasn't gotten gross yet, and the lid seems to sit on the pot with a nice, tight fit. To test how well it keeps water vapor locked in, I brought 8 cups of water to a boil over high heat and let it boil for 10 minutes. It lost 1 1/2 cups — same as the Artisanal Kitchen pot. In previous tests I found that Le Creuset lost almost 2 cups of water, Milo lost about 1 cup, and Staub just 1/2 cup.
After two weeks of using the Zest pot nonstop, I can firmly say it's a quality product that doesn't disappoint. Is it a bargain? That depends on what you compare it to. It's certainly far cheaper than Le Creuset and Staub, just a bit cheaper than Milo, and slightly pricier than Artisanal Kitchen. But like all of those contenders, it performed like a champ and looked gorgeous while doing it.