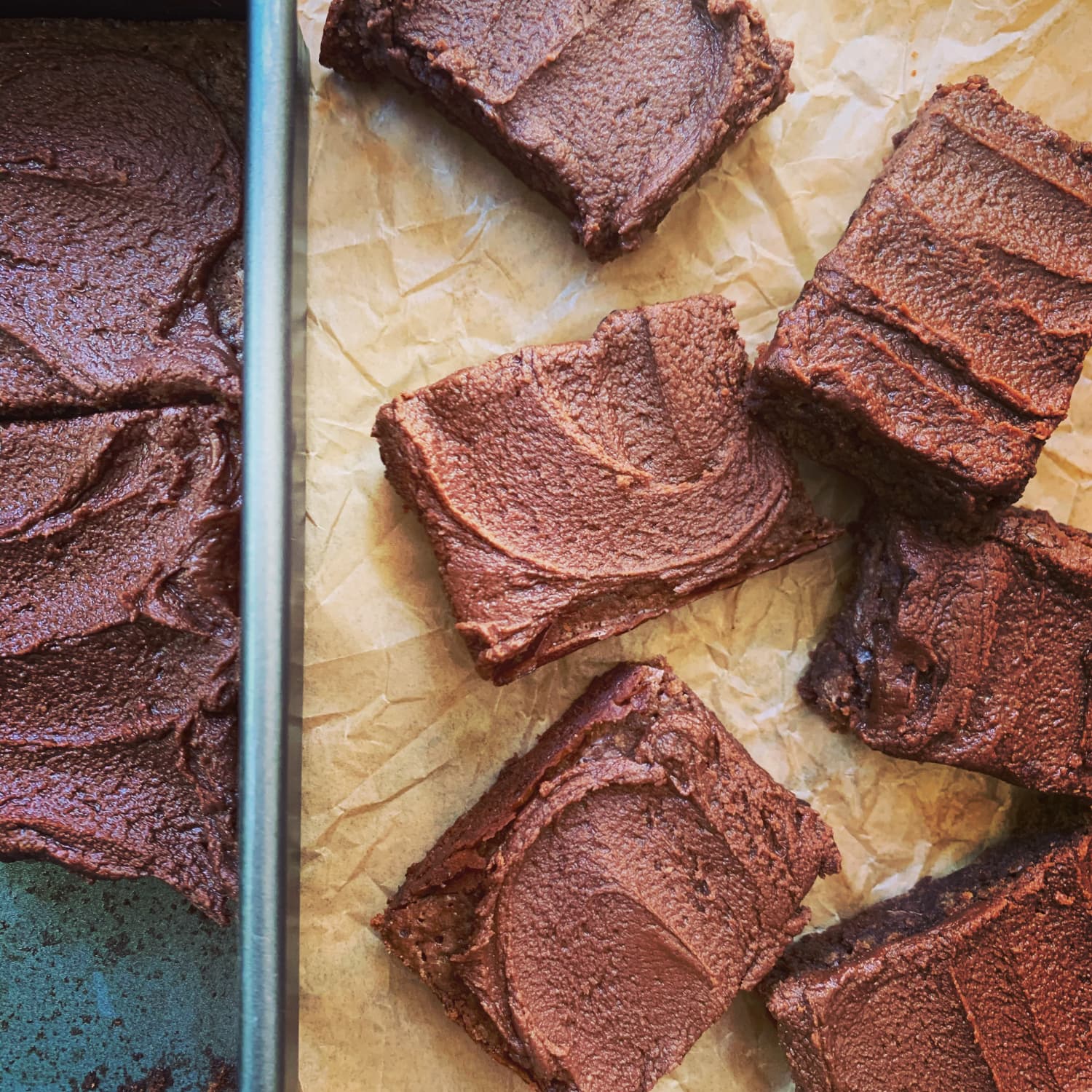 Although I'm not a huge chocolate fan, I'll never say no to a good brownie. Unlike other chocolate-y desserts, brownies offer sweetness and intense chocolate richness, but also have a nice array of textures. I love how the crunchy top gives way to a soft middle; bonus points if I snag a chewy corner piece. It's also an easy treat to throw together when the craving for a baked good or chocolate hits, and I rarely see adults or kids turn one down.
There's one brownie recipe I've always been curious to try, and that's AllRecipes' extremely popular recipe for Best Brownies, shared by user Angie. It's the first recipe that pops up when you Google "brownie," has upwards of 10,000 reviews, and a claim that "these brownies always turn out!" I knew I had to see if these were indeed the very best.
How to Make AllRecipes' Best Brownies
This recipe was definitely simple enough, and I appreciated that everything was mixed together in a saucepan. You'll first melt the butter, then mix in sugar, eggs, and vanilla (a whisk was the best tool here to make everything smooth) before adding in cocoa and flour. The instructions said to bake for 25 to 30 minutes, but there were no indicators on how to tell if the brownies were ready, so I just went with the top being set.
The frosting calls for mixing softened butter together with cocoa powder, honey, vanilla, and powdered sugar, but I didn't want to break out an electric mixer, so I took the advice of commenters and melted the butter instead. It was easy to stir together and mixed up a little glossy and thick. I let the brownies cool 15 minutes before frosting them, but by then the frosting had set up a little and it was hard to spread an even layer on the brownies even though they were still warm. I think frosting the brownies while they were hot would have been a better move.
My Honest Review of AllRecipes' Best Brownies
These thin (only about 3/4-inch thick before the frosting) brownies looked and smelled great, with a crackly top and fudgy, chewy texture. But were they the best brownies? Unfortunately, they were not. They were too sweet, and with just cocoa powder and no actual chocolate, they didn't have the intense chocolate flavor that's the hallmark of a good brownie; I just mainly tasted sugar. They were also pretty dense (I prefer my brownies to be slightly cakier).
While the frosting was not as sweet as I imagined it would be since it had both sugar and honey, the brownies didn't need it at all, echoing some of the comments on the recipe. Eaten together, the brownies plus frosting were just a sugar bomb. Compared to my own tried-and-true brownie recipe, which is just as easy, or even compared to Kitchn's favorite boxed brownie mix (Ghiradelli's Double Chocolate), these brownies fell short.
If You're Making These Brownies, a Few Tips
Have you ever made Allrecipes Best Brownies? Tell us what you thought!