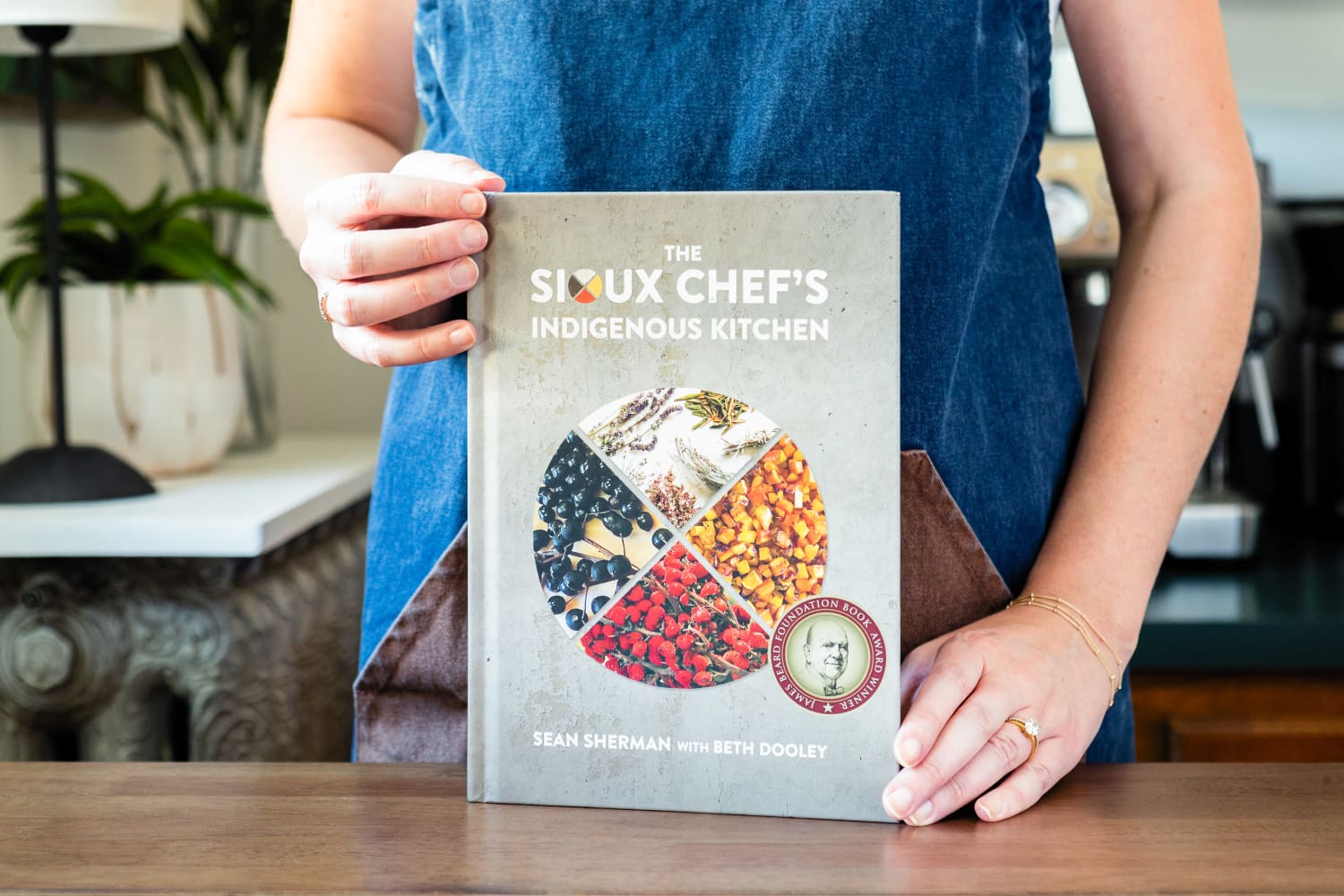 We independently select these products—if you buy from one of our links, we may earn a commission.
Anyway! I'm trying to post the announcements for next month's cookbook a little bit earlier so you can get your books sooner, and if you want to get a head start on October. So, without out any more fanfare — but with a lot of excitement — I'm happy to say that Sean Sherman's The Sioux Chef's Indigenous Kitchen is our pick for October. Read on to see why we chose this book and what you can look forward to next month.
Want to follow along with Kitchn's digital Cookbook Club? Here's how to participate.
Why The Sioux Chef's Indigenous Kitchen Is Our Cookbook Pick for October
The Sioux Chef's Indigenous Kitchen came out in 2017, and won a James Beard Award for "The Best American Cookbook" in 2018. This means it has been three years since I first heard about this cookbook, decided it was something I had to cook out of, and have failed to do so. Well, no longer! I personally feel woefully uneducated about indigenous cooking, and it's always something I've wanted to learn more about. Maybe you're in the same boat, or maybe you have an intimate knowledge of indigenous cuisine — either way, I hope you'll cook along with us.
Sean Sherman was born in Pine Ridge, South Dakota, but a lot of his life (and work) has been (and continues to be) in Minneapolis. As such, the ingredients and recipes you'll find in this cookbook focuses on Minnesota and the Dakotas, which Sherman says is "home to the Da- kota, Lakota, Ojibwe (Chippewa, Anishinaabe), Mandan, Hidasta, Arikara, and Ho-Chunk." Although Sherman also says that he's "learned how strikingly similar the indigenous approach is in every region," and that the methods you'll find in this cookbook work with other ingredients, too.
The Sioux Chef isn't just a cookbook. Sean Sherman has created an entire business around the education and preservation of Native American cuisine. Before COVID, The Sioux Chef had pop-up restaurants, a food truck, and a catering service. He also founded a nonprofit, the North American Traditional Indigenous Food Systems (NāTIFS), with the intention to open the first-ever Indigenous Food Lab restaurant and training center. Needless to say, Sherman is doing incredible work and I'm excited to dig into more of it in October.
There are so many things I want to make from this cookbook, but I have to stock up on a few pantry staples first — things like sumac, juniper, and sage. Sherman has a glossary of the key ingredients for the cookbook right after the introduction, which I find super helpful. After I have my kitchen in order, the first thing I want to make is the salad with griddled squash, apples, wild greens, and toasted walnuts (page 17). It sounds perfect for fall, even if it's still hot in Los Angeles (where I live).
What about you? What do you want to make first? Let me know in our Facebook group. See you there, and happy cooking!
— Ariel Knutson, Features Director