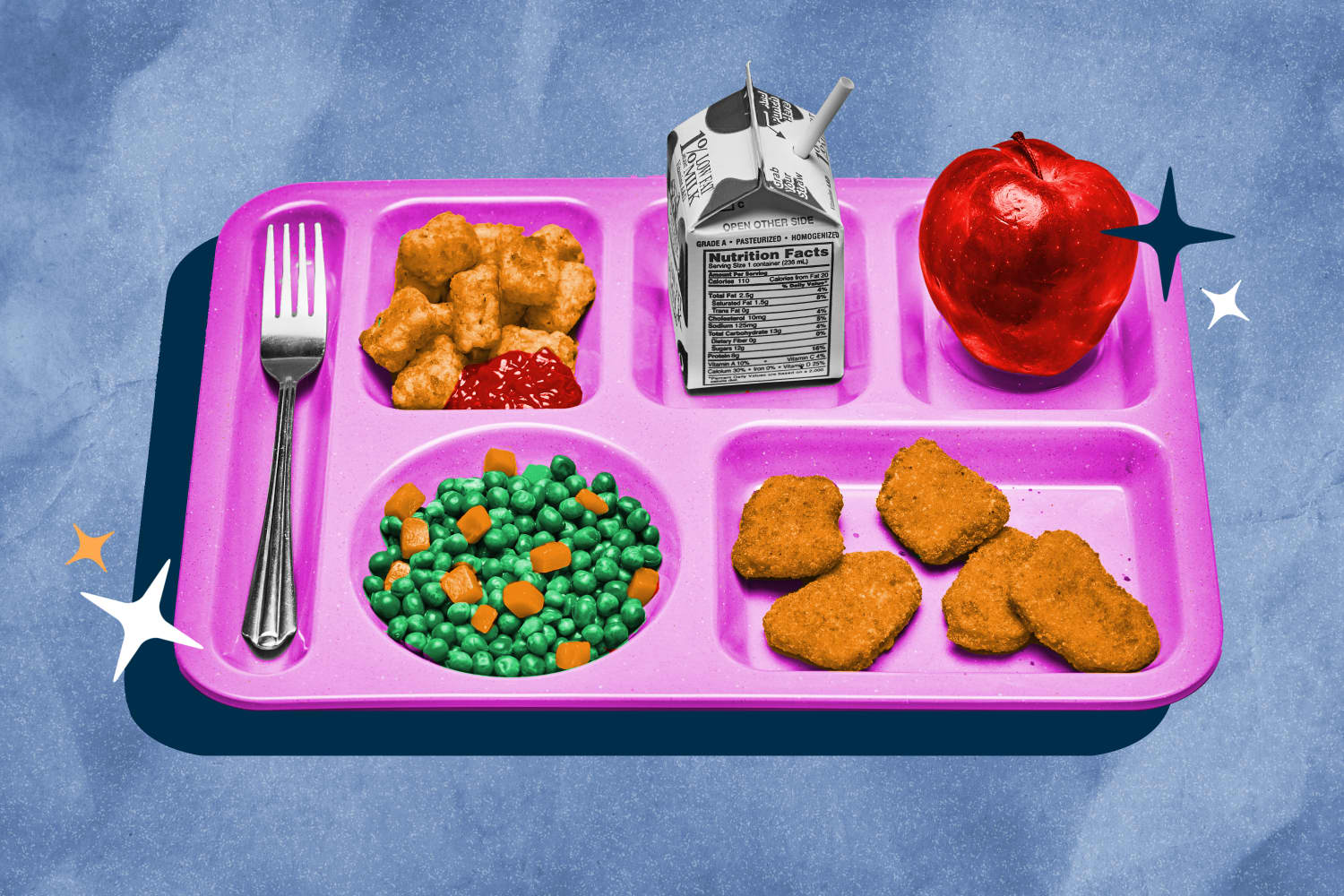 Feeding kids requires culinary skills, indefatigability, and nerves of steel, and that's even when it's only your own. When it comes to the tireless, thankless job of serving hundreds, if not thousands, of children lunch every day at school — and this year, while not at school — nobody deserves more respect than school cafeteria workers.
As they slog through an entirely new setup this year, whether serving from behind glass shields in full personal protective equipment or delivering from a big orange school bus, we wanted to hear what they had to say. But first we needed the answer to the burning question: Is it okay to call them lunch ladies?
"Mostly the men don't really love it," laughs Emme Ribeiro Collins, the district chef for nutrition services at Seattle Public Schools. "The women who have been there for 20 or 30 years, that's their role and they love it." But whatever you call them, we wanted to hear from them about what they want you to know this year.
Please, forget Lunch Lady Doris.
"It's not hairnets and stockings anymore!" Heather Haynes wants people to remember that today's lunch ladies aren't the ones you knew. "Things have come a long way and the stigma that the cafeteria crew has received is not what is deserved anymore," she says. "We deal with allergies, regulations, and now COVID. Yet we still do our best to reach every child we can with more than just the 'Do you want gravy?' mentality."
This is new to everyone. Be patient.
One of the biggest things Fran Grantham and her colleagues want to remind people of is they are doing their best and that their main goal is to feed kids, but they need patience and grace as they navigate changes to their job, regulations, and the addition of PPE like masks and shields. "Please be patient and understand."
"School may seem very different and unfamiliar at the start of the year," says Kathy Schmidt Weber. But she reminds students that "They can count and depend on their lunch ladies to provide a safe and nourishing environment for them."
Lunch ladies are people, too. Talk to us!
Beyond patience, Suzie Gerhardt asks parents to teach their children to talk to the lunch lady. "Lunch ladies aim for being a welcoming and comforting part of your child's school day," Julie Mirmina reminds parents. "Not only do we want to provide a healthy and nutritious breakfast and lunch to our students, we want your child to share with us how they did on their math quiz or at last night's recital." They acknowledge things will be different for everyone this year, but, she says, "The love and dedication of your lunch ladies will not waver."
Don't worry, we're better prepared for school lunch this fall.
"We were in a state of emergency," recalls Collins of when school shut down in the spring, which meant that they were just reacting to things as they came. Now, they've had time to prepare for the various permutations of what school will look like and can get back to the same kinds of programs they had been trying to put into place prior to the shutdown, like working with local farms.
"Just know that we are doing our best," adds Amy Shuman. "Times are scary; this is not normal. But we are trying to make it as normal as possible; together we are going to get through this!"
We want everyone to get food (parents, too).
When Michelle Thompson started handing out meals to kids in Seattle in the spring, she quickly realized that they weren't the only ones needing food. "We use the word hangry — hungry and angry — for the kids," she says, but the nutritional services manager in Seattle also knows the dangers of parenting while hangry. Their goal is to help everyone, so she is very careful with how she words questions so that she complies both with the bureaucracy and makes sure that nobody goes hungry, asking "How many in the household?" rather than specifying kids when she hands out meals to virtual learners. Thompson is a parent herself, so she empathizes with those whose incomes have been affected. "I'm reduced hours, too," she says. "The distribution site helps me."
You can help us by filling out your forms.
Nobody likes paperwork, but when you fill out the free and reduced lunch applications, you help make sure everyone can get food. It helps parents stretch food dollars, but Robin Thacker also points out that it helps the district make decisions so it can help in other areas as well.
School nutrition services mostly self-support, says Dawn St Michel. "We do not get tax funds, or money from the state or federal government. We are a non-profit. Our income is directly related to meals served for children."
Understand many decisions don't happen at the school level.
A lot of the decisions of how food is distributed and funded comes from the district and the government, says Collins, so if there are changes you want to see, that's the place to go. "The district puts weight on what the parents say," she says. And while she does her best to make sure anyone can get food, it's not easy. Thankfully, the national waiver for free lunch was extended through December.
We can't actually just feed you cake. (Even if we want to.)
"Yes, we may have to serve those beans, because we have rules to follow too!" says Gerhardt.
That's as much a message for parents and kids as for their coworkers: "I wish other employees in the building would understand that we have guidelines that we have to follow," says Brenda Vinson. "We can't just change them. On the first day of school this year, the principal asked if the fruit cup was necessary because the kids were having difficulty opening it."
"We have so many rules and regulations that sometimes it's hard making good flavorful food," says Amanda Wert, lamenting the bad reputation of school lunches. "We can't just give them cake," she says, pointing out that if they could just make what they wanted, there'd be a lot less complaining.
When it comes to safety, you can rest assured.
The cafeteria, says St Michel, is "much like any other restaurant, only with much stricter rules and regulations on what we can offer and serve." That extends to cleanliness. "Our kitchens are the cleanest, most sanitary professional kitchens and we can (and have to) prove it because we are checked and tested by the board of health," says Amanda Raechelle Haddon. "I don't think people know enough about the rules and regulations that we must follow or the level of knowledge we must have to operate in this capacity."
We want to help you. Speak up!
"There's been a lot of unknowns," says Thompson, but if she doesn't have an answer for parents, she's ready to figure it out. She encourages students and families to ask so that she can try to solve whatever the issue is, and try to connect people to whatever resources exist. "Whether lunch related or not," says Julie Ebert Walker, "we will do our best to help or find the person who can." But remember, things are different this year, so she has one more request to add on: "Please speak up," because wearing a mask makes it hard to hear.
Everything changes, then changes again.
One Monday, Thompson received an email about a change in how things would work. On Tuesday, she got one that reversed the original one. Other districts opened in-person, then changed to virtual learning. Everybody is doing their best, but also nobody knows what's happening next. "I thrive on routine," says Thompson. In her six years on the job, she could count on things mostly staying the same. Nothing prepared her for this, though. "I'm adjusting," she laughs. "It has helped me to develop new skills."
"We are so grateful to be able to see our students in whatever capacity that we can," says Ashley Schneider, and they're dedicated to making this school year as normal as they can. "We appreciate patience and flexibility as we navigate through these unprecedented times."
But most of all, we're excited to feed kids.
The cover photo of the Lunch Ladies Facebook group shows a bulletin board decorated with a giant facemask saying "We can't mask how excited we are to welcome you back," and that is the message they repeat over and over when asked what people should know: They are inspired, motivated by, and entirely fueled by the students they feed. "We love our kids!" says Kelley Morris Behrman. "We are all in this together as a community."
Back to School 2020: It's the strangest back-to-school season of our lives, and no matter where your child's desk is actually located this fall: they have to eat. Every day. What even is school lunch in fall 2020? We've compiled stories, commiserations, and hopeful tips from a diverse crew of parents to help us all feel a little less alone in breathing deep, eating well, and unmuting that ever-elusive Zoom button.
tinyurlis.gdv.gdv.htclck.ruulvis.netshrtco.de