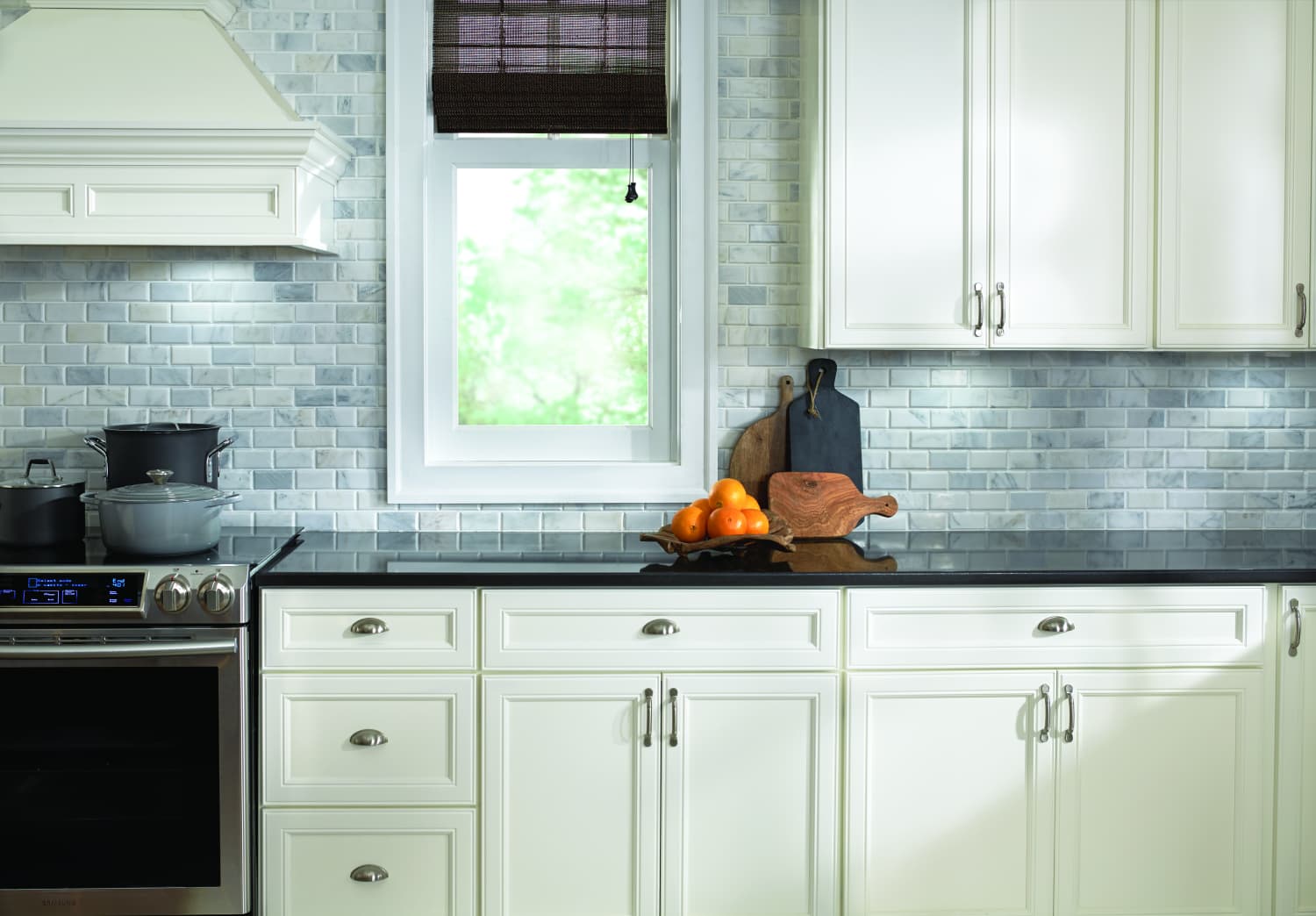 Whether you were perfecting your sourdough bread technique or you're just cooking more meals at home, we bet you're spending more time in your kitchen this year than any other. Feeling like yours could use an update? Here's a secret: You don't have to overhaul the whole thing for it to feel like a shiny new space. Cabinet refacing can give your tired cabinets a facelift that, when finished, feels like you got the entire space done. "Most existing cabinet boxes are in excellent condition," says Victoria Yang, associate merchant, The Home Depot's Installation Services. "It's just the exterior that's outdated." Small improvements such as changing the color from dark to light, switching a raised panel to a shaker door style, or opting for concealed hinges instead of external ones can make a serious impact, Yang says. Here are all the reasons why giving your kitchen cabinets a refresh should be your next home improvement project, stat.
It's way easier than a full-kitchen remodel
…because who wants to live out of the basement mini-fridge or rely on Postmates for months? And, better yet, you don't have to vacate the premises or eat amid a dust bowl. The process goes a little something like this: Certified pros remove cabinet doors and drawer fronts, refinish the outer edges of the cabinet boxes so they'll match the new cabinet doors you choose, then install doors, drawer fronts, and hardware. Just like that, your dream kitchen is complete without having to miss a beat.
You can consult a pro — virtually
Customizing the cabinets of your dreams can be as easy as turning on your computer. The Home Depot offers a free virtual consultation with a designer, providing you the benefit of a pro's advice, without needing to be face-to-face. "The design consultant will walk you through the design possibilities and come up with a project quote." Yang says. In this one-to-two-hour appointment, the designer will introduce all the choices for door styles, colors, finishes, and hardware, and find the best fit for your style and budget.
Unlike traditional kitchen remodels, which can take months to complete, The Home Depot's Cabinet Refacing Service takes as few as three-to-five days — so in under a week, you'll be stashing away your dishware in high style. And because your original cabinet frames will remain, you won't have to start from scratch — or make changes to your whole kitchen—which is so much less time-consuming. Also unlike a reno, the quote presented to you won't change, and the cost of materials, labor, and freight are all included in one final price. Plus, permits are typically not required. It's a big switch, minus the stress.
There are So. Many. Options.
Whether you're a minimalist, maximalist, modernist, or traditionalist, you'll find a cabinet to suit your style. First, there are the door options, which include modern shaker, slab, classic arch, and cathedral styles in gray, white, or wood grains, as well as glass inserts. Then there are the finishes, which range from high-gloss and stains to paints and glazes. And finally, there's the hardware: a variety of pulls and knobs in matte black, polished chrome, stainless steel, satin nickel, and bronze. Your pro can walk you through the best choices to suit your style. And while you're at it, you can add features such as countertops, backsplash, sinks, under cabinet lighting, pantry, and organization. Really, the possibilities are almost endless.
To find out more about The Home Depot Cabinet Refacing Service, set up a free virtual or in-home consultation here.
tinyurl
is.gd
v.gd
v.ht
u.nu
clck.ru
ulvis.net
shrtco.de
tny.im