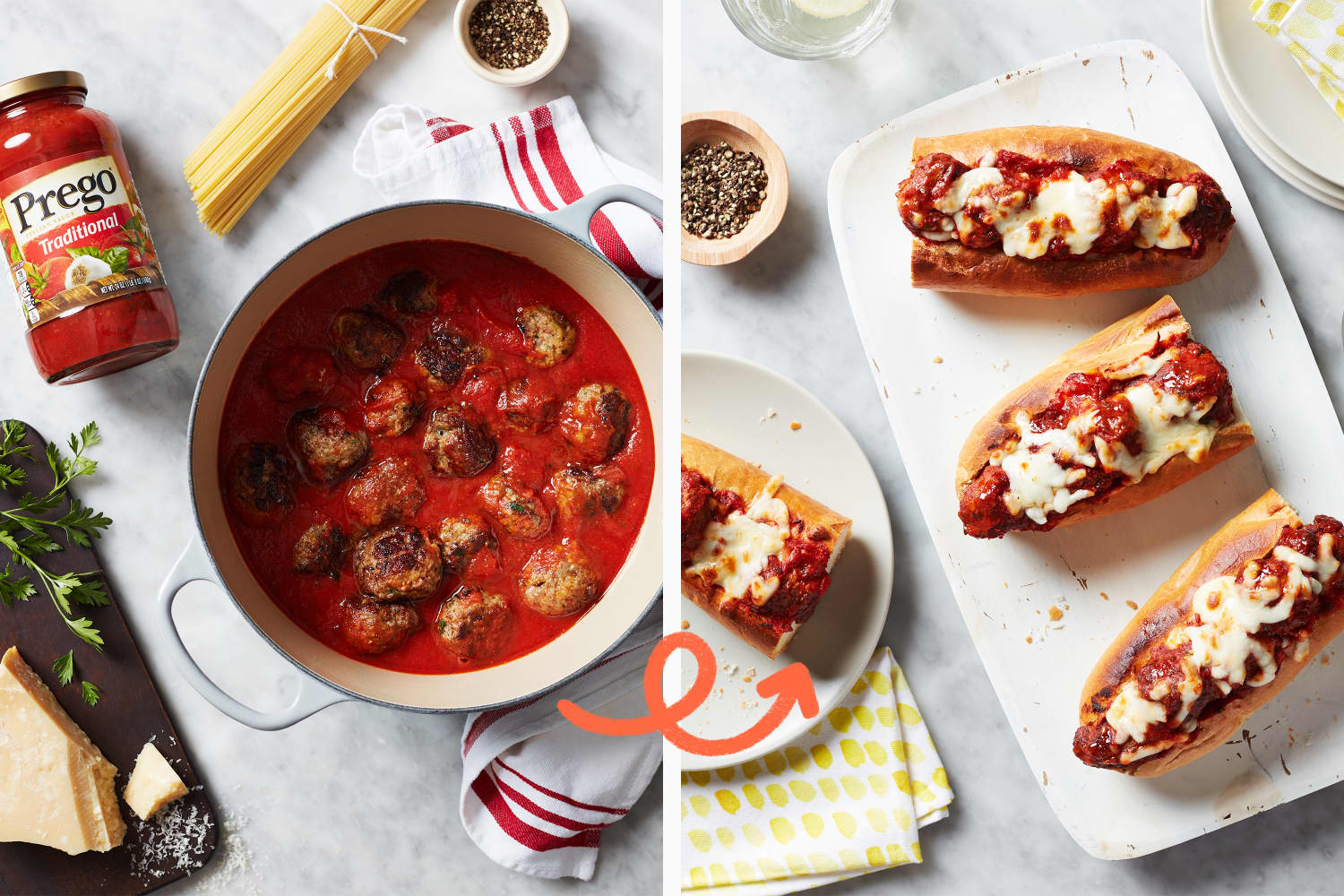 published about 11 hours ago
Welcome to Rollover Dinners, a new monthly series to help you make smart use of leftovers. Step 1: Make a family-friendly big-batch recipe for the first night. Step 2: Cook a meal later in the week that transforms the leftovers into a new dinner with minimal extra work.
No matter the night, meatballs will always receive dinnertime cheers. The family favorite is so cozy and satisfying, it's nearly impossible not to immediately dig in when they hit the table. It's quick and easy to make a big batch, and when you do, you and your family will be rewarded with not one, but two comforting dinners. Pair the saucy meatballs with pasta on the first night. Then, use the leftovers the next night in an entirely different meal that hardly takes any effort to pull off.
Up First: Spaghetti and Meatballs
Rollover Recipe Number 1: Spaghetti and Meatballs
It's hard to beat the coziness that comes with twirling your fork into a bowl of spaghetti and meatballs. What makes this recipe stand out is Prego® Traditional Italian Sauce. The thick and delicious sauce is bursting with sweet, vine-ripened tomatoes and savory Italian seasonings. Let the simple beef meatballs simmer in it and they truly become their best selves. All that's left to do is serve them over spaghetti to catch every last bit of comforting goodness.
Roll It Over: Meatball Subs
Rollover Recipe Number 2: Meatball Subs
After you and your family have filled up on spaghetti and meatballs, save 20 meatballs and 3/4 cup sauce in a single airtight container. You turn these saucy meatballs into warm, cheesy sub sandwiches the next night. Since they're already so juicy and flavorful, you'll hardly have to lift a finger to pull off dinner. Just pile the meatballs into crusty rolls, sprinkle them with lots of melty cheese, and bake until gooey and bubbling.