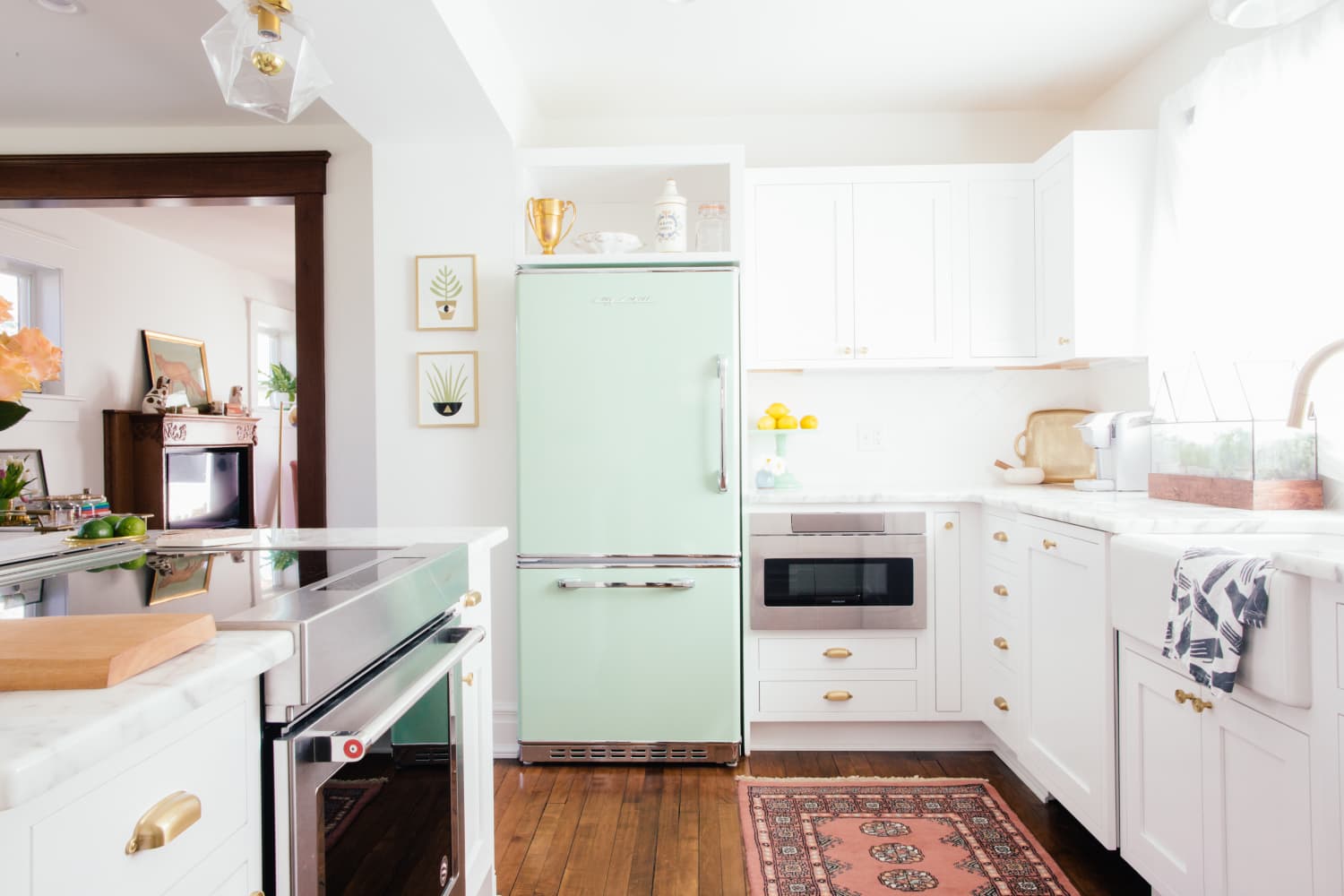 You know those kitchens that you save to your #kitchengoals Pinterest board and wistfully visit (and revisit)? Whether your dream kitchen trends toward Scandi-cool or is more farmhouse-chic, chances are it's neat and tidy, with nary a stray spatula in sight. Are we right? We thought so.
While you might not be able to transform your tiny rental kitchen into a palatial space with its own walk-in pantry, you can get it in tip-top shape. Here are 30 of our smartest tips and hacks to help you (and your kitchen) take a step in the right direction.
1. Use a tension rod to make an extra spice shelf.
Add more space to a spice cabinet by installing a tension rod toward the top. It won't interfere with any of the storage on the bottom and will create even more space for little jars.
2. Use Command hooks to hang pot lids on cabinet doors.
An avalanche of pot lids is never fun. Keep them all in place (on the back of cabinet doors) with a few Command hooks. This hack is quick and easy to do and it's a totally custom solution.
3. Use Mason jars inside a drawer.
We saw this in a recent drawer makeover and were blown away. Put Mason jars on their sides and they'll fit in most drawers and help keep utensils nice and tidy.
4. Hang up your foil and parchment paper.
These little boxes don't take up a ton of space, but there's also no reason to waste drawer space on them. Instead, hang them up on a cabinet door or on a pantry wall. Bonus: It'll make pulling off a piece a million times easier.
5. Use a hanging shoe organizer.
6. Use a lazy Susan to corral countertop clutter.
We all have things that never (ever) make it off the counter — salt and pepper, olive oil, maybe sugar or honey for your morning tea — and end up hogging precious space. Here's what you do: Gather all your oft-used items on a lazy Susan and you've got a neat solution to countertop clutter. If you want something more decorative, try a cake stand; it won't turn, but it sure will look pretty.
7. Make the most of pantry space with a turntable.
Another smart use for a turntable? In your pantry, especially in awkward corners, where it's hard to reach. Or if your "pantry" is actually your kitchen cabinet and you're trying to make sure you can get to your cinnamon without taking out all of the spices. Also, put a lazy Susan in your fridge for these same reasons!
8. Add hooks anywhere you can.
Install hooks on the walls, inside cabinets, under shelves … anywhere you can find a spot. You'll basically create space out of thin air and make a home for stuff that would otherwise take up drawer or cabinet space.
9. Upcycle your egg crates like Alton Brown.
Pro chef and Food Network star Alton Brown has found a storage solution in an unlikely place: egg cartons! When you're done with a carton, separate the top and bottom and use one to line the bottom of the shelf on your fridge's door, then store condiments mouth-side down.
10. Store leftover condiment packets in a sponge holder.
Be honest: Do you keep those condiment packets you get with your Chinese food/deli sandwich/french fries? We have the solution to your tiny-packet storage woes. Put a sponge holder on the inside of your fridge (or your cabinet works too — they don't need to be cold) and put your packets in (ideally organized by type).
11. Use a baking sheet to create more shelf space in your fridge.
The only problem with making a casserole or a big salad? They take up so much room in the fridge! Create a temporary organizing solution by placing a baking sheet (or even chopsticks) on top. You'll be able to stack way more stuff in there until it's time to serve.
12. Store your stand mixer attachments in the bowl.
Fact: The attachments from your stand mixer are not going to fit into any sort of normal organizer. They're too big/bulky/awkward. The best spot for them? Right in the mixer bowl! They fit perfectly without taking up extra storage space and they're right there in the bowl when you want to use your mixer — no hunting around for where, oh where, you put them. We like to throw a clean dish towel in the bowl to protect both the bowl and the attachments.
13. Use a Command hook to wrap up your stand mixer's cord.
Speaking of stand mixers, even the best-looking ones have a glaring problem: the cord! Keep your kitchen looking more organized by sticking a cord bundler on the back of it and wrapping the cord around it. This also works with other appliances!
14. Use the sides of your cabinets.
It's amazing how much space goes wasted when you stop to really look at your kitchen. If you have cabinets with exposed sides, use them! Add a rail, hooks, or even shelves.
15. Use the space above the cabinets, too.
It's kind of a mystery to us why so many kitchens have that wasted space between the upper cabinets and the ceiling. Why not have the cabinets go all the way up? It always seems like, well, a waste — unless you make use of it. Turn it into storage for bulky (and not-often-used) pots, the cookbooks you pull out every once in a while, extra ingredients, or even a spot to show off a collection.
16. Get rid of unnecessary packaging.
Visual clutter can be just as bad as regular ol' clutter. And half-empty bags of flour, crushed boxes of pasta, and twist tie-closed bags of rice can all create visual clutter. To cut down on that, decant your ingredients into pretty containers. Even if you're stashing it all away in a pantry, these containers will make a big difference.
17. Add tension rods to your cabinets.
We always think about stacking things, but sometimes the best way to store something to is to file it on its side. Tension rods (so cheap! So easy to install!) turn a cabinet into a file cabinet of sorts.
18. Get an IKEA RASKOG cart.
19. Use some wall space to DIY a pantry.
So you don't have the walk-in pantry of your dreams — we don't either! But, even tiny kitchens need to stock basic staples. So think vertical and use whatever wall space you have. If there's room for it, we love a pegboard pantry, but you can also just hang some regular ol; shelves, which come in all sizes and can fit in any kitchen.
20. Or build shelves into the wall.
21. Turn cabinets into drawers.
Fact: Drawers are almost always better than cabinets. Add rolling racks to your existing cabinets so that you can easily pull out what you have and see everything without having to crane your neck. If you can't do anything with actual hardware, try adding some baskets, which essentially work the same way.
22. Harness the magic of magnets.
Similar to that hook idea we mentioned, you can use magnets under your cabinets, too. They're great for keeping your go-to spices within arm's reach. Just install a magnetic knife rack.
23. Add counter space by investing in shelf risers.
If you weren't already hip to shelf risers, this is your wakeup call. Small, cheap, and virtually foolproof, you can place them inside your kitchen cabinets to score double the storage space, or on your countertop to hold your frequently used items.
24. Wrangle baking mats with paper towel tubes.
This reader tip is not only super smart, but it also lets you upcycle the leftover cardboard tubes from your paper towels. Just cut off a section of the tube, roll the baking sheet up tightly, and slip it through. It's free and makes storage extra easy!
25. Use old boxes in your junk drawer.
Before you run out to buy special drawer organizers, look around your house to see what you can use. That old box from notecards? Use it! Changes are, you have plenty of makeshift organizers already.
26. Store heavy appliances on plastic cutting boards.
Another tip that came from a reader! Put heavy appliances (like a toaster, blender, or stand mixer) on a plastic cutting board. This way, when you need to use it, it won't skip along as you pull it out from its resting counter spot.
27. Steal space from other rooms.
If your kitchen is truly teeny-tiny, there's no law saying you can't extend it into a nearby room. Add a moveable island to a hallway or fill a bookcase in the living room with your favorite plates and glasses. You've gotta do what you've gotta do!
28. Add a pot rail — or 3.
As you've probably picked up by now, we love to hang things! And our very favorite way to hang things is probably on a pot rail. In our humble opinion, the pot rail is the MVP of kitchen storage.
29. Build a diagonal drawer organizer.
Working on the diagonal, instead of right angles, gives you much more flexibility in terms of how you use the space inside your drawers. And while you can buy a diagonal organizer, making one is relatively simple and is guaranteed to fit, no matter what size or shape your drawer is.
30. Use binder clips in the freezer.
Freezers are often messier than our fridges. They're just frozen tundras where leftovers go to be forgotten about, right? Use binder clips to help restore some sort of order. Mark what goes where and then use the system.
31. Color code your cookbooks.
Most people think visually. So when you think of your favorite cookbook, you can likely picture its color. Which means sorting your cookbooks by color might make sense for you. Not only can doing so help you find a book more quickly, but it also makes for a striking bookshelf display.
32. Use a dish rack to organize kiddie plates.
Anyone who has amassed a random collection of kiddie plates and bowls knows that they don't always stack up nice and neatly. So use a wire dish rack to hold everything in a cabinet. This way, you can pull out a plate without sending everything tumbling.
33. Turn IKEA's plastic bag organizer into a cleaning station.
IKEA's VARIERA bag dispenser (yes, the thing you buy to store your used plastic grocery bags) can be used for so much more. We had a few ideas, but especially like this one of storing cleaning products in some horizontally hung ones.
34. Use your magnetic knife strip for appliance attachments.
Remember that spice idea with the knife rack from above? A magnetic knife strip is also a great thing for food processor attachments. And pot lids. And so many other things.
35. Let yourself have one junk drawer.
Got any of your own tips to add? Let us know in the comments below!