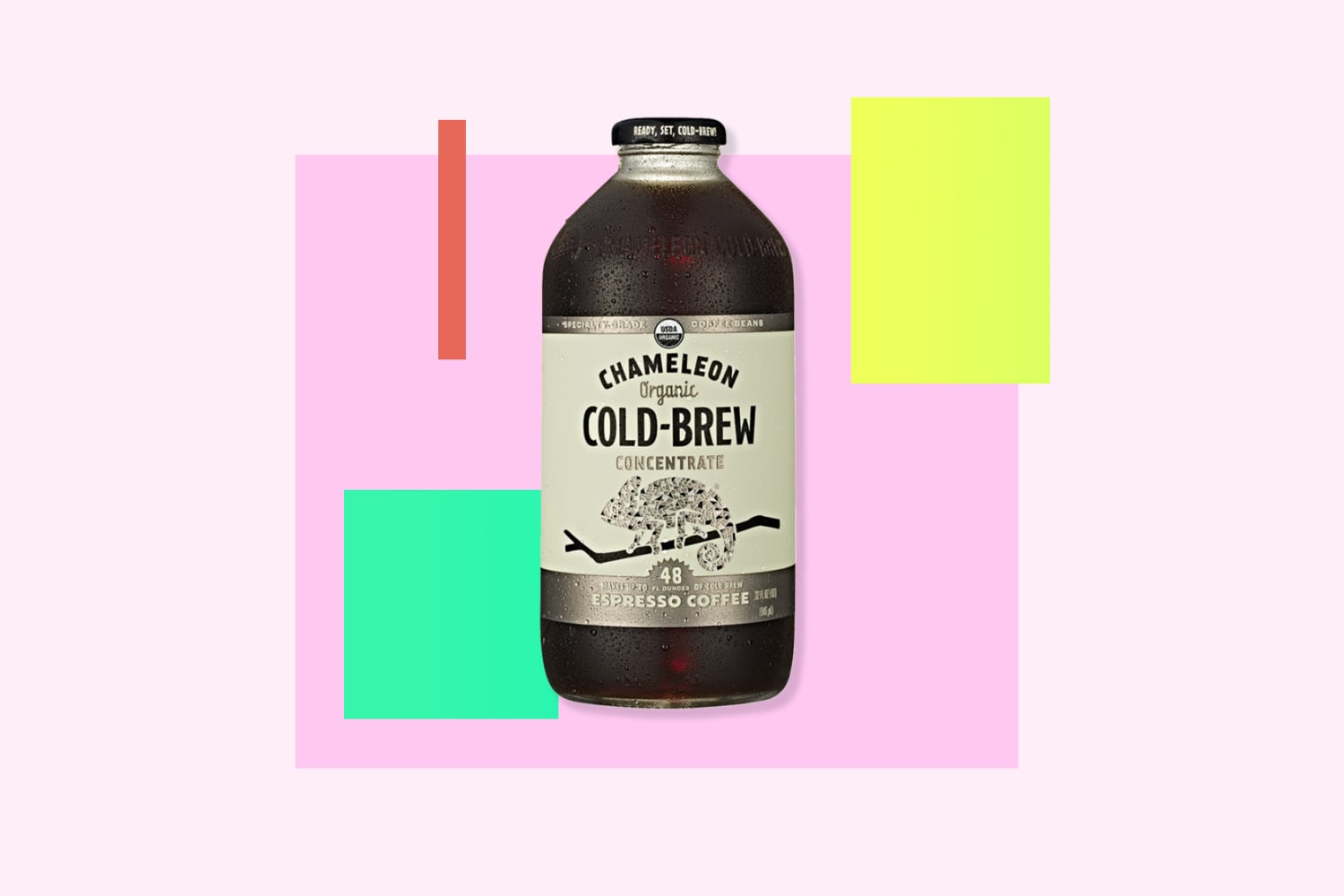 We independently select these products—if you buy from one of our links, we may earn a commission.
This month, the Kitchn team launched Kitchn Essentials, Grocery Edition, our official list of the most essential grocery items for home cooks right now. (For the complete list in all its glory, click here.) We thought we'd start off by breaking out one of the most crucial categories: drinks!
At any given moment during these strange stay-at-home times, you might notice a collection of beverages gathering around you and wherever you happen to be situated. You're not alone — the Kitchn team is with you! Here are the drinks we're relying on more than ever these days, for caffeinating, hydrating, and beyond. (Alcohol not included. Because, well, that's a list for another day.)
Cold Brew Coffee: Chameleon Organic Cold-Brew Concentrate
If you like to start your day with an iced coffee, make it Chameleon Concentrate. This strong caffeine jolt goes down smooth, with no bitterness or aftertaste. Yes, it's a bit pricier than some other concentrates on the market, but it's the closest we've found to barista-level brew. This stuff makes mornings (and afternoons!) at home just a little more special.
Non-Dairy Milk: Chobani Oat
One of the few good things to come out of 2020: the launch of Chobani Oat, a new line of plant-based beverages made with oats (a much more sustainable option than nut-based milk alternatives). Of all the dairy-free milks we've tried, oat milk has proven to be the superior companion to coffee, cereal, and smoothies — and it's even great by the glass. Faith Durand, Kitchn's editor-in-chief, loves this extra-creamy version swirled into strong iced coffee with a dash of maple syrup.
Tea: Harney & Sons Viennese Earl Grey
"I drink a pot of tea every single day, and I'm obsessed with Harney & Sons' Earl Grey," says Features Director, Ariel Knutson. Senior Contributing Editor, Sheela Prakash, agrees and argues that even the Earl Grey-averse will love this lighter, lemony, Darjeeling-based version. While on the pricier side for tea, an 8-ounce tin of loose-leaf is a little luxury that all of us deserve right now.
We have a dedicated LaCroix fridge in our New York City office, and Spindrift ran away with Kitchn's top honors for this fizzy category back in 2018. It's 2020 now, though, and our eyes are on Polar Seltzer. The family-owned company (since 1882) has a huge following in New England, and finally announced a plan to distribute their huge breadth of flavors nationwide last month. Cranberry Lime is widely considered their best flavor, but other winners include Blueberry Lemonade, Cranberry Clementine, Ruby Red Grapefruit, and their widely controversial (but beloved) Vanilla.
Coffee Beans: Atlas Coffee Club
Because we haven't gone anywhere in a while (and aren't going anywhere anytime soon), we're looking for other ways to see the world. Atlas Coffee Club, a coffee subscription service that mails ethically sourced coffee from a different country each month right to your door, is here to help you get both your travel and caffeine fix. Each delivery comes with a postcard, and the bags' packaging is a representation of its country of origin. Lifestyle Editor, Lauren Masur, tested them out and said that Atlas is the closest thing to a coffee shop cuppa that she's tasted in months.
Kombucha: Health-Ade Pink Lady Apple
Our devotion to Health-Ade (a woman-owned kombucha brand!) has only grown stronger these last few years. With probiotic benefits, this bubbly fermented tea comes in 17 flavors including Ginger-Lemon, Blood Orange-Carrot-Ginger, and Cayenne Cleanse. If you're wondering, Pink Lady Apple is the booch of choice for many Kitchn staffers.