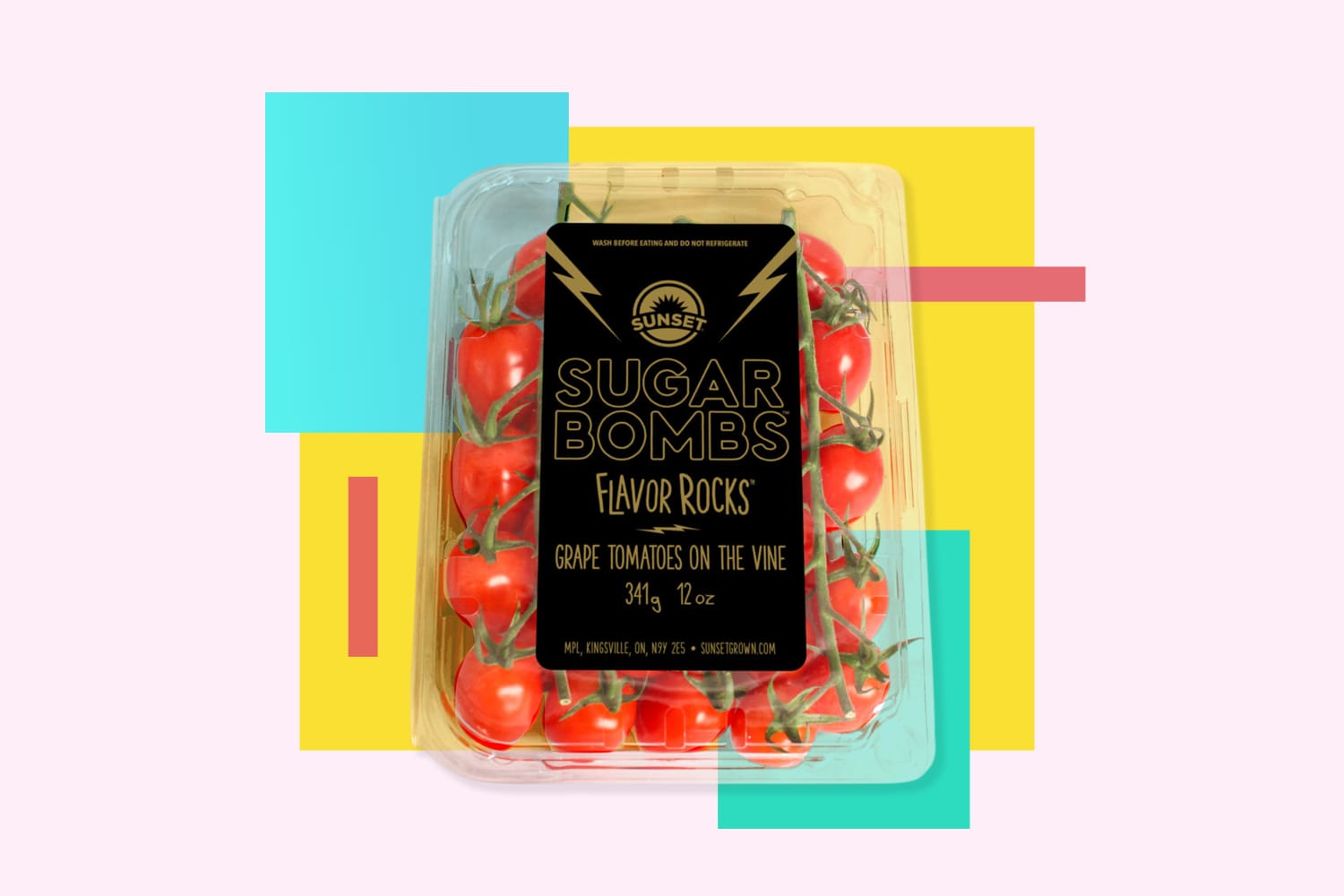 We independently select these products—if you buy from one of our links, we may earn a commission.
Eating fruits and veggies is important, sure, for overall health and nutrition. But beyond that, it can also be really fun. No, seriously! We have plenty of tips and tricks on this very site for making produce sing, but sometimes you also come across certain gems at the grocery store that are exciting and worth being hyped over all on their own.
These are our favorites that we try to stock our fridges with whenever we have a chance — the seven different produce items we've been pledging our allegiance to in 2020.
Grape Tomatoes: Sugar Bombs Grape Tomatoes on the Vine
"It's strange to say that I have a favorite tomato brand, but here we are," says Contributing Writer Patty Catalano, who has a special place in her heart for Sugar Bombs. They're bright red, sweet, packed on the vine, and have that all-important pop-in-your-mouth effect when you bite into one whole.
Lettuce: Organic Girl Little Gems
Reading through New York City and Bay Area restaurant menus, our Editor-in-Chief Faith kept coming across this phrase "Little Gems." These gems, it turned out, were a breed of tiny, perfectly cupped lettuce leaves — crispy and juicy, just the right size for one mouthful of salad, no cutting necessary. "I considered them a luxury for restaurants alone — and then Organic Girl brought out them out in easy-to-find packaging," she says. "These are, hands-down, my favorite lettuce for salads and more: Little Gems liven up your boring old veggie plate with their perfect crunchable, poppable shape and size." Just add ranch. If salad can be a tiny luxury, these Little Gems are it.
Salad Kit: ANY Southwestern Salad Kit
Last year, when we hunted down every single salad kit we could find, there was one major consensus: No matter what the brand, Southwestern-style salad kits (which must include a creamy/spicy dressing, tortilla chip crunchies, and cheese) are crowd-pleasers, without fail. Need a salad kit that everyone in your family will love? Get a Southwestern one.
Produce Shortcut: Trader Joe's Butternut Squash Zig-Zags
If you happen to find these in the TJ's produce aisle, buy them! The crinkle-cut shape will spoil you and make it so that you never want to break down an entire butternut squash again. They also make the best crinkle-cut butternut squash fries when tossed in the air fryer! Just know that they are usually in high demand.
Bagged Vegetable: Green Giant Fresh Broccoli Florets
"Even though the experts have been saying that the coronavirus isn't likely to be transmitted through food, I've been a bit nervous about buying produce that's just been sitting out in the open," says Lifestyle Director, Lisa Freedman. "Instead of taking chances, I've been relying on these packaged pre-cut broccoli florets. I know they're more expensive this way, but they've also been impressively fresh, so I think it's money well spent."
Grapes: Cotton Candy Grapes
Believe it or not, these grapes 100 percent live up to their name because they taste exactly like cotton candy. No joke. These unbelievably magical grapes are essentially the unicorn of the produce aisle, so if you happen to come across them, give them a try.
Produce Subscription: Misfits Market Subscription
Because we've been going to the grocery store less frequently than we were months ago, we've gotten creative with subscription services. This produce box filled with (sometimes) wonky-shaped produce from local farms has supplied many of us with so many fresh fruits and veggies, we're rarely having to leave the house. And at $35 for a 22-pound box, the price can't be beat.