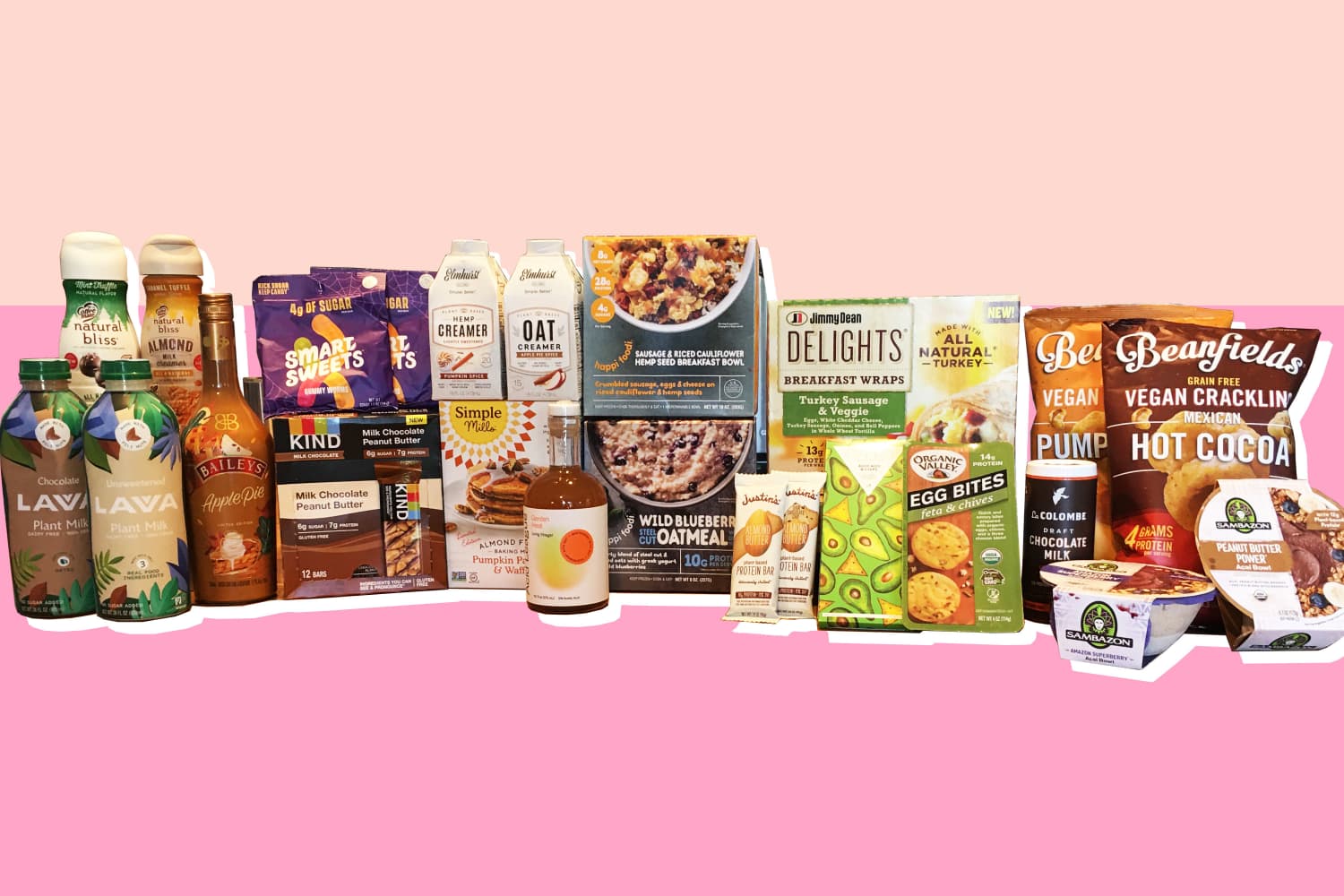 We independently select these products—if you buy from one of our links, we may earn a commission.
No matter how long it's been since I've actually been a student, the back-to-school spirit of September always hits me every year. Along with it comes the excitement for new beginnings, cooler weather, and all things pumpkin spice. While I'm not going to be a newbie in any classrooms this month, I did happen to gather an entire roster of new grocery products getting a fresh start on supermarket shelves.
Newcomers include include quick microwavable breakfasts for weekday mornings, gluten-free pumpkin pancake mix for cozy weekends, pili nut-based "milk," and more. Here are the most exciting new groceries to keep an eye out for this month.
1. Simple Mills Pumpkin Pancake & Waffle Mix
Making pancakes from scratch can be a laborious task (for a weekday morning), but this seasonal mix from Simple Mills made it a breeze. The batter came together in just a few minutes. The smell and thick texture reminded me of pumpkin pie, and it tasted heavenly with warm maple syrup. Did I mention it's gluten-free?
2. Organic Valley Egg Bites
Microwaved eggs might not sound super appealing, but hear me out: I found these egg bites to be far superior in both taste and texture than the bites you'd prepare in the oven. They're flavorful, well-seasoned, and satisfy my egg craving on mornings when I can't be bothered to clean up a bunch of dishes.
3. Beanfields Grain-Free Vegan Cracklins
I was definitely skeptical before I tasted these sweet vegan cracklins flavored with Mexican hot cocoa and pumpkin spice. I wondered how these flavor combos would complement the salty, "porky" flavor I was expecting based on other cracklings I've eaten in the past. Thankfully, there's no detectable pork flavor here — just crunchy, chocolatey goodness with a hint of spice.
4. Compartés Avocado & Chips Chocolate Bar
Does it get any more California than an avocado-flavored white chocolate bar with tortilla chips mixed in? It's a collaboration between Compartés Chocolatier and Siete Family Foods that (surprisingly) works. The grain-free tortilla chips add saltiness and a satisfying crunch that complements the creamy, sweet white chocolate with a subtle hint of avocado.
5. Elmhurst 1925 Pumpkin Spice Hemp Creamer
I'm a pumpkin spice fan (#sorrynotsorry) and love having this creamer on hand for several reasons. It's dairy-free, has just 1 gram of added sugar per serving, and features all the creaminess and warm flavors of pumpkin spice without added fillers or gums.
I grew up eating candied pili nuts, which are popular in the Philippines, so I was curious to give this sustainable alternative milk option a try. Compared to other plant-based milks, this pili nut-based rendition from Lavva is a bit thicker and creamier (which earned it major points in my book). I would definitely buy this again.
7. Acid League Living Vinegar
So far I've incorporated these craft vinegars into a cucumber salad, mixed greens, and even drizzled over some fried chicken. Next, I want to try them mixed in a cocktail or as a soft-serve ice cream topping. Endless possibilities! (And the bottles are not too shabby looking, to boot.) My favorite of the three was Strawberry Rosé.
8. Happi Foodi Sausage & Riced Cauliflower Hemp Seed Breakfast Bowl
I've never been on the keto diet, nor do I have plans to follow it anytime in the near future. Regardless, this breakfast bowl is a delicious option if you're looking for a convenient, tasty breakfast option — keto or not. I was most impressed with the hearty amount of cheese in this bowl.
9. Jimmy Dean Delights Breakfast Wraps
Perfect for busy mornings before school or work (whether you're on-the-go or working from home), these breakfast wraps are hot and ready to eat in a minute-and-a-half. The Turkey Sausage & Veggie variety was my favorite of the three flavors, which also include Spinach & Bacon and Southwest Style. I found these wraps to be extremely hearty and satisfying.
Have you found any great new groceries this month? Tell us about them in the comments below!
tinyurlis.gdv.gdv.htu.nuclck.ruulvis.netshrtco.detny.im