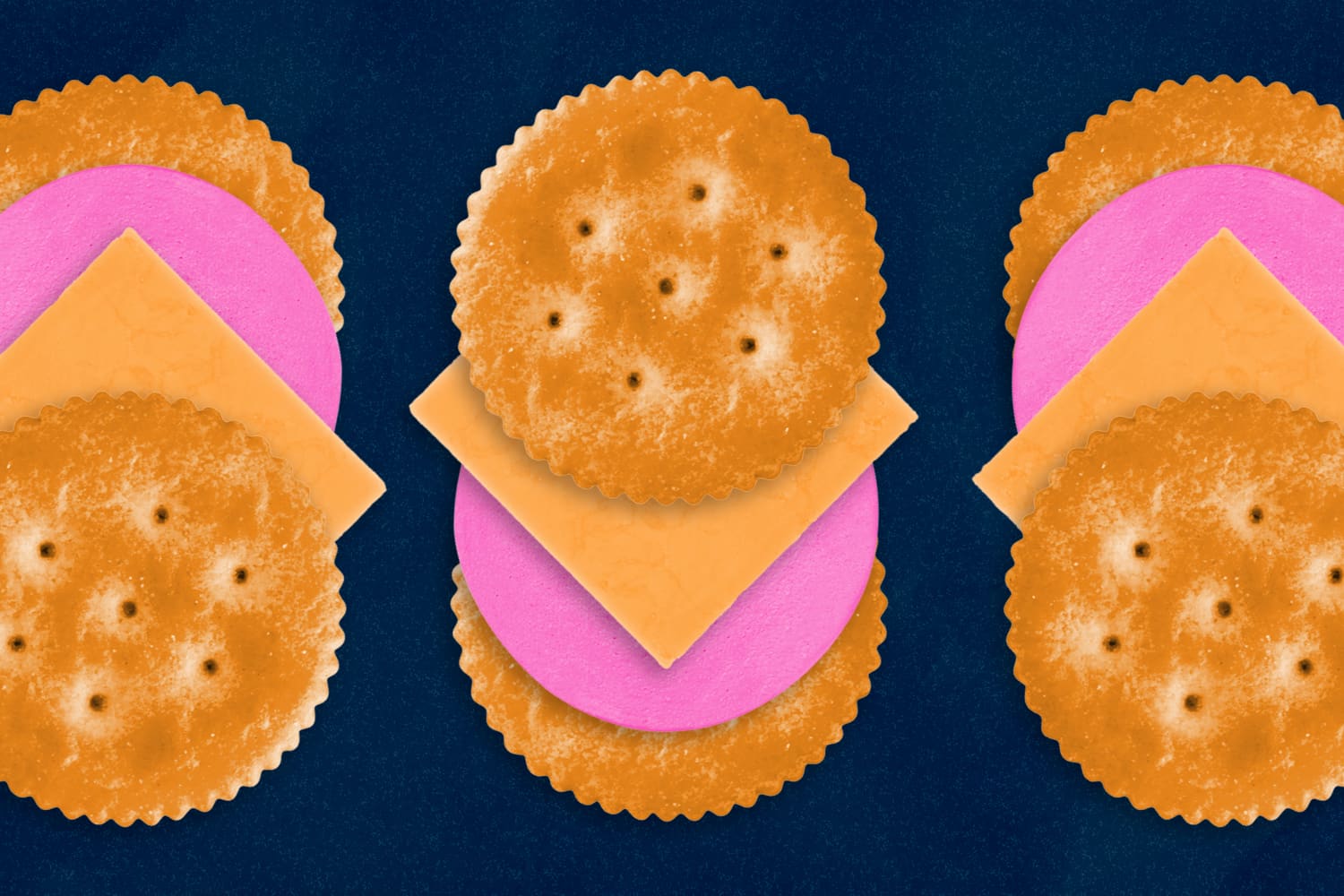 I was a child when Lunchables came out in 1988, and I remember the first time I got to try them. I was at an Odyssey of the Mind competition (imagine if theatre and problem-solving made a baby, and you've got the Super Bowl for nerds), and my parents showed up to watch and brought me Lunchables. The box consisted of the basic set of two meats, two cheeses, two crackers, and, for a sophisticated end to this meal, an Andes chocolate mint. The flavor wasn't anything all that unusual, but it was such a surprise and I loved that it was all mine, and I could assemble it however I wanted to. I didn't have to explain what was in my sandwich, or try to keep things from being a mess. (I am still incapable of not spilling something down the front of my top.)
Lunchables were expensive for many family budgets, and as the oldest of four kids, it wasn't something I could have every day. I was a free-lunch kid, and mostly ate pizza, soup, or something called "cheese zombies" at school. But ever since that fateful day in 1988, I desired the bright and cheerful packaging of Lunchables.
For many of us in that first generation of kids to try Lunchables, the plastic box sparked joy. My friend Viv spoke of being the daughter of immigrants and that specific feeling when you brought Lunchables to school, and you were the boss! My sister said Lunchables reminds her of being at a reception with a good deli platter. (Only this is a deli platter you don't have to share.) Many of the people I talked to remembered how satisfying it was to peel apart the pieces of meat and cheese and knowing that no matter what there would always be the perfect number of pieces and it fit well together. You wouldn't find yourself being like Nigel Tufnel in This Is Spinal Tap having a meltdown over bread and ham that wasn't the right size.
Every generation has food products that touch that tender part of themselves. You bring up Handi-Snacks with older Gen X people and they will stop everything and tell you how those Ur-Lunchables got through them a lot.
As an adult I would pass by the Lunchables in the supermarket aisles and view them as "something kids like" — I didn't place any moral position on them or think of them as controversial. Then in the early years of parenting, I was surrounded by the affluent performative culture where you were encouraged to put forth all of your available labor when feeding your children. Homemade baby food? Of course. It was during the heyday of parent blogs where you saw lovingly assembled bento-style lunches. (But if you waded into the comments you might get a few honest words about Juno never eating the vegetables, or Cymbeline only eating Pirate Booty for three months straight.)
I definitely participated in some of it, as I love to cook, and I was carried along by the pressure to give my absolute best. My kids had plenty of homemade baby food, but I also discovered when traveling long distances with my children that there were some decent store-bought options that my children liked and saved me some labor. When you are cooking for people every single day, especially for children with relentless opinions about broccoli or avocado, there can be a significant shift in how you approach meals. I still like to cook (my kids love it when I make daal, or pasta con Sardine), but there are also the nights when chicken nuggets and sliced vegetables with a container of hummus will keep my children satisfied and I am thankful for that option.
All of this care and effort into what children eat is important, but with it comes the reality of our daily lives, and a practical need for help from certain aisles of the grocery store. This is where Lunchables show up for people (including me).
I genuinely find that Lunchables are great for long car trips, as they keep everything from flying everywhere (I still think of trying to get yogurt out of the upholstery on a trip up the length of Britain) or field trips. Over the years a number of lunch containers have been lost to zoos and museums, but with Lunchables I can make everyone's life a little better. One friend spoke of how helpful Lunchables were when it came to school lunches for one of his children who has autism. Many parents of children who are on the spectrum can speak to the challenges in feeding a child when it comes to texture, flavour, and presentation. Those boxes are consistent and can reduce potential stress over a disrupted routine.
For parents with busy schedules, being able to toss a few Lunchables into the cart can swiftly solve the Sisyphean problem of lunch. My friend Laura spoke of Lunchables being there for her when she was in graduate school: "I absolutely used them for a while as a frazzled working single mom."
A number of people who are now in their 40s brought up similar memories of being latchkey kids and relying on them. They had these to snack on while their parents didn't have the worry of kids cutting themselves or burning down the house. One friend said if she tried a Lunchable now, it would taste of independence and choice in a time when she didn't have a lot of agency.
Presently I live in the United Kingdom, and it is interesting to see how Lunchables sell here. My daughter, who just turned 11, is the most resolute child about what she does and doesn't like to eat — but she is a fan of Lunchables because of how simple they are. I do notice there is still the same lit-up pleasure in being handed one. There is still a touch of the status about them when one shows up to school with Lunchables. The rules have changed, so it isn't possible to share them like I did as a kid. (It always seemed important to share the bounty with your best friends.) They also provide a few cultural variations to the same basic package — in the U.S. you might get Oreos or a Butterfinger, and here in England the dessert might be Cadbury Chocolate Buttons — but at heart the food remains the same.
Lunchables have branched out to so many different versions: There have been nachos with cheese sauce and salsa, hamburgers and hot dogs, and even pancakes! Yet people still return to the original offering. It reminds me of Patton Oswalt's routine about PAAS Easter Egg dye kits. How PAAS was very simple and then along came other fancier kits, but they were all mere fads — because who was still standing at the end of the day? PAAS. It is the same with Lunchables. Meats, cheeses, crackers, and maybe a small dessert. It's not a recipe for perfection, but it sure is fun.
Back to School 2020: It's the strangest back-to-school season of our lives, and no matter where your child's desk is actually located this fall: they have to eat. Every day. What even is school lunch in fall 2020? We've compiled stories, commiserations, and hopeful tips from a diverse crew of parents to help us all feel a little less alone in breathing deep, eating well, and unmuting that ever-elusive Zoom button.
tinyurlis.gdv.gdv.htclck.ruulvis.netshrtco.de