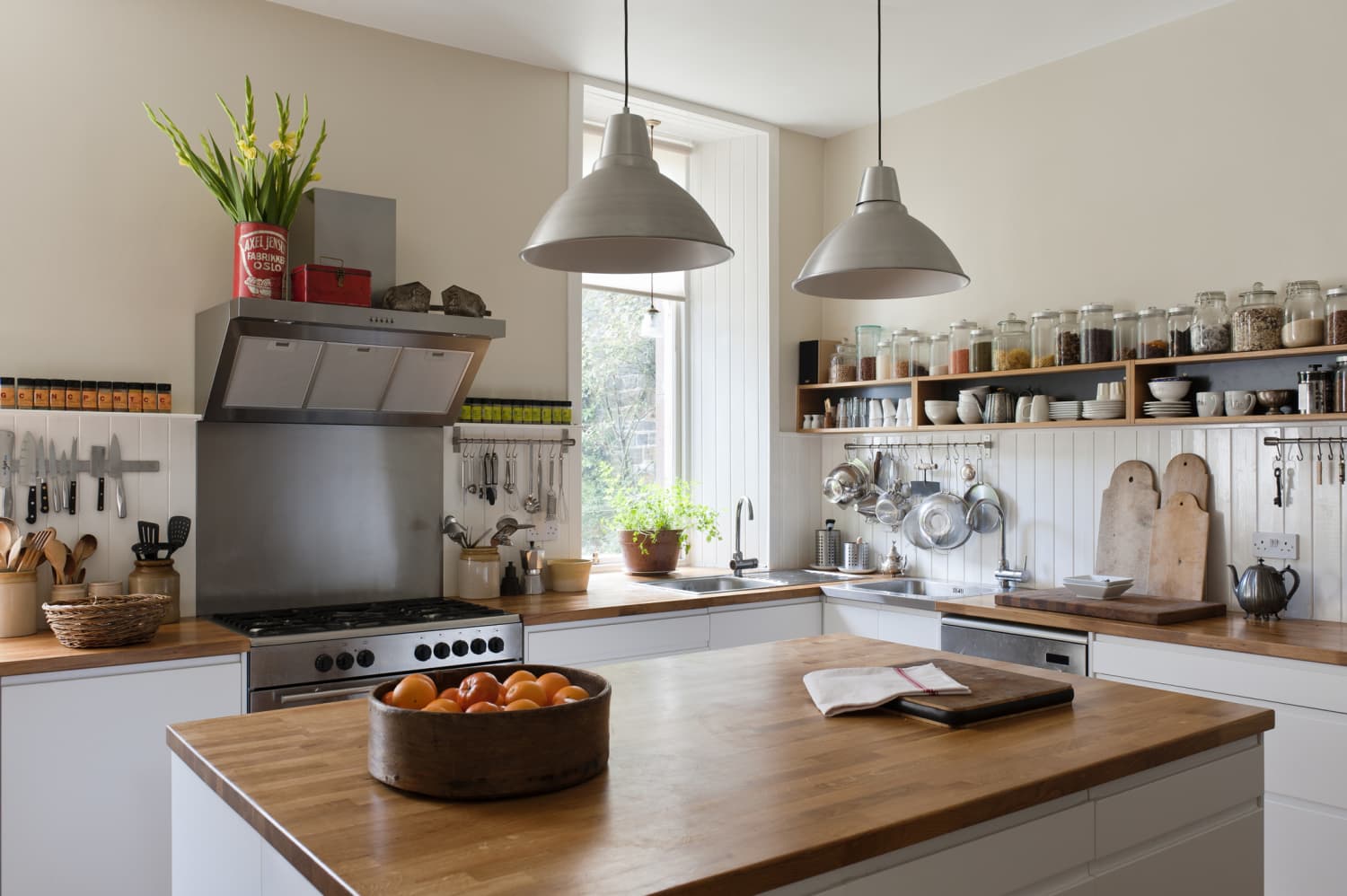 We independently select these products—if you buy from one of our links, we may earn a commission.
We talk a lot (like, pretty much every day) about our favorite tools — the gear, gadgets, and cookware that help our professional home cooks do their jobs, so that they can bring you all those yummy recipes and smart tips. But we wanted to turn the tables and hear from you guys: We asked our (very vocal) Instagram followers to name their favorite tools. Then, we culled through all of the suggestions and pulled out the items and brand names that came up again and again.
Here's that list. Take a look and let us know, in the comments at the end, how many of these things you have in your kitchen! Fun fact: We just so happen to love each and every item on this list, too.
A good knife is perhaps the most important tool for any cook. So we were very excited to see what knives our readers like to use at home. We got a lot of different nominations, but these were the most popular ones.
There have been all sorts of direct-to-consumer kitchen brands popping up on the market these last few years, and Misen is a popular one that makes cookware, knives, and more. The Chef's Knife is their best-selling item and we can see why: It's relatively inexpensive, made with extra-durable steel that's got two times the carbon content compared to other knives, and has an acute 15-degree blade angle for a sharper-than-usual face.
Buy: Misen Chef's Knife, $65
Readers name-dropped a few different knives from Wüsthof. Among the most popular: the Classic 8-Inch Chef's Knife, the Classic IKON 8-Inch Chef's Knife, the Classic 6-Inch Chef's Knife, and the 7-Inch Santoku. For anyone who's unfamiliar, Wüsthof is one of our favorite brands of German knives, and is known for reliably churning out knives that are sturdy, well-balanced, durable, and, most importantly, sharp.
Buy: Classic 8-Inch Chef's Knife, $149.99
You're gonna need to cook all those chopped-up ingredients, right? Here's what readers had to suggest in terms of skillets and Dutch ovens.
The classic Lodge cast iron skillet got more mentions than anything else on this entire list. Lodge is the best name in the biz when it comes to cast iron. They make inexpensive skillets that become virtually nonstick when seasoned properly, and these pieces will last many lifetimes (they're literally handed down through generations!).
Buy: Lodge 10.25-Inch Cast Iron Skillet, $14.88
Actually, we lied: The Le Creuset Dutch oven tied with Lodge for number of mentions. These pots often earn a permanent spot on the stove because they're so darn gorgeous. And they're total workhorses, too: Use them for soups, stews, pasta, braising, and more. These pots have a white enameled interior, so you can see how your food is progressing.
Buy: 5.5-Quart Dutch Oven, $360 at Le Creuset
Of course, Le Creuset isn't the only name in the Dutch oven game. Some home cooks prefer Staub because the black matte enameled interior doesn't stain, is more effective at browning meat evenly, and can build up a nonstick seasoning over time.
Buy: Staub 5.5-Quart Cocotte, $259.99 at Zwilling
There are so many small appliances on the market these days (all different kinds of machines from all different brands), so it was interesting to see lots of repeats come up in the suggestions.
Cuisinart Food Processors
Speaking of not being surprised! We already knew our readers loved their Instant Pots, and this just further solidified that. The six-quart is definitely the most popular and that's the size that most recipes are based on. Specific model suggestions ran across the board, but we suggest the Instant Pot Duo Evo Plus, which is even faster than other models, has a new easy-to-seal lid, and lots of extra features.
Buy: Instant Pot 6-Quart Duo Evo Plus, $99.99
When it comes to blenders, Kitchn readers are Team Vitamix. If you don't have a blender you love, consider getting one from the Ascent Series line. Why? Because these are compatible with Vitamix's new food processor attachment.
Buy: Vitamix A2300, $449.95 at Vitamix
Turns out Kitchn readers love their tools and gadgets as much as we do. This little survey got enough suggestions to fill pages and pages in a Word doc. These were the most popular.
This is also our favorite wood cutting board! It's actually a composite board, which means it can go in the dishwasher. We also like that it has a groove for juices and rubber feet for stability.
Buy: Epicurean All-In-One Cutting Board, $29.13
We've learned that people are either for or against garlic presses, in general (those who are against prefer to mince cloves themselves). The readers who are pro garlic press are most into this press from OXO, which pushes out the most perfectly sized pieces, has a comfy handle, and features a built-in cleaner.
Buy: OXO Garlic Press, $16.99 at Bed Bath & Beyond
Chef'n Strawberry Huller
Proof that some unitaskers have their place, this strawberry huller got lots of nods. And honestly, we love it too. It makes quick work of de-stemming strawberries and doesn't dig out too much of the fruit.
Buy: Chef'n Stem Gem, $7.95
People use the words Microplane and zester interchangeably because Microplane really is the tool when it comes to grating. If you don't already have one, brace yourself: You're about to see clouds of cheese so fluffy, you'll think you're dreaming.
Buy: Microplane Premium Classic Zester, $19.95
We've only recently started to tout the wonders of this GIR ladle (we've been so focused on the spatula that we forgot to talk about the ladle!). But our readers are already wise to it. And it's a good thing. This ladle is seriously perfect in every possible way.
Buy: GIR Ladle, $16.95
OXO makes a few pairs of tongs, and readers just said "OXO tongs" in general. We love these specific ones because the silicone heads will protect the coating of nonstick pans and can help you mix up salads without bruising your lettuce.
Buy: OXO Good Grips 9-Inch Tongs with Silicone Heads, $13.99
A lot of readers nominated an instant-read thermometer but didn't say the brand name, so we're going to cheat a little on this one and suggest our favorite from Thermoworks. Yes, $99 is an investment, but the hyper-fast, hyper-accurate read of a thermocouple probe is utterly worth it, and it's also durable and easy to read. It's a favorite among our staff and many, many pro chefs.
Buy: Thermapen Mk4, $99 at Thermoworks
How many of these items do you have in your own kitchen? And what else would you like to nominate? Discuss in the comments below!
tinyurlis.gdv.gdv.htu.nuclck.ruulvis.netshrtco.detny.im