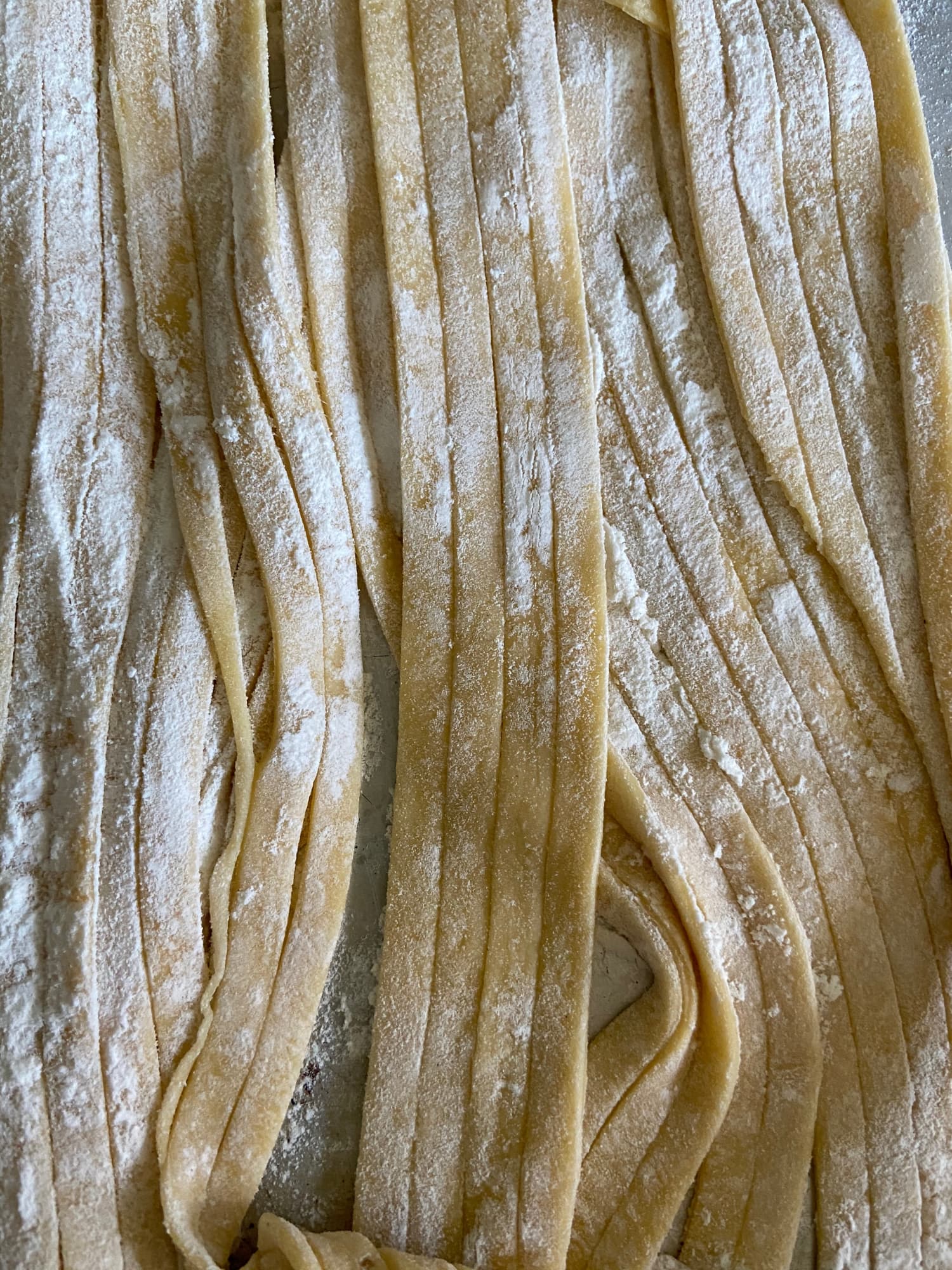 We independently select these products—if you buy from one of our links, we may earn a commission.
My family has a standing spring tradition of making fresh pasta together. My kids and I ride our bikes to our local farmers market, greet our favorite vendors, and buy fresh spring eggs with their plump orange yolks. The kids pick out some new spring vegetables — like asparagus or peas — and then we bike home and drag out the pasta maker. It's a ritual I have looked forward to since becoming a mom eight years ago.
This spring has, of course, been so different. My family has been safely quarantined at home for nearly six weeks, and most of our favorite spring traditions have been canceled or postponed. Making pasta with my kids this spring isn't the same as previous years, but I also realized that continuing this particular tradition is more important than ever. Here's how (and why) we're making it work.
The Details of the Tradition Are Less Important than Keeping It Going
But it's more than just the tradition. This year I also realized another magical reason for making pasta from scratch with my kids: Recipes are ideal for distance learning.
Trying to juggle work schedules, school schedules, and make 127 meals every week is hard. Even as a seasoned home cook, I need a little help here or there. Putting my kids to task making pasta means I have help with dinner and they can practice reading (the 8-year-old) and math (basic counting for pre-k kiddo). And of course, the result is delicious fresh pasta — comfort food in its highest form!
Here's How I'm Making Fresh Pasta with My Family This Year
Without access to local ingredients this year, we're making our spring pasta with things we can get readily delivered — namely, eggs from the grocery store and frozen green beans. I am a big fan of Kitchn's food processor pasta dough method for its speed. This year, I'm choosing the traditional "Italian Grandmother" mixing style, which requires only a clean cutting board and a fork, because this year I need making pasta to take as long as humanly possible — both to fill the endless day and to keep the kids entertained for as long as possible.
I find it most helpful to give each kid their own pile of flour and cup of cracked eggs to prevent any fights over who gets to do which job. An excess of pasta dough is never a bad thing, as we can eat leftovers for lunches or freeze the noodles for a future dinner.
After mixing, the dough needs to rest. We use this time to clean up the kitchen, set up our hand-cranked pasta roller, and fill a large pot with water. By the time all of our prep work is done, the pasta dough will be rested and ready for rolling. Again, put each kid in charge of their own dough for rolling and cutting. Parents will cook the noodles, steam a bag of green beans, and warm up some pasta sauce.
Why Our Traditions Matter More than Ever
While there wasn't as much ceremony around making our spring pasta as in years past, the results were still so delicious. We still reveled in the magic of turning eggs and flour into our favorite food, we congratulated each other on our jobs well done, and for the first time in 50 days, family dinner felt important again. More importantly, continuing our tradition in quarantine made our new normal actually feel normal, even just for an evening.