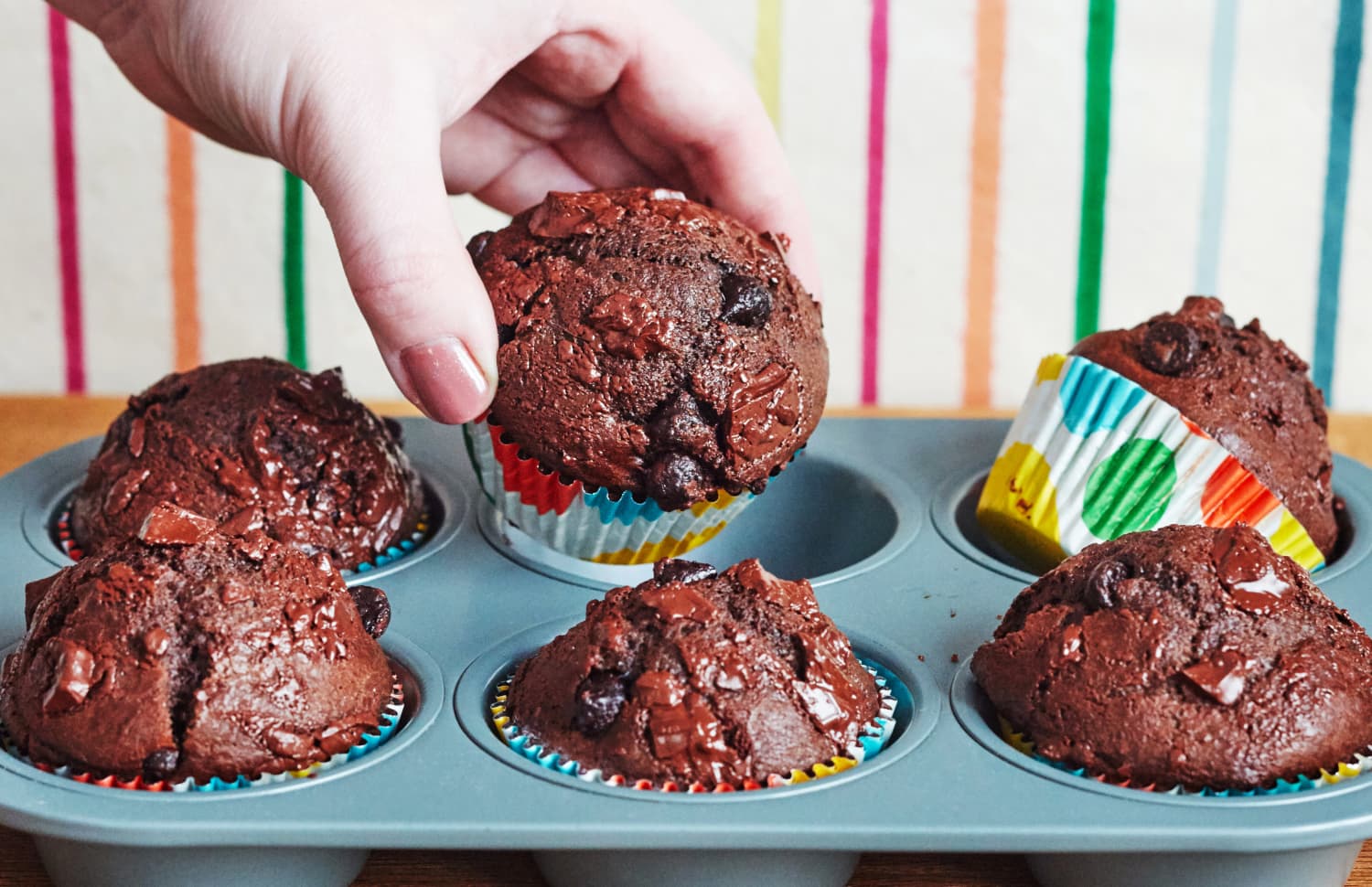 We like to keep our Mother's Day celebration low-key, which usually means breakfast in bed (or snuggled on the couch). Since my two kids like to help in the kitchen, we are always looking for recipes that they can safely help with, but are also delicious, easy on cleanup, and can be eaten without getting too many crumbs all over the sheets!
Here are 10 recipes that kids can make, plus a few tips for helping them do it.
1. Double Chocolate Muffins
These muffins don't require a mixer and are full of milk, yogurt, and eggs, making them borderline nutritious. Still, two kinds of chocolate make these feel luxe enough to feel like a celebratory breakfast worthy of mom.
Parents help with: You'll need to heat the oven and take these in and out of the hot oven, but the kids can mix up the muffin batter themselves. Use chocolate chips instead of chopped chocolate for little chefs that haven't developed their knife skills yet.
Get the recipe: Double Chocolate Muffins
This toast recipe has so many good things going on: It's a great use for leftover bread, a nutritional upgrade to cinnamon toast, and it takes way less time than French toast. Plus, look how cute it is!
Parents help with: Slicing the challah into even pieces (although older kids can totally tackle this), heating the oven, and put the toast in. You can also skip browning the butter for an even easier take on this recipe.
Get the recipe: Gooey Coconut Toast
3. No-Bake Sheet Pan Lemon Yogurt Tart
Think of this as a dessert that is suitable for breakfast. This tangy tart is made from yogurt and can be made well in advance of Mother's Day.
Parents help with: Supervise use of the food processor — the blades are sharper than you think. Young kids will need help melting the gelatin. And we will all need help keeping our fingers out of the Cool Whip container.
Get the recipe: No-Bake Sheet Pan Lemon Yogurt Tart
4. Tender Baked Oatmeal Cups
Everyone at my house loves these tender baked oatmeal cups. They're also especially wonderful to bake with kids, as they are almost impossible to mess up and each cup can be individualized.
Parents help with: Obviously you'll need to set the oven and take the cups in and out, but the kids can build the batter themselves and use scissors to chop dried fruit for topping.
Get the recipe: Tender Baked Oatmeal Cups
5. Smoothie Breakfast Bowl with Berries & Granola
As far as breakfasts go, smoothies are one of the easiest ways to get kids to help. What I love about this smoothie bowl is that it takes the everyday (a smoothie) and upgrades it with the toppings of granola, fresh berries, and chocolate. Choose a small-batch local granola, which can double as a Mother's Day gift too.
This smoothie tastes way more luxe than it looks and has just seven ingredients. It's kind of like drinking a milkshake for breakfast. Freeze the bananas the night before for extra creaminess.
Parents help with: Help pit the dates here and run the blender, but the kids can help "chop" the banana the night before and freeze it.
Get the recipe: Banana Bread Smoothie
7. Cheesy Potato Breakfast Casserole with Cheddar & Tomatoes
We have several hearty breakfast casseroles, but this one in particular requires almost no stovetop cooking of sausage or bacon (swap the sautéed onion for a finely chopped green onion for zero stovetop cooking) and you can use pre-shredded cheese and frozen potatoes to cut down on the preparation time.
8. Cinnamon Roll Breakfast Bake
Another breakfast casserole winner, this one gives you all the flavors of French toast without the pan-frying and has a generous swirl of cream cheese filling.
Parents help with: I find a hand mixer (for whipping the filling) a little less cumbersome when mixing with kids. You'll be manning the oven for baking.
Get the recipe: Cinnamon Roll Breakfast Bake
9. Baklava Breakfast Parfaits
This is no ordinary breakfast parfait. Nope, the ingenious part is a make-ahead honeyed phyllo crumble that makes this breakfast parfait next-level.
Parents help with: Setting the oven and baking the honeyed phyllo, plus chopping the nuts. Let the kids build the parfaits, but be mindful of double dipping in that honeyed Greek yogurt.
Get the recipe: Baklava Breakfast Parfaits
10. 2-Ingredient Banana Pancakes
Okay, so pancakes require a little more hands-on cooking than most of these other recipes, but this one has only two ingredients (cutting down on cleanup) and could be totally kid-safe if you've got an electric skillet on hand.
tinyurl
is.gd
v.gd
v.ht
u.nu
clck.ru
ulvis.net
shrtco.de
tny.im