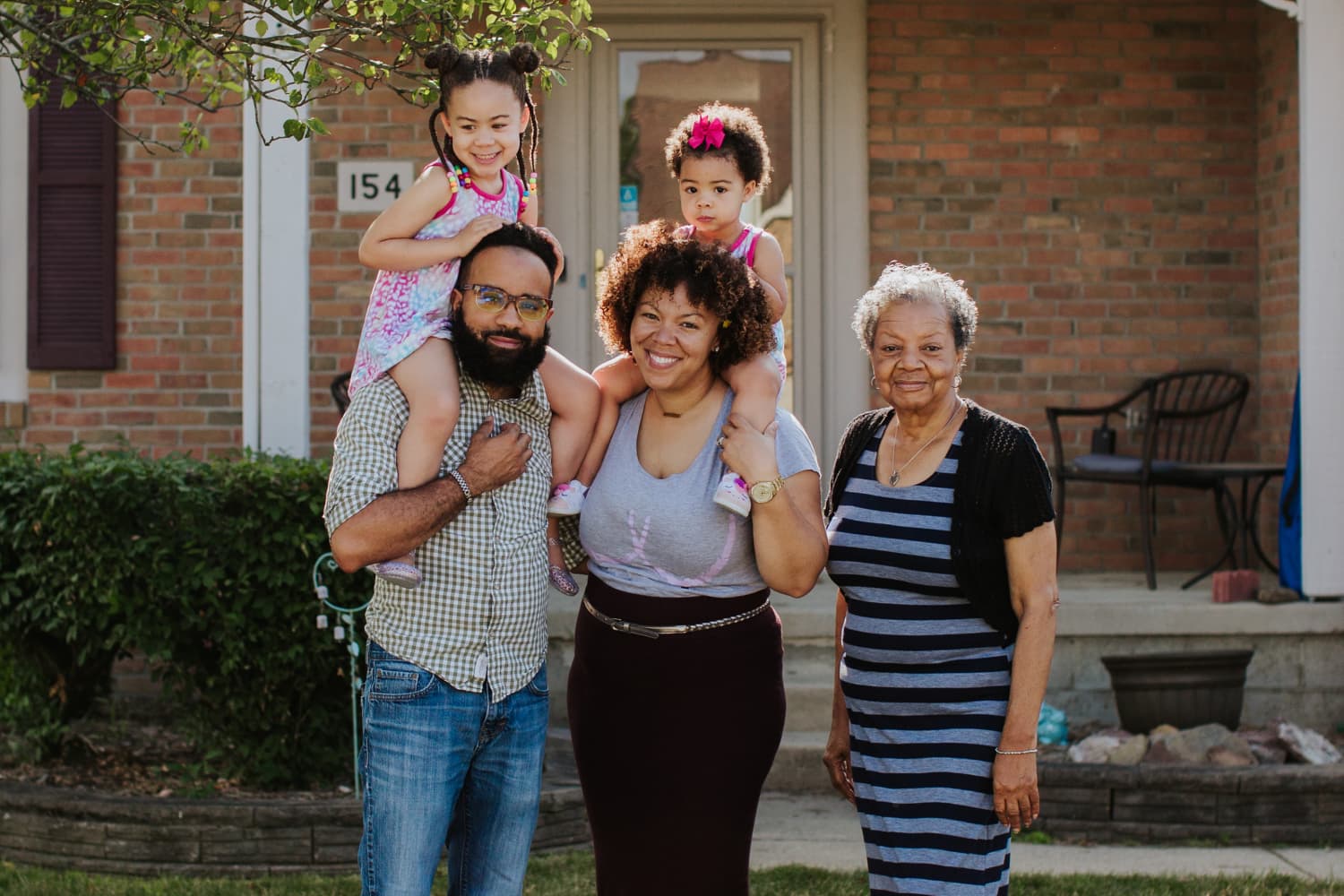 Name: Yolanda Owens
Location: Pickerington, OH
How many people regularly eat together in your home? 5: Yolanda; her husband, Coz; daughters, Cooper, 5, and Charlize, 2; and Yolanda's mom.
Avoidances: Yolanda has an intolerance to pork and beef. She and Charlize are also allergic to strawberries. Everyone else is unrestricted.
Yolanda Owens is the Director of Community Initiatives for a produce wholesaler, a staunch food justice advocate, and the founder of Black Lactation Circle (BLaC) , a support group for breastfeeding Black women. And as if she didn't already have enough to juggle, Yolanda was also recently voted the president of The College of Food, Agriculture, and Environmental Sciences alumni association at OSU. "As a AfroLatina/Black woman with an agriculture background, I love to talk about, grow, prepare, cook, and eat food. It brings people together in a way that nothing else could with such joy. Eating my feelings is real," she told us.
We caught up with the busy mom of two to talk about her 10-minute dinner philosophy, her thriving basement herb garden, and what it's like to have her mom as her sous chef.
What has life been like for you over the past few months?
I go into work every day, so nothing has changed for me. We're taking it one day at a time. I wake up and say, "What do we have to tackle today?" During the day my husband is a software engineer, and then in the afternoon when he clocks out he changes into a neon shirt and cuts lawns; he recently launched a landscaping business. My mom lives with us and takes care of our daughters during the day. It's absolute mayhem sometimes. It's just crazy, having two kids and working full-time with all the other things I'm involved in, but I wouldn't change it.
The work you do is so important! Can you say more about it?
Before this job I was working at a federally qualified health center where they were doing work around produce prescriptions as well as screening people for various social determinants of health including food security, access to safe and clean housing, and stable employment. Before that I worked at a food bank. My background has always been in food and agriculture so I was excited to get this new marketing job ,which I started right before the pandemic began. Making food access more equitable has always been my passion.
And that's not all you do, either. How did you get involved in your breastfeeding advocacy work?
When I was pregnant with my oldest daughter, Cooper, I knew that I wanted to breastfeed. I remember being in the hospital and they said, "Don't leave without your formula." I was like, "I don't want or need that." It was interesting having conversations with some of my friends who had similar experiences as Black women; it was just assumed that we were going to use formula. Formula is predominantly marketed to minority communities. When I got home, I was looking for support resources — even images of people that looked like me were few and far between. So, I went on Facebook and found a support group specifically for Black women to address the bad connotations associated with breastfeeding that stem from slavery and wet nursing. There are so many reasons a lot of Black women don't breastfeed, and much of that comes from being historically traumatized.
I reached out to the one woman I knew in this ginormous Facebook group who is also from Ohio and we came up with the idea for Black Lactation Circle (BLaC). We started five years ago with five women in my living room. Now we have 750 women in the group. It all comes down to having access to evidence-based information to nourish our bodies.
What do mealtimes look like for your family?
When I get home, usually I ask my husband for a dinner idea, or at least some kind of cuisine. When COVID-19 first started, my job gave us home produce delivery, which was great. All we had to do was figure out what the heck we had. I like to make things I can stick in the oven so I don't have to stand over the stove for more than 10 minutes. If it doesn't take 10 minutes on the stove, we're roasting it. While dinner's in the oven, we have a dance party or do a short craft to pass the time. We do Taco Tuesday. Whatever is in the taco varies, but it's gonna be something in a tortilla. Wednesdays are Zoom ballet. Thursday is farmers market pizza night. Setting themes for dinner like that helps. It also helps my kids remember the days of the week.
Sounds like you have it all figured out.
Usually my mom is there to help with the cleanup. She's almost like my sous chef. She's been with the kids all day, though, so her patience is worn come dinnertime. That's why I cook. It's how it goes in our family. When my older sister had her daughters, my mom moved in with her and took care of her kids as well. It's a huge blessing. They love their nana.
So sweet. They must be making really fun memories together.
I don't know how she does it during the day. She makes great lunches. Today my daughter had a pastrami sandwich with the crust sliced off, sliced oranges, and kiwi. I din't get fancy lunches like that when I was little! My mom told me I had to eat the crust because it had the vitamins in it. When you're a grandma all the rules go out the window.
Do your kids like to cook with you?
Cooper wants to have her own cooking show. She made bumps on a log as a snack the other day and wanted me to put it on YouTube. I was like, I'll see what we can do. It cracks me up. Sometimes depending on the day, I let Charlize, who is 2 years old, help. She's more of a hindrance, shoving her hands into cheese and eating it.
You mentioned your produce subscription through work. Where else do you get your groceries?
Aldi is my fave. I like Meijer and Kroger for Gerber Amish free-range chicken. I wish that we could have a garden. It's funny, I ran an urban agriculture education program for four years with inner city kids just south of OSU's campus and I can't even grow one in our yard. There are so many cute little woodland creatures, but they'll tear up all your stuff.
But you've found an indoor workaround, right?
Even though I can't grow anything outside, my husband and I have a hydroponic system in the basement. We grow kale (for Coz's smoothies), thyme, parsley, a ton of basil. I tried to do cilantro, but it was creepin', taking so long. It's a great system for people who live in cities who want to grow their own food in their living room. I'll say to Cooper, c'mon, we're making a salad, and she comes downstairs with me and a bowl to snip the lettuce. We talk about how you have this teeny tiny seed that can grow a whole plant that can have more plant babies. It's another way to bond over how we're creating our food and watching it grow.
Thanks for sharing, Yolanda!
The Way We Eat is a series of profiles and conversations with people like you, about how they feed themselves and their families.We're actively looking for people to feature in this series. You don't have to be famous or even a good cook! We're interested in people of all backgrounds and eating habits. If you'd like to share your own story with us, or if you know of someone you think would be great for this series, start here with this form.
tinyurlis.gdv.gdv.htclck.ruulvis.netshrtco.de