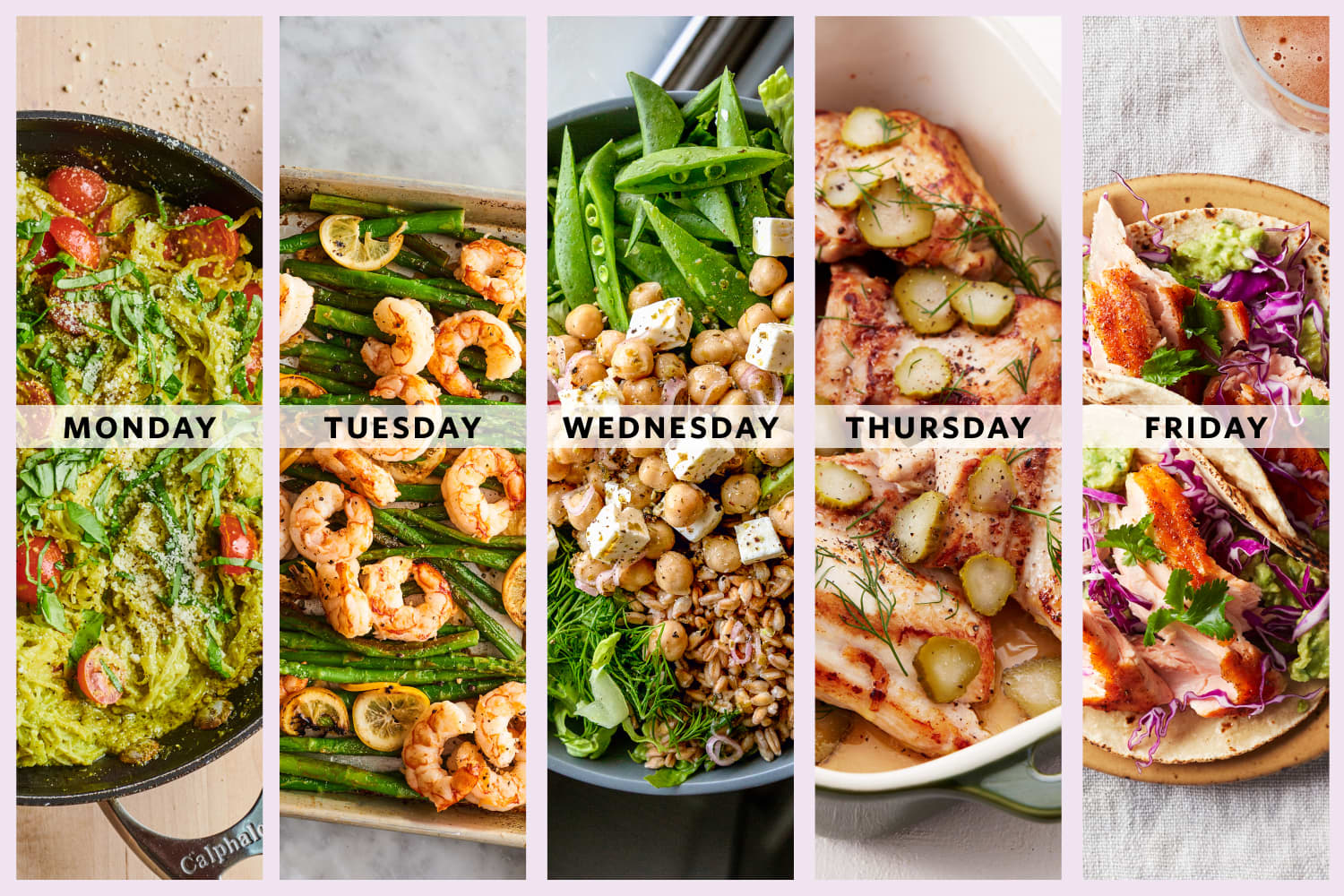 We independently select these products—if you buy from one of our links, we may earn a commission.
Throughout the summer months I naturally crave meals packed with vegetables, seafood dinners that remind me of the beach, cool grain salads, and chicken from the grill. All of which happens to be right in line with the Mediterranean diet.
The Mediterranean diet isn't so much a diet in the traditional sense — it's more a set of general healthy eating guidelines that focuses on filling your plate with vegetables, whole grains, seafood, healthy fats, and lean protein. And while it doesn't completely restrict that glass of wine or bar of chocolate, it does suggest keeping them to a minimum.
If you've been curious about the Mediterranean diet or just want inspiration to fill your meal plan with fresh and summery feel-good dinners, here's what I'm eating this week.
Monday: Creamy Pesto Spaghetti Squash
I'm just as excited to make spaghetti squash the star of dinner all through summer as I am in winter. I usually reserve Mondays for pasta night, but lately the hot days have me craving lighter meals and even more vegetables than normal. I plan to cook the spaghetti squash in my Instant Pot to keep the kitchen cool, then toss everything together on the stove just before serving.
Get the recipe: Creamy Pesto Spaghetti Squash
Tuesday: Lemony Roasted Shrimp and Asparagus
This miracle meal has been a mainstay in my summer dinner rotation, and I don't have plans to move on anytime soon. With just three ingredients and 10 minutes in the oven, dinner comes together lightning-fast and packed with bright, fresh flavor.
Get the recipe: Lemony Roasted Shrimp and Asparagus
Wednesday: Marinated Chickpea and Feta Salad with Spring Veggies
I just unearthed some cooked farro in the freezer, which means I don't even have to turn the stove on to make tonight's dinner. I plan to whisk together the dressing in the morning, so the chickpeas and feta have all day to marinate, then I'll chop the remaining ingredients right before dinnertime.
Get the recipe: Marinated Chickpea and Feta Salad with Spring Veggies
Thursday: Dill Pickle Chicken
This is my ultimate summertime chicken dinner. I'll marinate the chicken thighs in the morning, then instead of heating up the oven I'll cook the chicken on the grill, along with a couple ears of corn and some zucchini.
Get the recipe: Dill Pickle Chicken
Friday: 15-Minute Chile-Lime Salmon Tacos
Of all the ways to cook salmon, the broiler is my favorite when I want to get dinner on the table fast and without steaming up the kitchen. While the salmon cooks, I have just enough time to mash the avocado and chop some cilantro.
Get the recipe: 15-Minute Chile-Lime Salmon Tacos
New to meal planning? Start here.
Click below to get more tips, insights, and ideas from our Meal Plan Club crew and readers like you.
Meal planning isn't always easy — especially if you're just getting started. But we're firm believers that it's the secret to stress-free weeknight dinners. We want to help you find inspiration and ease some of the pain points that come with getting dinner on the table night after night, whether you're cooking one or a family of four or five. Every week we share a new meal plan solution specifically customized for you from reader requests or from a guest contributor, for Next Week's Meal Plan!
tinyurl
is.gd
v.gd
v.ht
u.nu
clck.ru
ulvis.net
shrtco.de
tny.im