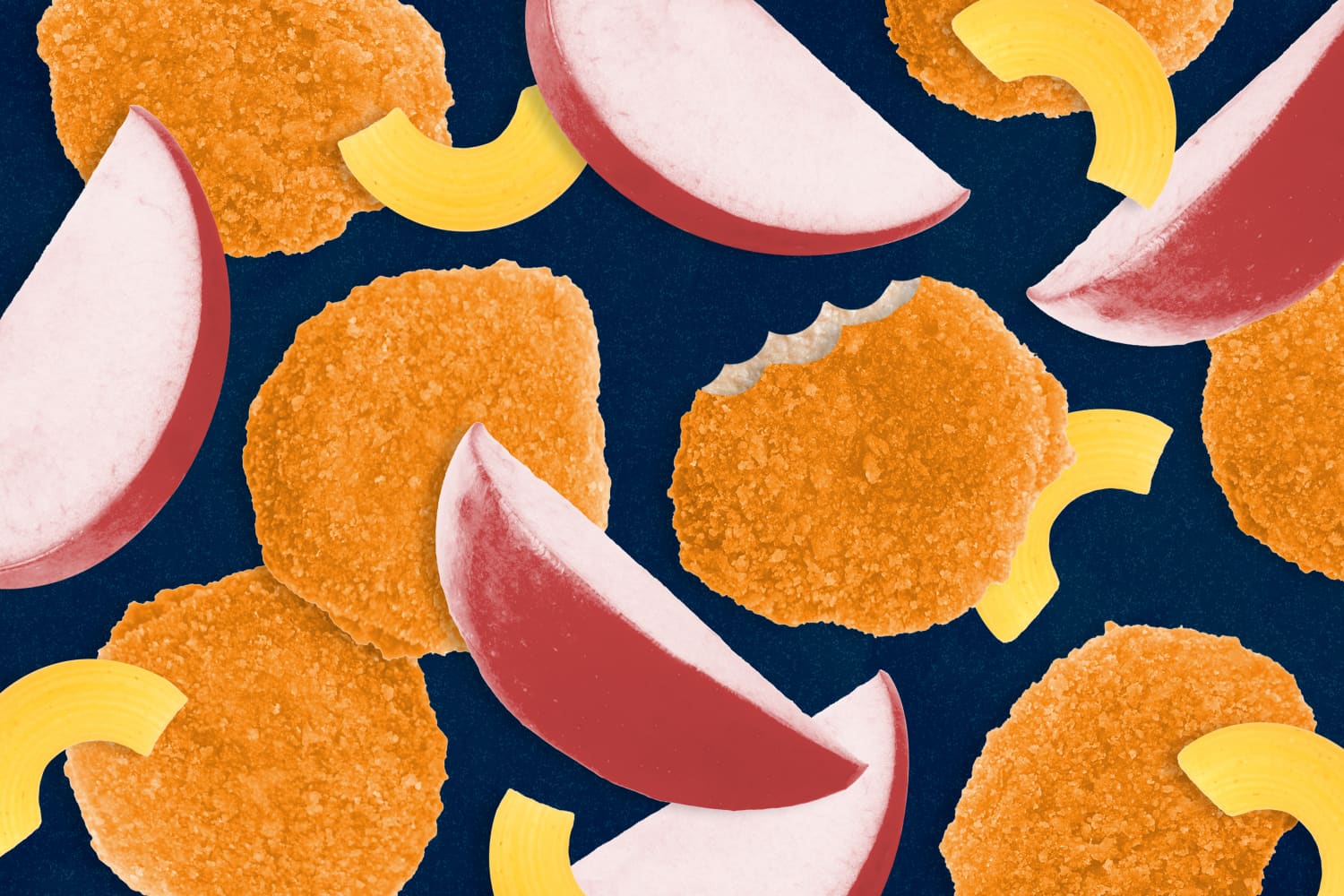 This year, parents must help their children navigate the school year in crowded houses that are combination offices, daycares, and classrooms, while juggling their own jobs and unfamiliar technologies and interfaces. As some kids learn at home with working parents, others participate in hybrid models, and those attending schools in person navigate a new lunchroom reality — and anything could change by next week.
Then on top of that, the kids need lunch. Every. Single. Day. It turns out, in addition to finding a quiet space to attend your meeting, getting the 5-year-old to sit still for virtual kindergarten, and hoping that your high schooler doesn't trade masks with a friend, everybody still needs food.
Schools around the country that normally fed their entire student bodies scrambled in the spring to try and get food to parents. Now, those that are serving their remote populations have the benefit of a little more preparation, but that doesn't make lunch seamless, either — and some schools may be limited in who they can serve.
The reality is that everything is pretty terrible right now, so the last thing you need to feel bad about is how or what you're feeding your kids for lunch. No matter what you do, you're doing it right — whether you're simply setting out snacks for them to gobble before running off their energy or packing a lunch that they'll eat alone at a desk in their classroom. But if you're still hoping for a little more help on how to do that, we've got some ideas.
When I talked to 14 parents to see what lunch looked like this fall, they all had different answers. Danielle says they tend to mix and match what was provided by the school with leftovers from their own house to make a meal for their preschooler. Meanwhile, Meg has three kids in a school district that provides meals, so each Wednesday she'll be picking up 15 breakfasts and 15 lunches for the week — and no, the district doesn't provide an extra fridge in which to store it all.
I spent the spring justifying everything I did with my kids in the kitchen as a learning experience. Making sourdough was a science experiment, cake decorating became "art class," and scanning cookbooks for recipes was reading. But while my young kids can barely get themselves their own string cheese, lots of parents have eased the work by getting the kids involved.
"I just keep sandwich stuff, boxed mac and cheese, fruit and veggies on hand, and they also eat a lot of leftovers," says Jody, who has four kids aged 9 to 12, who all make their own lunches between their online classes. Other kids, like Jessica's daughter, really took to the idea of making their own lunch: "One day she wanted to pretend she was on Chopped so she had her brother give her ingredients and a timeline, while other times she modified instant soups for each family member to their preference."
But not every kid is a budding reality television chef, so sometimes the best way to get food on the table is whatever makes it easiest. "My kids (specifically, my 10-year-old) only have 45 minutes for lunch in between Zoom sessions," says Ramsey. By sticking to simple lunches of sandwiches and fruit or chips, they've found everyone has more time. "I really wanted to have them help make lunch and ultimately make their own, but I've been fixing it all myself just so they can have some free time to run around and relax before school starts again."
That break — whether as playtime or mealtime — becomes particularly important while kids sit in front of a screen all day. "I am obsessed with the idea of needing to provide hot lunches," says Eva Jo, whose second and fifth grader are schooling virtually. The kids help out with preparing lunch, and then the meal serves as a change of pace from the computer screen. "We kind of make a little feast out of it."
If you're not prepared to make lunch central in your routine, remember that school-day lunches are only a fraction of your kids' meals during any given day. Sarah's almost 7-year-old eats a well-rounded and varied dinner, so the goal for lunch became "to get him to eat as many calories as possible in a short amount of time before his afternoon Zoom meeting." That means a revolving door of mac and cheese, chicken nuggets, and yogurt.
Even if it doesn't fit your ideal, it's not forever. Chaunie prepped for having five kids at home (in various permutations of virtual and homeschooling) with freezer lunches and "the kinds of easy things I normally don't do, like Lunchables, chicken strips, tortellini." She hopes they'll take on lunch "independently as much as possible," but either way, they each have an assigned after-meal chore to ensure the kitchen stays clean.
Suzanne says prepping for at-home meals actually makes things a little easier. When her boys attend in-person, she packs lunches for them: "I usually include a sandwich, bagel with cream cheese, small caprese salad with crackers, or hummus with pretzels for the entrée (sometimes more than one of these for my 9-year-old) and then two to three fruits and/or veggies." Now that they're online, she and her husband trade off duties making meatballs with mac and cheese, sandwiches, quesadillas, or tostadas. But she also keeps a trick on hand — sometimes they order a pizza per child and the kids have that for lunch for the next few days.
Lunch at home also opens up opportunities to change up the routine: Naomi H. found that her family's lunches looked more like breakfasts while they are all at home, with dishes such as omelettes. "I suppose because we are having day after day of lazy mornings and actually eating when our bodies are hungry instead of fitting it in when our schedules allow."
For other people, the new system allows for sticking to an established pattern, like in the case of David, who admits to being a little pleased to be stuck homeschooling a kindergartner this year so they can continue eating together. "We can take as long as we want or need. Unless I'm on a deadline, we sit down and eat lunch together as a family."
Whatever you do, it probably doesn't matter: one of the cardinal rules of parenting is that kids hate everything — even if they loved it last week. "I'm really annoyed that my 5-year-old stopped eating Lunchables," says Theresa. "Now I have to make her a PB and J with Cheez-Its every damn day." Meanwhile, Emily's district gives free lunch and breakfast to all the students, but she's still dreading managing the meals and the kids' inevitable reaction to them: "Sandwiches again?"
Sifting through the mountain of ever-changing science on how COVID-19 spreads, managing the shifted educational responsibilities this year, and navigating through school lunch and food benefit programs that often expire makes getting children lunch each day even more difficult than normal. But to borrow a phrase from the movement against those judgmental forces in a much earlier phase of parenting, "Fed is best." The slogan of parents and advocates who believe that between breastfeeding and bottle-feeding, what matters most is that the baby eats fits remarkably well when it comes to how parents should do lunch for their children this year. Whether prepped, packed, picked-up, or purchased, remember that the method is unimportant. You're doing your best (or at least your damn-good-enough), and no matter how or what you're feeding them, you're doing it right.
Back to School 2020: It's the strangest back-to-school season of our lives, and no matter where your child's desk is actually located this fall: they have to eat. Every day. What even is school lunch in fall 2020? We've compiled stories, commiserations, and hopeful tips from a diverse crew of parents to help us all feel a little less alone in breathing deep, eating well, and unmuting that ever-elusive Zoom button.
tinyurl
is.gd
v.gd
v.ht
u.nu
clck.ru
ulvis.net
shrtco.de
tny.im