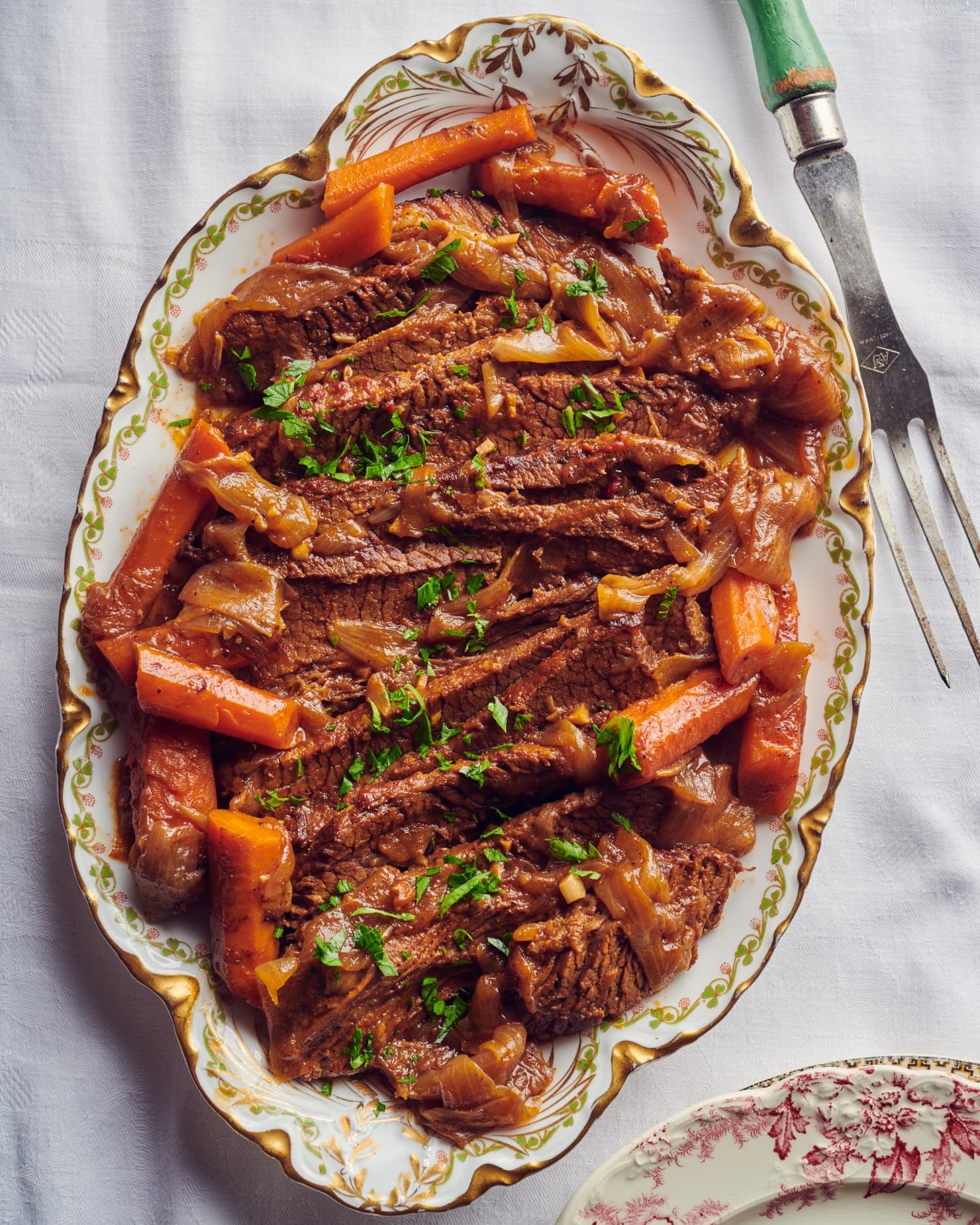 "Now we're cooking!" exclaims my father, peering into a worn Dutch oven. We've been slow-cooking, simmering, and skimming its contents, our first attempt at a brisket, for two days straight. Now Dad's admiring our handiwork so closely that the garlic- and paprika-scented steam fogs up his glasses, obscuring the blue eyes he's passed onto me.
I'm not so sure the brisket looks right: Did we overcook it? Can you even overcook a brisket, a cut known for being super tough? (Yes, I've since learned, you definitely can.) A staple dish in many Jewish families, brisket was something we'd never actually made at home. We're not religious and rarely hosted extended family for holidays. In fact, we barely ever ate red meat — our household was more of the organic-everything, no-junk-food sort.
But a few summers ago, while attacking attic clutter, we stumbled upon the recipe in a box of my grandfather's things. All my life I heard stories about my father's father — the infamous Samuel "Red" Fischler — but I never met him, as he died at age 66, three years before I was born.
Like my father and me, Red loved to cook and entertain, but he didn't write his creations down. Occasionally Dad insisted, and Red would dictate, then add modifications and notes into the margins. Standing there, holding the yellowed index card in my hands, reading his scribbles, the fact that the three of us would never share a meal really hit me. It's a powerful thing to see the handwriting of someone you've lost, or someone you wish you'd known. Even more so when that handwriting resembles your own. Instead of packing the recipe back into the box of his letters, military records, and drawings, I brought it down to the kitchen.
I never shy away from a cooking challenge, especially when taking it on with my dad, an excellent home cook. But, really, I wanted to make this brisket because everyone who knew Red — family, friends, even his second ex-wife — has told me we would've gotten on famously. I've always felt that invisible connection, too.
Red (a nickname he earned for his fiery hair) drove a cherry-colored Cadillac, with a license plate that said RED 33, all over New York City. He placed outlandish bets and took epic trips to Miami, Las Vegas, and New Orleans. And the man really knew how to eat, and how to feed a crowd. Before sushi restaurants proliferated in New York in the late '80s and '90s, Red had his own set of chopsticks at a joint in midtown, where he'd sit at the bar and eat sashimi from one end to the other. He once hosted a three-day-long party to celebrate the U.S. bicentennial, teaming up with a chef friend to keep a steady stream of guests fed for 72 hours. Years earlier, he went through a phase of hanging high-end salamis from the ceiling of the family's modest Brooklyn apartment, aging them to his liking.
Good food, and sharing it with those I love, has always been my great joy, too. So there was no question. The Jewish New Year was coming up, and not only would we be celebrating, but we would also be having Red's brisket.
The recipe, like many of the best ones, is fairly simple, but it's time-consuming. While we sizzled onions and browned the meat, we played Bruce Springsteen and Burning Spear on the record player and broke out a bottle of red wine. As the house filled up with the scent of onions, stock, and garlic, I asked more probing questions about Red. Was living and eating large his way of compensating for a Depression-era childhood, sometimes only having bread with mustard to eat? Or the 13 months he spent in a German Prisoner of War camp during WWII, leaving him haunted and 50 pounds lighter when he was finally freed? My dad didn't have the answers. But he assured me: Although Red wasn't the greatest parent or partner, he would have spoiled his only granddaughter.
Our Rosh Hashanah dinner wasn't the type of blowout Red himself might have thrown, with a full house and copious amounts of booze, but the brisket sure tasted good. It was tender and rich, with plenty of juice to drizzle over roasted potatoes — and not overcooked! I like to think he would have been thrilled to see us cooking his recipe shoulder-to-shoulder, choosing to celebrate life's good fortunes rather than dwell on the bad hands. We've made the brisket every year since, because, even without him here, it binds us together.
At Kitchn, our editors develop and debut brand-new recipes on the site every single week. But at home, we also have our own tried-and-true dishes that we make over and over again — because quite simply? We love them. Kitchn Love Letters is a series that shares our favorite, over-and-over recipes.
tinyurl
is.gd
v.gd
v.ht
u.nu
clck.ru
ulvis.net
shrtco.de
tny.im