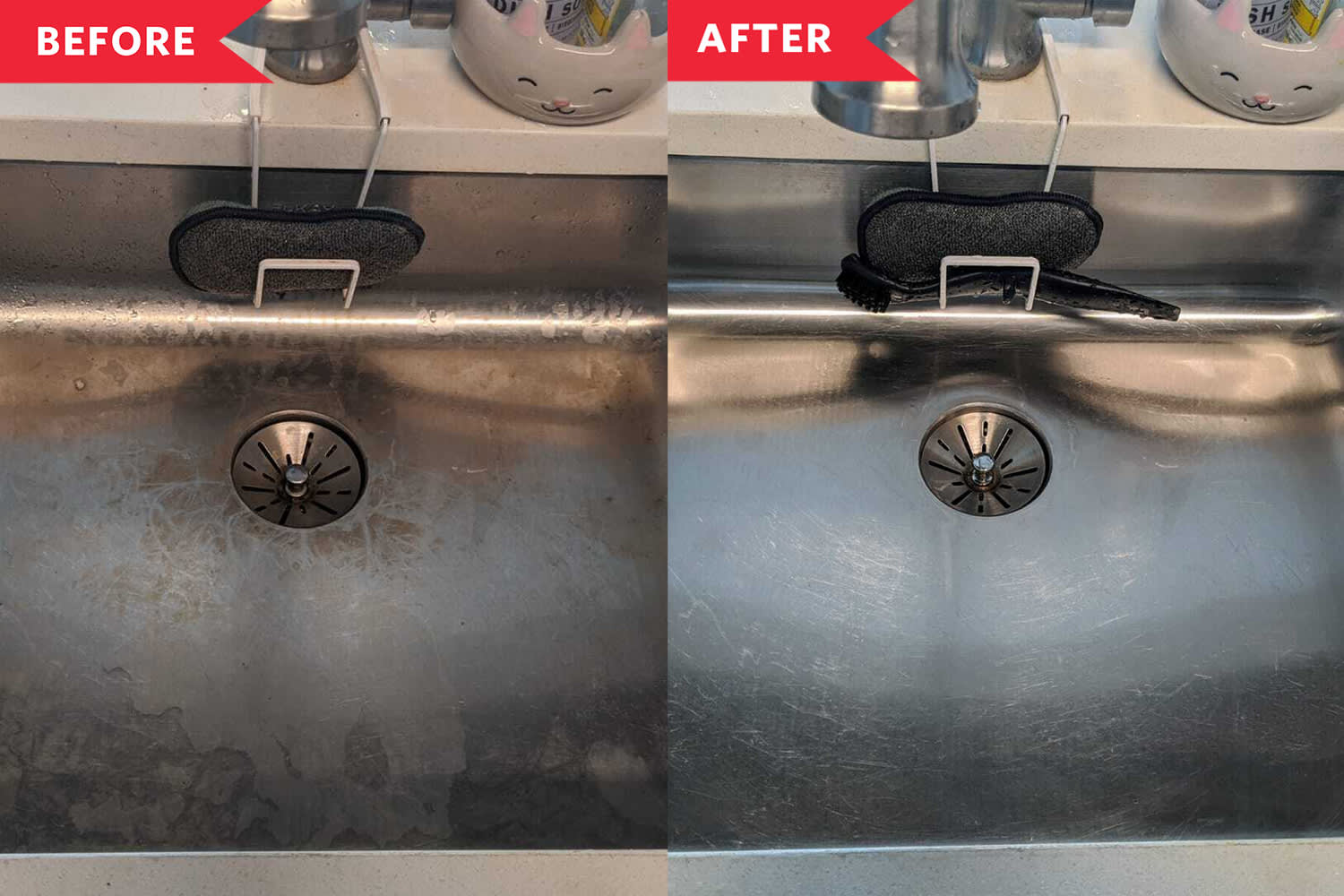 We independently select these products—if you buy from one of our links, we may earn a commission.
Keeping my stainless steel sink clean seems like an endless chore these days, especially with both me and my husband using the kitchen a whole lot more than we ever did. Just when I get it to look shiny and grime-free someone decides to dunk a carton of spoiled chunky milk down the drain, or worse, toss in a butter knife coated in thick peanut butter and we're back to square one. I tried a few different things like using a traditional multi-purpose spray as well as a DIY bleach scrub, but nothing quite worked. My search ultimately led me to Shadazzle's Natural All-Purpose Cleaner and Polish that costs just $10 and works wonders on even the slimiest of sinks. Trust me, I know slimy.
Unlike regular all-purpose cleaners that come in a spray bottle, Shadazzle's formula is a clay-like paste packaged in a compact tub with its own porous sponge. Formulated with clay, oil, glycerine, soap, and lemon fragrance, the natural, non-toxic formula is easy on the skin but incredibly tough on stainless steel surfaces. The first time I used it, I simply wet the sponge under running water, coated one side with the gritty paste, and gently worked the formula in small circles into my dirty sink, followed by a thorough warm water wash. Like magic, I could see the slime just disappear.
Another major pro to using Shadazzle? You don't have to clean your sink every single day. The oil in the formula creates a protective layer that causes water droplets to slide off the surface instead of sticking which keeps my sink shiny for a whole lot longer, leaving me with more time to tackle other chores. And for those special days the sink has been subjected to a particularly high dose of gross, I simply rub the formula and leave it on for 10 minutes to get that extra shine.
And it's not just me who swears by this little tub of magic. Shadazzle's All-Purpose Cleaner and Polish has a solid 4.3-star rating on Amazon and tons of rave reviews with shoppers using it on everything from dirty sinks to stovetops to silverware to stainless steel cookware and more! One user was so smitten, that she even used it on her laptop and desktop: "It just brings out the best look in them."
While I like the subtle hint of lemony freshness it adds to my kitchen, you can also choose between a heady lavender and earthy eucalyptus. But make sure you pick a fragrance you'll enjoy because although the $10 tub looks tiny, it's going to last you a long time.
tinyurl
is.gd
v.gd
v.ht
clck.ru
ulvis.net
shrtco.de
tny.im