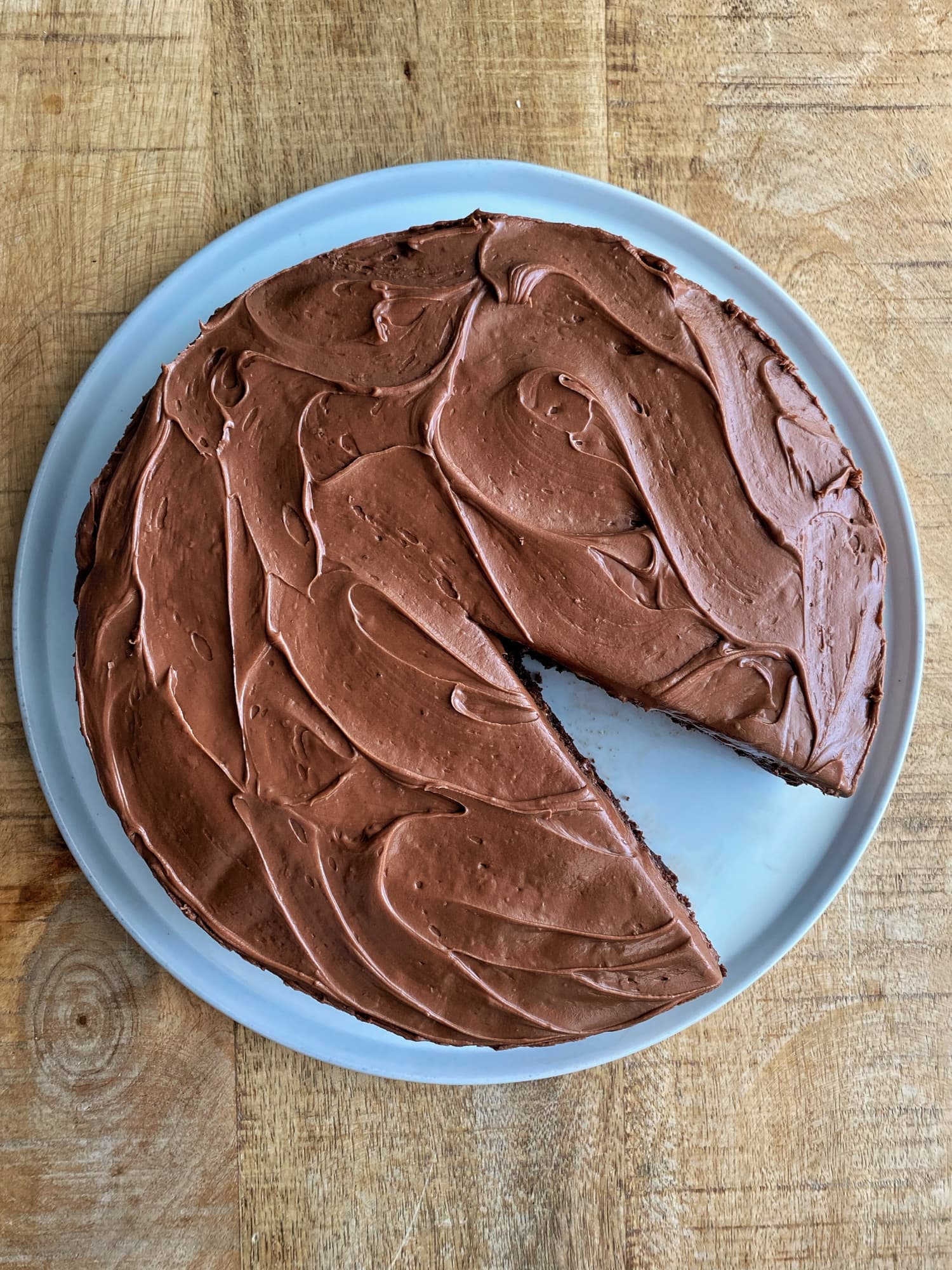 Reddit is filled with passionate home bakers looking to share their skills and show off their creations. There are countless subreddits covering a wide range of topics from cake decorating to bread baking, all filled with helpful tips, tricks, and words of encouragement. One of my favorite subreddit's is r/Old_Recipes, where people share recipes that have been passed down for generations.
Recently, I stumbled across a thread on r/Old_Recipes discussing an old family recipe called Black Midnight Cake (aka chocolate-chocolate cake). It's a one-bowl, no-frills cake that dates back to the '50s. The thread has over 60 comments from people fascinated by the ultra-chocolatey cake, and the simplicity of the recipe made me curious: Could such a simple cake really be that good? I baked it myself to find out.
See the original post and recipe for Black Midnight Cake on r/Old_Recipes
How to Make a Black Midnight Cake
The recipe is super easy (it doesn't require a mixer and comes together in just one bowl), but it lacks a lot of detail, so you'll have to fill in some gaps yourself. You'll start by mixing softened butter, sugar, eggs, flour, cocoa powder, baking powder, baking soda, and salt together until creamy. This proved a bit difficult, but after some serious mixing it all came together to form a very thick paste. To that you add water and vanilla extract and give it another stir. (I used warm water, which seemed to help the batter come together more easily.)
Pour the batter into two round cake pans and bake for 30 minutes. The recipe warns you not to over bake the cakes, so I made sure to take them out as soon as my timer went off. I let them cool slightly in their pans, then inverted them onto a write rack to let them cool completely before frosting.
The frosting is just as simple to make as the cake, and it comes together in just a few minutes. But like the cake recipe, the directions are pretty vague. In a large bowl, mix together powdered sugar, butter, an egg, cocoa powder, and water. The last two ingredients don't have exact amounts listed — the cocoa quantity is listed as "depends on how rich you want it" and the water as "until creamy enough to spread." I ended up using 1/4 cup cocoa powder and only one tablespoon water. Mix everything up until a creamy frosting forms and that's it!
My Honest Review of Black Midnight Cake
As easy as this cake was to make (and as skeptical as that made me feel), it turned out to be one of the best basic chocolate layer cakes I've ever had. The cake itself was super moist and pleasantly dense without being marshy. The cocoa flavor was strong but not overpowering, and it was perfectly sweet without being overwhelming. The frosting was also delicious. It was rich, creamy, and perfectly swooshable. It had a smooth, fluffy texture that made frosting the cake a breeze.
If you're looking for a classic chocolate cake to make for a birthday, anniversary, or for no real reason at all, this is a perfect recipe. It's simple, easy to make, and delicious. There's nothing surprising or unusual about it, but that's exactly what makes it so delicious.
4 Tips for Making Your Own Black Midnight Cake
Before you head into the kitchen to make your own midnight magic cake, a few tips.
1. Use warm water to make the cake batter. This will help the butter incorporate into the batter and prevent it from seizing up. You don't have to use hot water — just water that's slightly warm so the butter doesn't harden.
2. Grease your pans and line them with parchment paper. The recipe includes very little details, so things like prepping your pans are easy to overlook. Before you add the batter to your pans, make sure to grease them and line the bottoms with parchment paper. This will make sure nothing sticks and your cakes come out clean.
3. Add a pinch of salt to the frosting. The frosting is fluffy and delicious, but it would benefit from a hint of salt to help bring out the rich chocolate flavors. A quarter teaspoon of kosher salt should be plenty.
4. Feel free to jazz it up with fresh fruit or sprinkles. This cake is super simple and can be thought of as a blank canvas for dressing up or down however you like. You can top it with fresh berries, decorate it with sprinkles, or even add a layer of jam for additional flavor.
Have you ever made this Black Midnight Cake? Tell us in the comments below.
tinyurlis.gdv.gdv.htu.nuclck.ruulvis.netshrtco.detny.im